Food
The 40 Best 'Hood Burgers In Los Angeles
8:00 AM PDT on October 13, 2023
It's time to talk about the best, most legendary burgers in Los Angeles. And not necessarily the ones you think.
We're talking about all the 'hood burgers that have nourished generations of families, workers, and students throughout multiple generations, enduring changes in tastes, society (and the occasional societal shutdown) to stand high above the tired arguments about In N' Out vs. Shake Shack vs. Apple Pan.
What's a 'hood burger? All those Jims, Patras, Tom's, Arry's, Tommy's, and any other old-timey name that illuminates famous corners in our respective neighborhoods. It could be greasy and dripping with cheese. It may be huge and barely kissed by the grill overflowing with shredded lettuce. It might be a carefully curated, tenderly treated masterpiece overseen by an ingenious neighborhood entrepreneur of famed repute with a hatred of frozen patties. And the serving of steak fries will always be stupidly generous.
The 'hood burger hits differently, especially in L.A., where there's something special about driving through streets heavily filled with the aromatic scent of quarter-pound charbroiled cheeseburgers and freshly salted and unapologetically thick-cut steak fries. That primal scent has a way of setting off the most vivid sense of voracious hunger as you drive, walk, skate, or jog by.
If you grew up in Los Angeles, you undoubtedly have a soft spot for these delicious community beacons of salt and fat. Paired with chili cheese fries, a watery fountain Coke, and greasy empty packets of ketchup that are either virtually never-ending or never enough. If you recently moved here, you've probably walked by to check one out, and hopefully, you tried a burger that genuinely represents Los Angeles food culture.
It's important to remember that these places have fed many inner-city families. When many classified parts of Los Angeles as "food deserts," those $19.99 family value packs of burgers and fries were feeding many mouths.
L.A. TACO created this list of 40 of L.A.'s most beloved 'hood burger joints. To start you on your journey familiarizing yourself with L.A.'s 'hood burger way-of-life. It is by no means meant to be a complete list, so rep your local burger hustler in the comment section if we missed them! ~ Laura Tejeda & L.A. TACO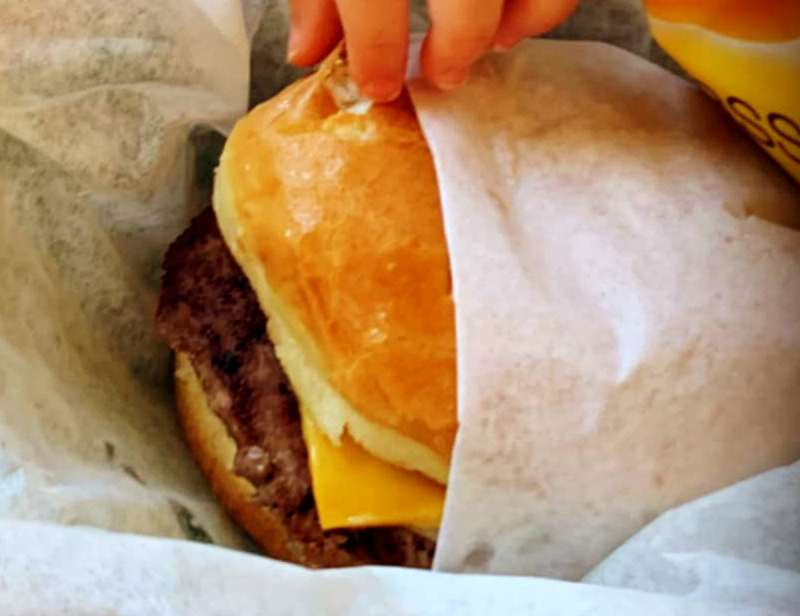 Simple, stacked double cheeseburgers with tomato, iceberg lettuce, mayo, tomato, diced onions, and pickles are the draw at this venerated cash-only Van Nuys burger stand, which possesses all the flavor-endowing magic that only an antique griddle can provide. You may have to fight some regular whose been coming for 30 years to get your hands on one before they sell out, but the ensuing assault charges will be worth it. Especially if you get one from Bill Elwell himself, still cooking at 97 years old.
14742 Oxnard St. Van Nuys, CA 91411. Closest Metro lines and stop: Bus Line 154 - "Oxnard/Cedros" or Metro G Line, Bus Lines 233, 237, and 761 - "Van Nuys Station."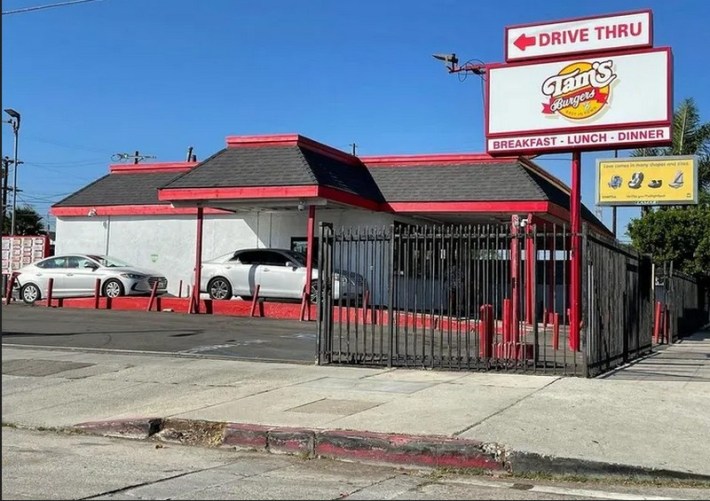 Southeast L.A. and beyond
Tam's double bacon cheeseburger is a MF! It will sit on your tongue, your stomach, your life... if you let it. But once a week, ideally early Sunday evening with some HBOGo, you owe it to yourself to order this with chili cheese fries, a large drink, and a handful of cascabella peppers on the side. The Tam's burger – and the hundreds of Tam's-like places—is a Southeast L.A. institution, like the Huntington Park water tower or Patty Rodriguez. The shredded lettuce stuffed into that sesame seed bun is how you know you're in the hood living large (or at least getting large), like Biggie in that Juicy video. But this isn't Brooklyn. This is HP, Paramount, Norwalk, South Gate, Lynwood, et al. And it's all good. ~ Erick Galindo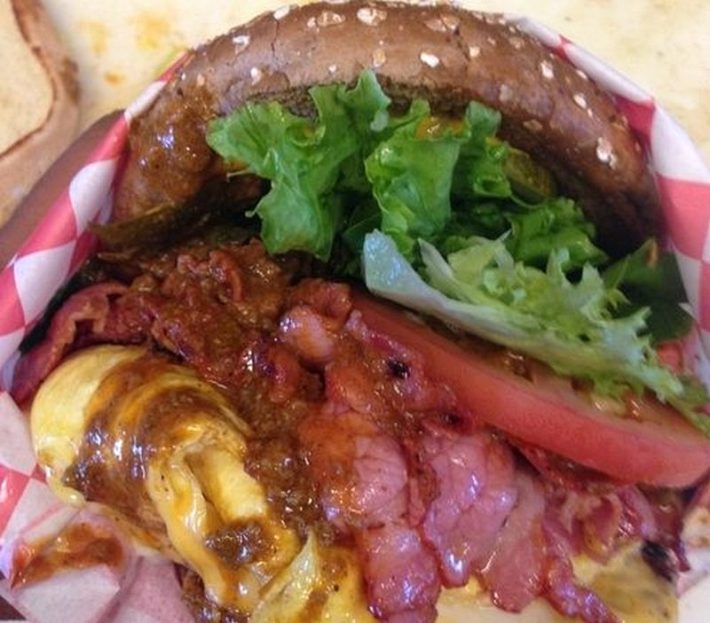 Watts
Of all the burger joints in Los Angeles, few are more beloved or more respected than 83-year-old Hawkins House of Burgers, where Cynthia Hawkins presides over the grill and makes some of the finest classic roadside burgers in the city. Angus beef patties are seasoned and loosely formed before they're smacked onto a hot, hot griddle to sear and then topped with mustard, mayonnaise, pickles, a slice of cheese, fresh, crisp lettuce, tomatoes, and onions. It's pretty much all you would want in a burger, but if you're especially ambitious, Hawkins' most famous item probably is "the Whipper," which takes that classic burger and amps it up with an additional patty, two slices of cheese, a hot link, and a pile of pastrami. Whether you go minimalist or maximalist, Hawkins House of Burgers isn't so much a house for burgers. It's a temple. ~ Tien Nguyen
11603 Slater St. Los Angeles, CA 90059. Closest Metro lines and stop: Bus Lines 53 or 120 - "Central/Imperial."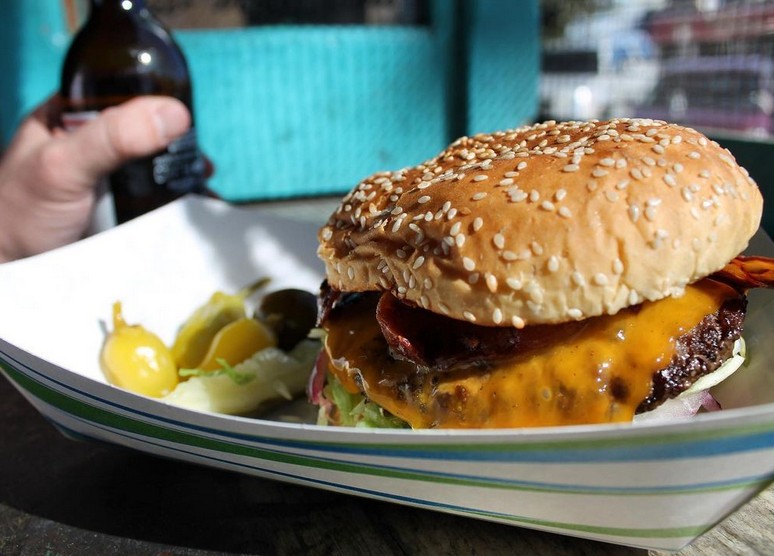 Marina Del Rey
Hinano has been feeding Venice locals, barflies, sports fanatics, and visitors since 1964, long before the tech nerds arrived and the leisure class took over. A blue collar heart still beats at its core, providing free popcorn, pool, and the best beachside burger on the bay at an easy-to-face $7.50 price. The burger hews to classic form, a hot-off-the-grill beef patty (dripping with American or Swiss cheese, if you choose) on an sesame seed-speckled, egg bun with lettuce, tomato, and red onion. Although some will add a hot link, bacon, or chili. Either way, trust the chef, who moonlights as a taquero fronting L.A.'s best calamari taco. ~ Hadley Tomicki
15 Washington Blvd. Venice, CA 90292. Closest Metro line and stop: Bus Line 108 - "Washington/Pacific."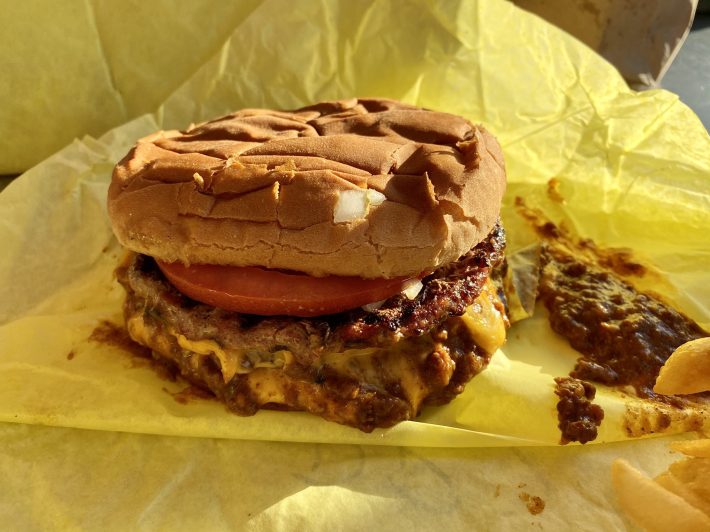 Sawtelle
There is no shortage of Tom's, Thomas, and Tommy's burger joints in Los Angeles that serve L.A.'s classic chili. The messy, filling, and the old-timey dish is emblematic of this city and has survived the test of time and food trends that come and go. But on the westside of L.A., there's only one Tom whose chili reigns supreme, and that's Big Tomy's on the corner of Pico and Sawtelle Boulevards. From the day it opened in 1982, customers in West L.A. have been staining their nails orange in their futile attempt to eat every glob of that rich brown soupy ambrosia as it spills over their fingers with each bite. The burger specialist fuels gardeners in the morning, desk jockeys on lunch break, kids after school, and bar hoppers needing to quell their alcohol-filled stomachs at 3 AM—alike. ~ Memo Torres
11289 W. Pico Blvd, Los Angeles, CA 90064. Closest Metro lines and stop: Metro E Line - "Expo/Sepulveda Station" or Bus Lines 233 and 761 - "Sepulveda/Pico."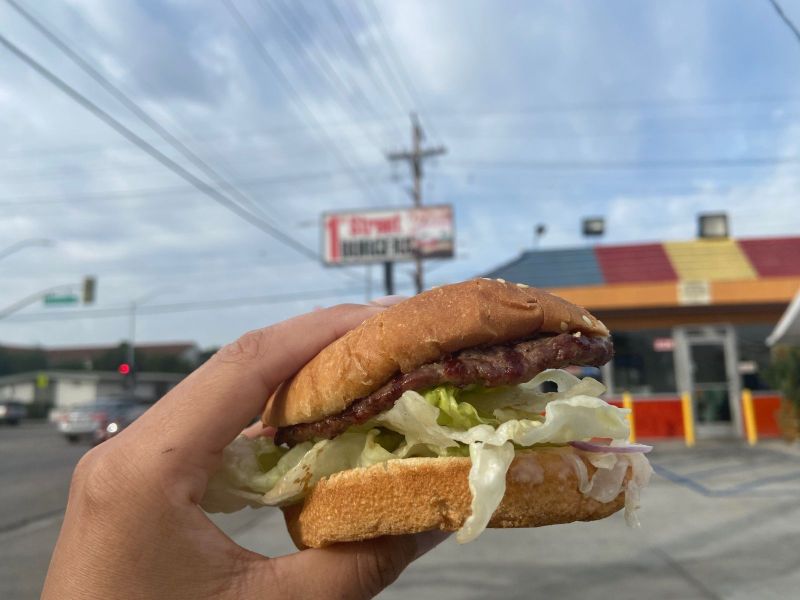 East Los Angeles
"1st Street Burger has been serving the East Los Angeles community for decades. In the mid-90s, their family value packs, complete with four ¼- pound charbroiled burgers, four orders of french fries, and four cokes, were my family's weekend go-to meal after a long day of yard work or hosting a yard sale. Owner Andy, an immigrant from Greece and an East L.A. resident for 40 years, says, "People come to us and share that our hamburgers are the best, and I know it's because of the quality of our ingredients. We keep everything fresh." ~ Laura Tejeda
3737 E 1st St. Los Angeles, CA 90063. Closest Metro lines and stop: Bus Lines 106 or 665 - "1st/Gage."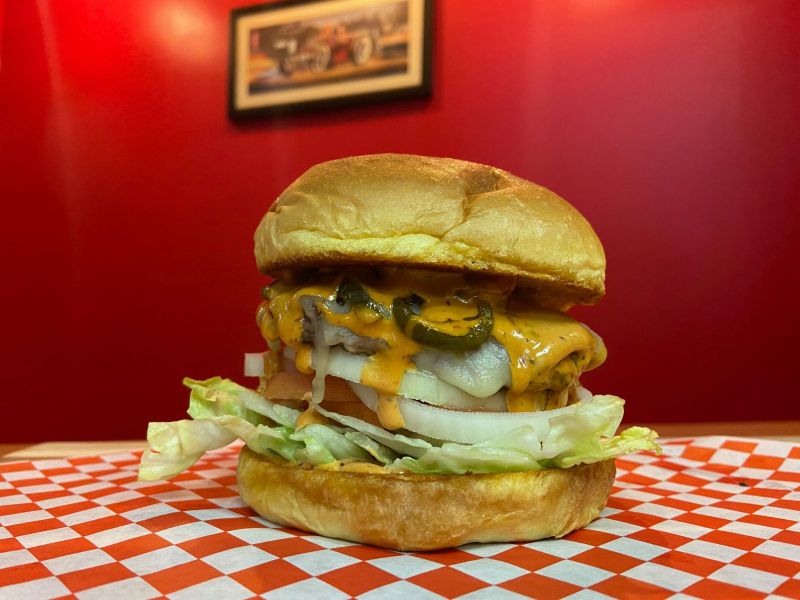 East Los Angeles 
Tony Gomez, a lifetime resident of East Los Angeles who holds regular toy drives and community fundraisers, opened up SoCal Burgers over 11 years ago. East L.A. locals call the place "the hood's In N' Out," which is fitting because the location is accessible and the food is deliciously fresh. One of the most popular items on the menu is Tony's award-winning Chipotle Aioli burger. A 1/2-pound juicy beef patty, topped with Pepper Jack cheese and grilled jalapeños, served on a toasty and buttery brioche bun slathered in chipotle aioli, made in-house daily. At the first bite, you'll experience a meaty mouthful with a burst of chile intensity. ~ Laura Tejeda
203 S. Mednik Ave. Los Angeles, CA 90022. Closest Metro lines and stop: Metro E Line - "East LA Civic Center Station", Bus Line 106 - "Mednik/Civic Center", or Bus Line 258 - "Mednik/3rd."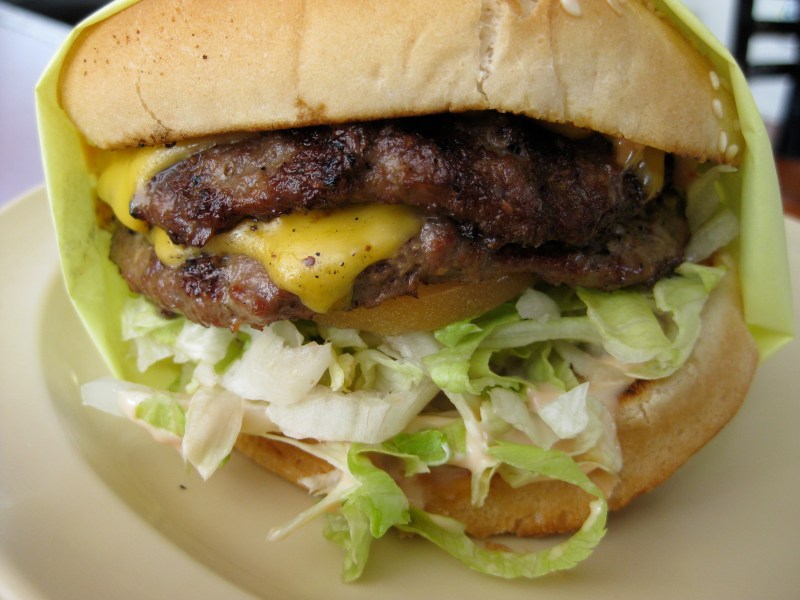 Alhambra
Bite after bite is a perfect combination of wonderfully charred fast food burger patty, crunch of shredded iceberg and onion, tang of fine house 1000 island, and a damn decent bun. No, this is not a gourmet burger, and that is exactly why it is so good. It's like the Whopper of your dreams, should your local Burger King obtain considerably fresher ingredients and put serious care and effort into the burger assembly. ~ Ali Khan
2133 Valley Blvd, Alhambra, CA 91803. Closest Metro lines and stop: Bus Line 76 - "Valley/Edgewood" or Bus Line 258 - "Fremont/Valley."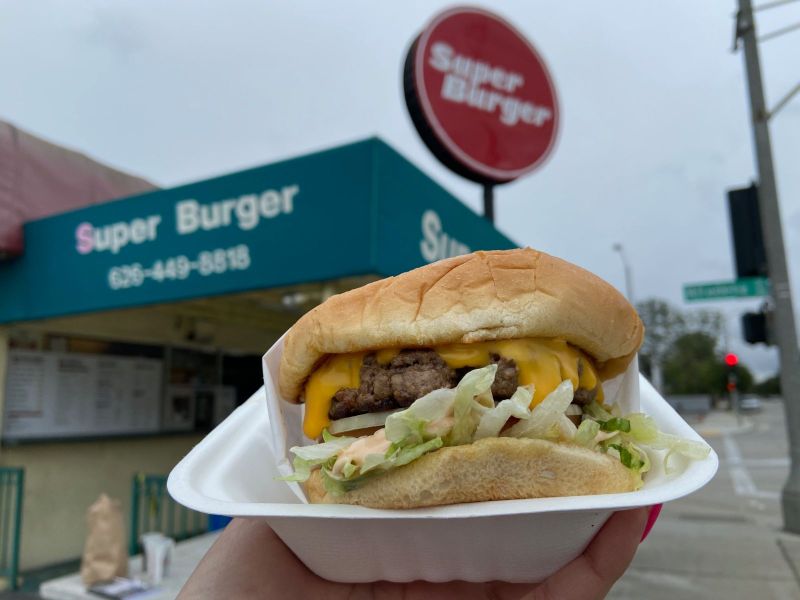 Pasadena 
When eating the burger at Super Burger in Pasadena, I had an epiphany; the perfect burger patty does exist. It's grilled perfectly on both sides, giving it a crispy outer layer, and at first bite, you'll experience a juicy and tender explosion. A Korean family owns this particular burger joint. A mom-and-pop team who immigrated to the U.S. with hopes to be successful in the restaurant business and their son, Kevin Khe, who fell into the business after graduating high school. Fast forward ten years, and the community support for the joint is unmatched. People continue to visit because the Khe family believes in keeping their burgers big and prices small. This family-operated burger joint is the definition of burger love, and the proof is nestled within two toasty burger buns. ~ Laura Tejeda
458 N. Altadena Dr. Pasadena, CA 91107. Closest Metro line and stop: Bus Line 256 - "Altadena/Orange Grove."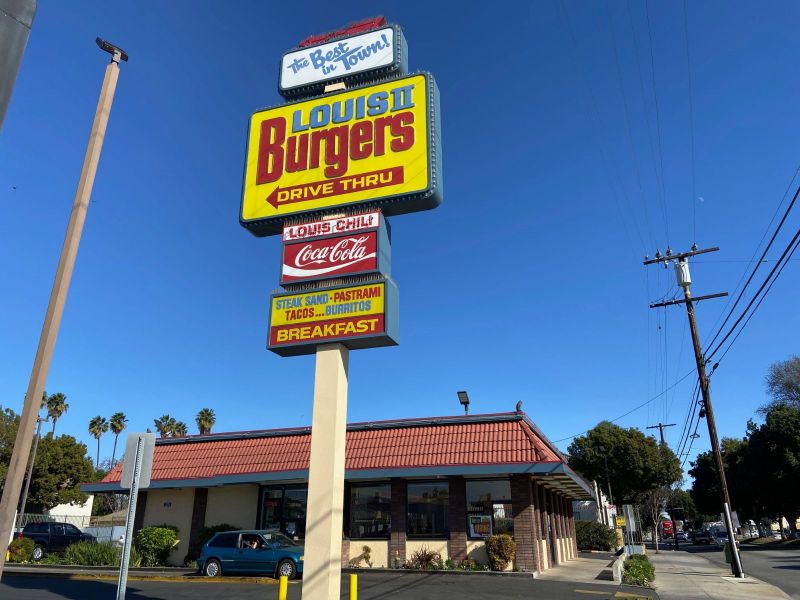 Compton
Consistency has always been key for George Kotrotsos, owner of the beloved Louis Burger II in Compton, in business since 1984 to provide the local community with an impeccably clean restaurant and guaranteed fresh food.  Irene, an employee of almost 20 years, shares, "the owner and manager keep this place ridiculously clean. Anytime you come here, you're getting the best of the best when it comes to food quality. That's why people keep coming back. Everyone wants a Louis Burger." One of the most popular items on the menu is a significantly large order of their chili cheese fries. The 9x9 Styrofoam clamshell container is filled with a hefty pile of crispy french fries (cooks change the frying oil two to three times daily) topped with Louis Burger chili, which is made in-house daily, and an abundant amount of cheddar cheese. ~ Laura Tejeda
1501 Rosecrans Ave. Compton, CA 90221. Closest Metro lines and stop: Bus Lines 60 or 125 - "Rosecrans/Long Beach."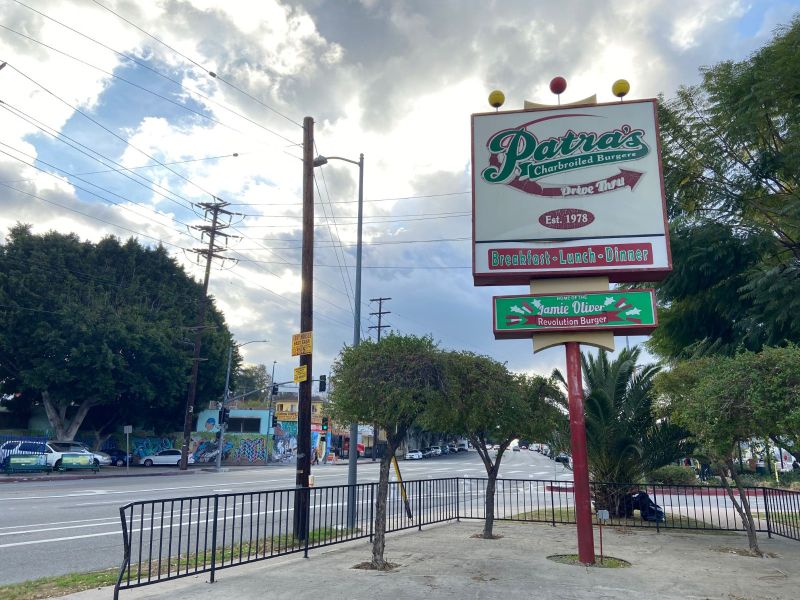 Glassell Park
In an industrial stretch near an O.G. NELA tortilleria, some auto body shops, and a carwash, Patras Burger #2 serves the community with burger stand staples coimplimented by a hefty offering of Mexican dishes. The place is a staple in Glassell Park. In 2011, it caught the attention of celebrity chef Jamie Oliver, who visited the burger joint in an attempt to "revolutionize" their menu for his short-lived TV show Food Revolution, adding a couple of healthy options that the community accepted but didn't necessarily rush to order. Though the celebrity reveals boosted support for the restaurant, customers have since returned to ordering their usual cheeseburger specials and steak dinners, consisting of two ribeye steaks, rice, beans, french fries, and tortillas. ~ Laura Tejeda
2319 N. San Fernando Rd. Los Angeles, CA 90065. Closest Metro lines and stop: Bus Lines 90 and 94 - "San Fernando/Eagle Rock" or Bus Line 251 - "Eagle Rock/Verdugo."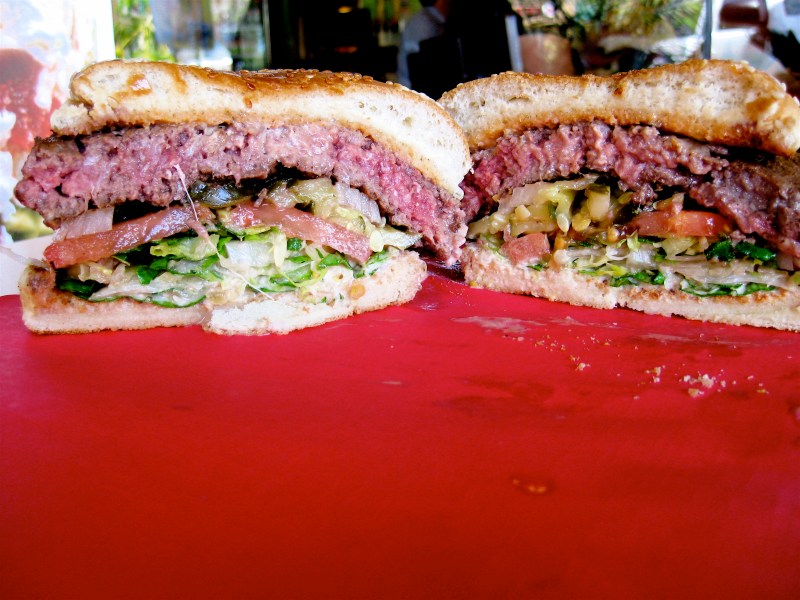 Glendale
Upon delivery, I could not take my eyes off the pale red middle on the outside of the patty. You've heard of the chef's touch to check the doneness of a steak? Poke this burger with your finger and you may split the patty in half. Burger juices abound. The sheer weight of the burger is staggering; the chef simply could not cook it any less. This is the definition of chopped steak, needing only some roughage, a little thousand island/secret sauce, and a lot of napkins. Cheese is wholly unwarranted here, and my guess is the burger isn't even on the flat top long enough to generate a good melt. My kinda burger. Off putting for some, but I'll say this: I'll stand behind any burger joint confident enough in the quality of their beef to cook it rare, and second, who doesn't enjoy eating like a damn dinosaur? ~ Ali Khan
818 N. Pacific Ave. Glendale, CA 91203. Closest Metro line and stop: Bus Line 92 - "Glenoaks/Pacific."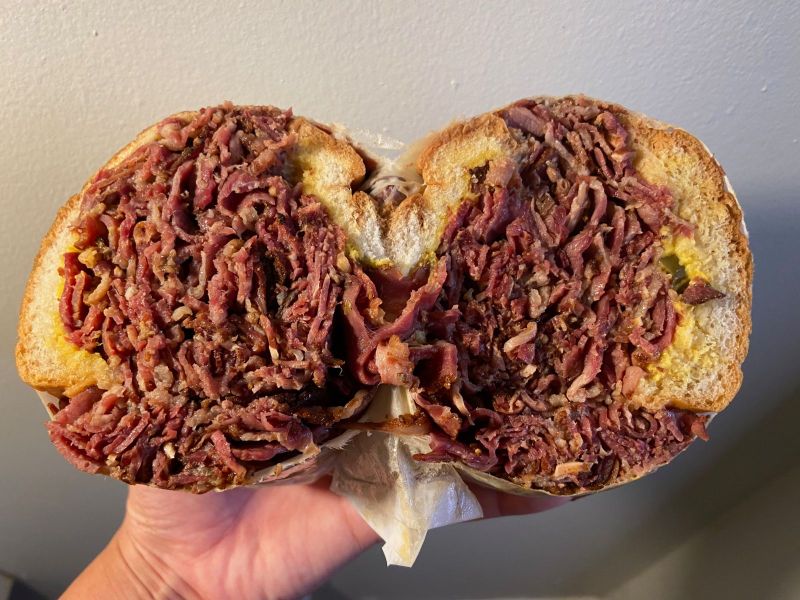 Montebello
If you ask anybody who resides in Montebello or East L.A. about the city's best pastrami, you'll overwhelmingly be pointed to Arry's Super Burger. Arry's has served the Montebello community since the 1960s, providing staple cheeseburger specials and more. This burger shop especially stands out to many because it brings up nostalgia for customers who have frequented the space since their young adulthood after hitting the bars or house parties. Upon tearing the yellow burger wrapping paper that tightly holds the pastrami sandwich together, glorious mounds of perfectly grilled and seasoned pastrami will fall out and instantly cause you to drool. If you are looking for a massive and tasty bite, you won't regret stopping by and picking up a pastrami special. ~ Laura Tejeda
1015 W. Whittier Blvd. Montebello, CA 90640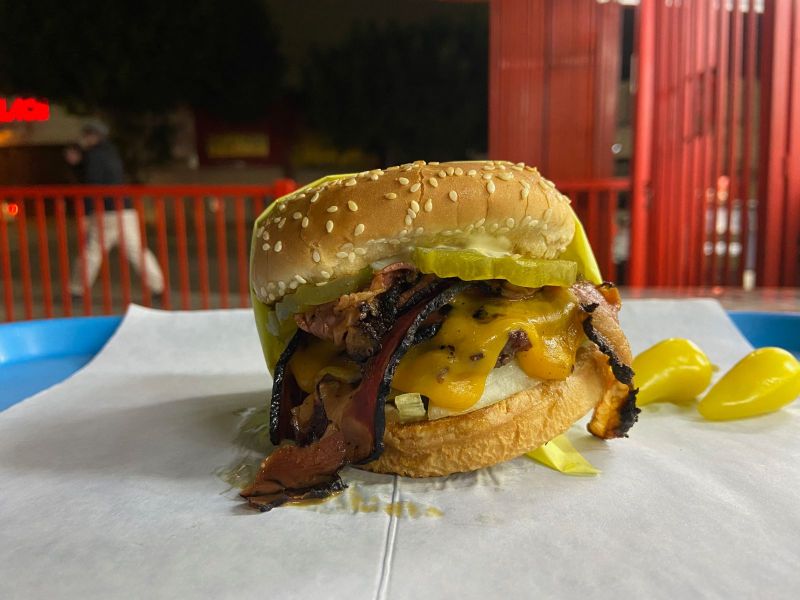 Boyle Heights/Santa Monica

Since 1967, George's Burger Stand has served the bustling community of Boyle Heights on the famous Cesar Chavez Avenue. In 2018, the place was in jeopardy, but Robert McCord and Armando De La Torre, a pair of buddies whose families have deep roots in the community, decided to purchase the business and give it some TLC. The menu switched up from offering paper-thin beef patties and American cheese sliced cheeseburgers to hand-shaped, thick Angus beef patties with shredded Longhorn cheddar cheese. The only items the pair keeps in their freezer are hash browns made in-house, ice cream, and french fries. You can guarantee your order will be fresh whenever you visit them. The most popular item on the menu at Georges is the pastrami burger made with Angus beef, grilled onions, Longhorn Cheddar cheese, and Dijonae (their award-winning sauce) and thick cuts of "New York black rub" pastrami. The burger speaks for itself, you immediately taste the quality of the meat, and although the thinly sliced pastrami from most other burger joints is tasty, the one at George's makes you feel like you're enjoying a burger made by a BBQ master himself.  ~ Laura Tejeda
2311 East Cesar E. Chavez Ave. Los Angeles, CA 90033. Closest Metro lines and stop: Bus Lines 70, 251 or 605 - "Cesar E Chavez/Soto."
3101 Lincoln Blvd. Santa Monica, CA 90405. Closest Metro line and stop: Bus Line 33 - "Main/Marine (westbound)" or "Main/Pier (eastbound)."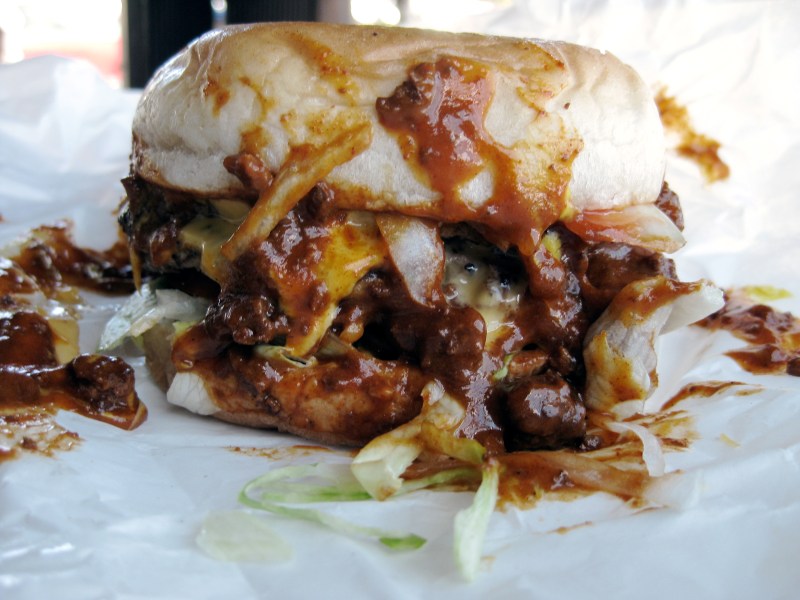 Los Feliz and Pasadena
When ordering the granddaddy of Burgers at Yuca's, it is best to approach with caution, fully unwrap the beast and keep a bevy of napkins at the ready. Accolades for the burgers at Yuca's are nothing new and greatly deserved. After a quick chili wipe down, all the evidence for excellent stack burgers are present: meat-to-bun ratio, char on the patty, toppings slathered on to stick-bite after bite, and just enough gooey cheese that keeps it all together.  Not surprisingly, a great bun is at work here, keeping this sandwich intact to the last bite. Because somedays you just say, "Fuck it. Give me a double chili cheeseburger."~ Ali Khan
2056 Hillhurst Ave. Los Angeles, CA 90027. Closest Metro line and stop: Bus Line 180 - "Los Feliz/Hillhurst."
1075 S. Fair Oaks Ave. Pasadena, CA 91105. Closest Metro lines and stop: Bus Line 260 - "Fair Oaks/Glenarm" or Metro A Line - "Fillmore Station."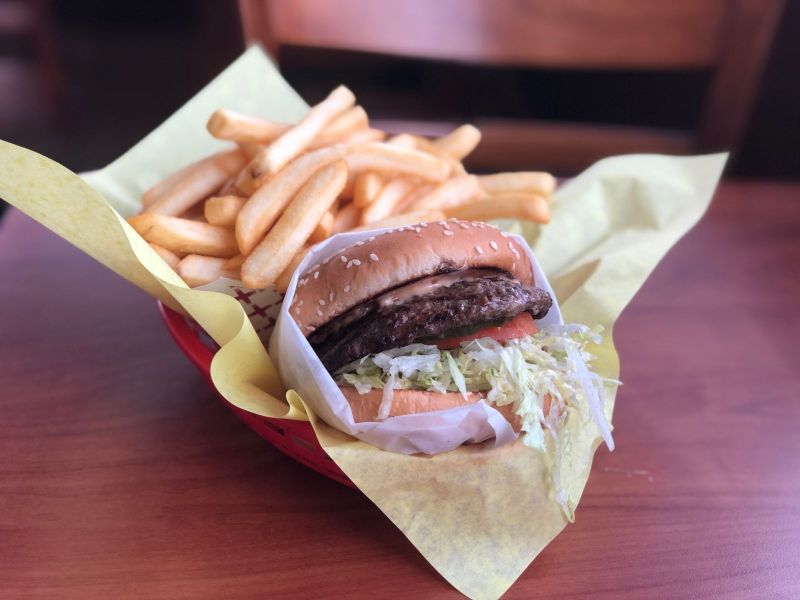 Citywide
Norm's Famous Charbroiled Burgers--not to be confused with the Norms Restaurant chain--has been in business in Whittier since 1984. Patrons enjoy visiting the space because of the excellent customer service and burgers with the perfect balance of char and succulence,. When visiting Norms, the employees will greet you as if you're family and remember your name if you're a frequent visitor. At Norm's, a fresh shipment of beef patties arrives five days a week from a butcher in Fullerton, the team in the kitchen refuses to serve frozen patties. Pair that fresh beef patty with the crispy lettuce, onions, pickles, and tomatoes, and it's no surprise the most popular item on the menu is the staple "Norms Hamburger Special," complete with fries and a soft drink. If you're not in the mood for a fresh burger, Norm's has you covered with their menu offering tasty and fresh Mediterranean-influenced chicken and gyro pitas, quesadillas, burritos, taco plates, fish and chips, and more. This burger joint can be your go-to when you're craving anything. ~ Laura Tejeda
14244 Whittier Blvd. Whittier, CA 90605.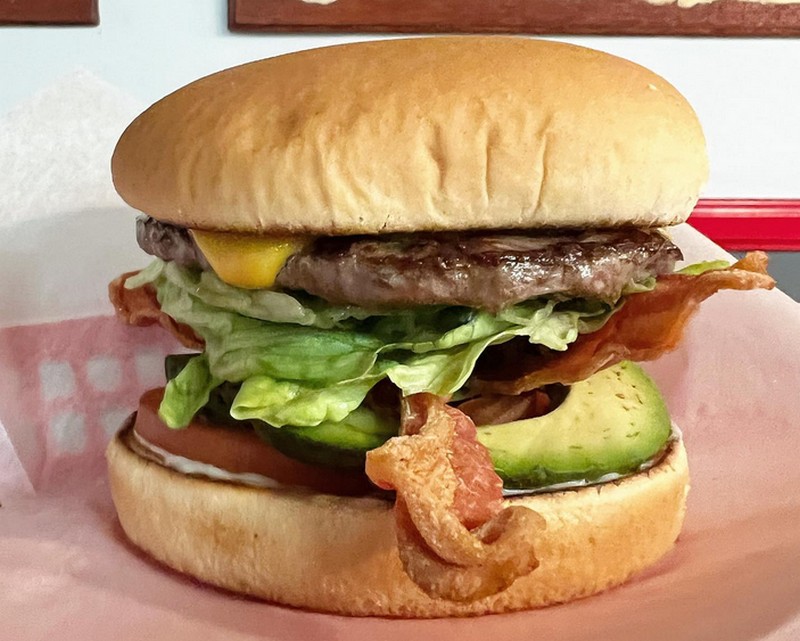 Palms
"Howard's Famous Bacon & Avocado Burgers has a remarkably simple, interesting, and tasty hamburger taco. It's worth a try for those driven inside by curiosity." ~ Memo Torres
11127 Venice Blvd. Ste 7 Los Angeles, CA 90034. Closest Metro line and stop: Bus Line 33 - "Venice/Sepulveda."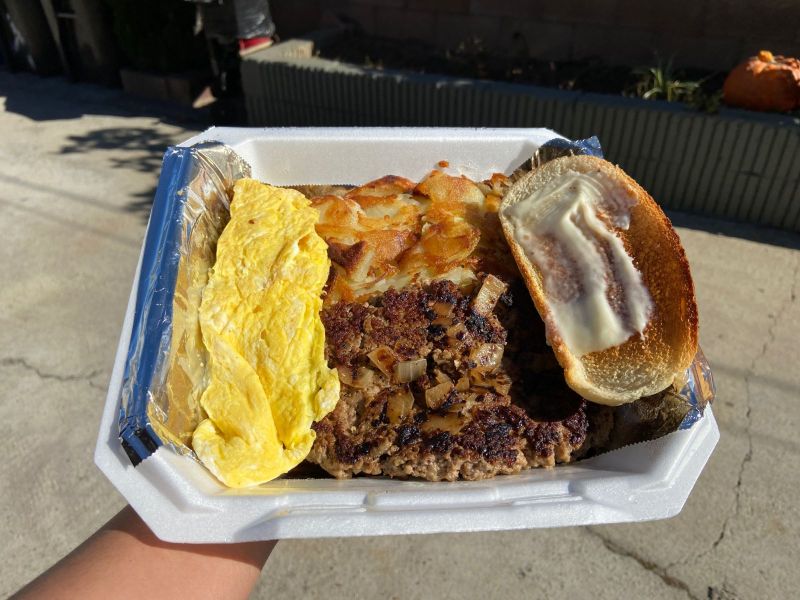 East Los Angeles 
Basket Burger Cafe has been operating since 1982. When entering the space, one can immediately feel it's a mom-and-pop, family-owned space. The owner is an Asian matriarch who has since retired, leaving the establishment to her children. Garfield High School students and East L.A. local community members know that Basket Burger Cafe is the go-to spot for the tastiest chorizo, papas, and egg burritos, the tantalizing breakfast plates, and the burgers. Want the best of those worlds? Order their popular hamburger patty breakfast plate. The juicy chuck steak patty is cooked on a flat-top grill and infused with onions that caramelize perfectly. The dish is paired with eggs cooked to your liking and your choice of crispy hash browns or home fries. Add some pancakes, and you won't be hungry until significantly later in the day. ~ Laura Tejeda
1264 S Atlantic Blvd. Los Angeles, CA 90022. Closest Metro lines and stop: Bus Lines 66 or 260 - "Atlantic/Olympic."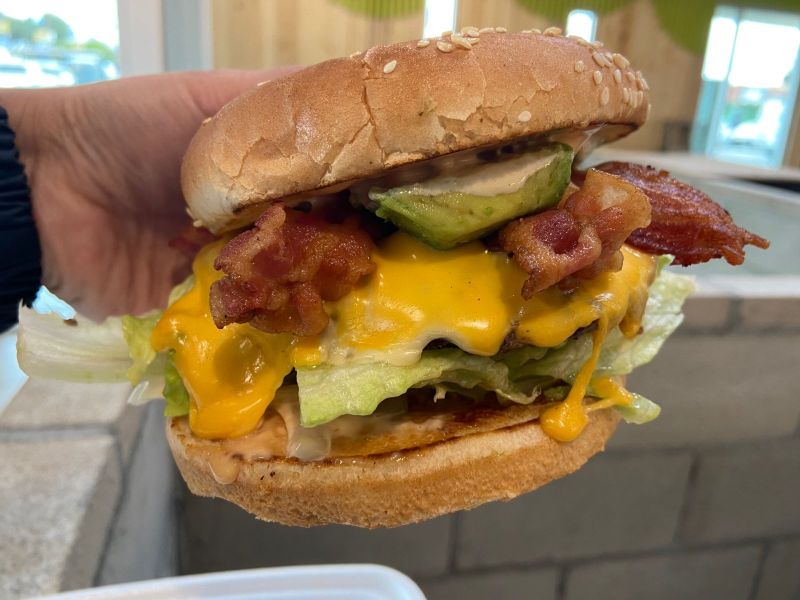 Pacoima 
When you're in the Pacoima 'hood, it is without a doubt that you have to hit up the family-owned Bobo's Burgers for any of your burger needs. Whether it's a regular order of crispy french fries, one of their eight salads, or a decision from their list of 30 sandwiches and burgers, Bobo's never disappoints when it comes to taste or quality. The sandwich we recommend for you is Bobo's avocado bacon burger with cheese. Massive is an understatement, and they do not mess around when it comes to the quality of toppings. The avocado tastes as if the employees sliced it open at its peak ripeness, and the bacon is cooked perfectly to add the crispy- crunch and depth to your bite. ~ Laura Tejeda
13433 Van Nuys Blvd. Pacoima, CA 91331. Closest Metro lines and stop: Bus Line 233 - "Van Nuys/Telfair" or Bus Lines 224, 294 or 761 - "San Fernando/Van Nuys."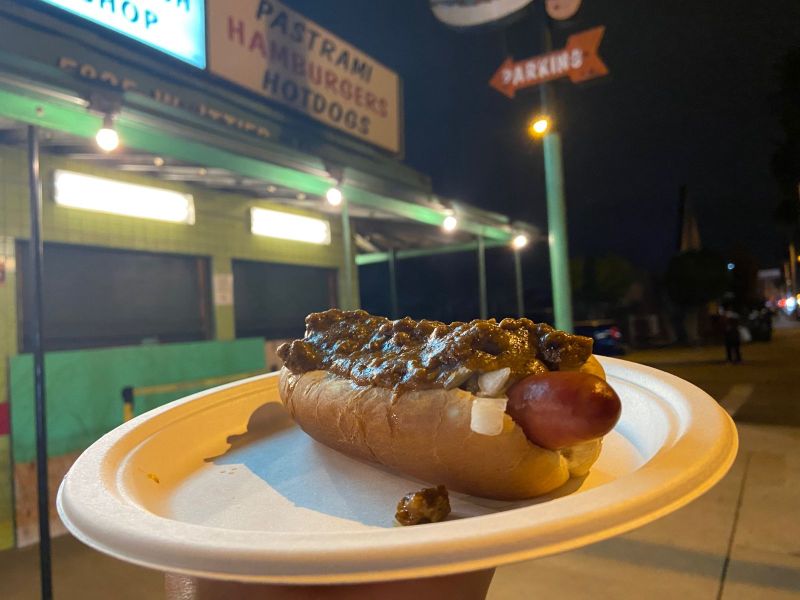 East Los Angeles
Chronis Famous Sandwich Shop opened its doors in 1945. The genius Chronis family, made up of Greek American Angelenos, changed history forever 76 years ago, providing chili dogs, chili burgers, and chili cheese fries, as well as great joy joy, to the real Eastside community. Almost eight decades later and nothing about the secret recipe has changed, and support remains overwhelmingly high. Loyal customers share that the best item on the menu is the special Chronis Chili Cheese dog, an all-beef Hoffy-brand frank, topped with a slice of American cheese, mustard, onions, and a heap of house-made chili. The hotdog snaps into your mouth perfectly in a delectable union of toppings bursting with flavor and a generous amount of chili. William Lancaster, a nephew of the restaurant's founder, shares, "I think what makes the chili special is the amount of love that goes into making it." He takes pride in the fact that the chili is always fresh and made daily. ~ Laura Tejeda
5825 Whittier Blvd. Los Angeles, CA 90022. Closest Metro line and stop: Bus Line 18 - "Whittier/Keenan."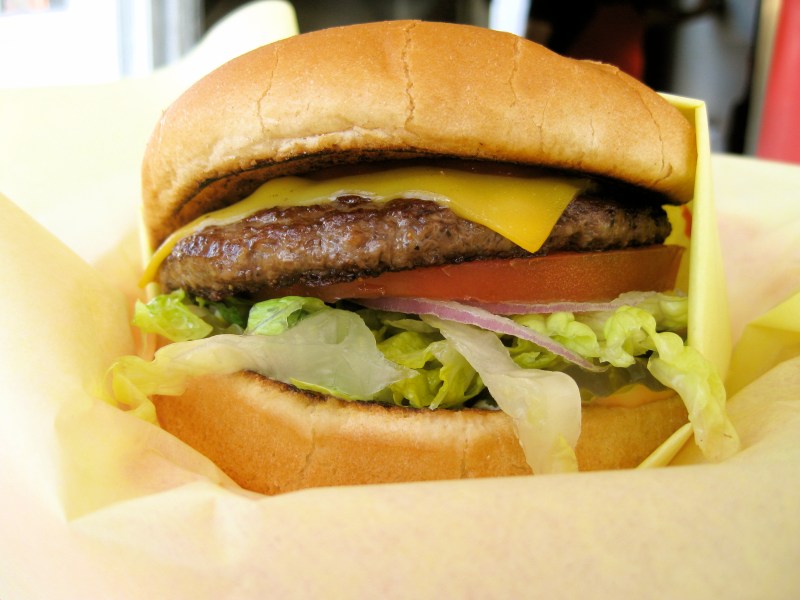 Glendale
The Great White Hut is a temple to be celebrated for its straightforward delivery of burger composition, the gift of sitting less than 10 feet from a griddle from any stool at the restaurant and perhaps most important of all: scoring killer salsa at a friggin' burger joint. All praise goes to the great griddle and when that griddle happens to be operated by the owner himself, that my friends is a damn fine reason to throw the gear into P the next time you roll down California Ave. ~ Ali Khan
1500 Cañada Blvd. Unit B Glendale, CA 91208. Closest Metro line and stop: Bus Line 90 - "Cañada/Glendale College."
121 W California Ave, Glendale, CA 91203. Closest Metro lines and stop: Bus Lines 92 or 501- "Brand/California."

Downey/Orange
Nexx Burger, a classic-style drive-thru burger joint in the city of Downey, is better than In-N-Out. Let's just get that out of the way from jump. Even their vegan burger might be better. Don't @ me. (Though seriously, @ me all you want. It really helps my self-esteem to get social media notifications of any kind.) ~ Erick Galindo
7414 Florence Ave. Downey, CA 90240. Closest Metro line and stop: Bus Line 111 - "Florence/Old River School (eastbound)" or "Florence/Tecum (westbound)."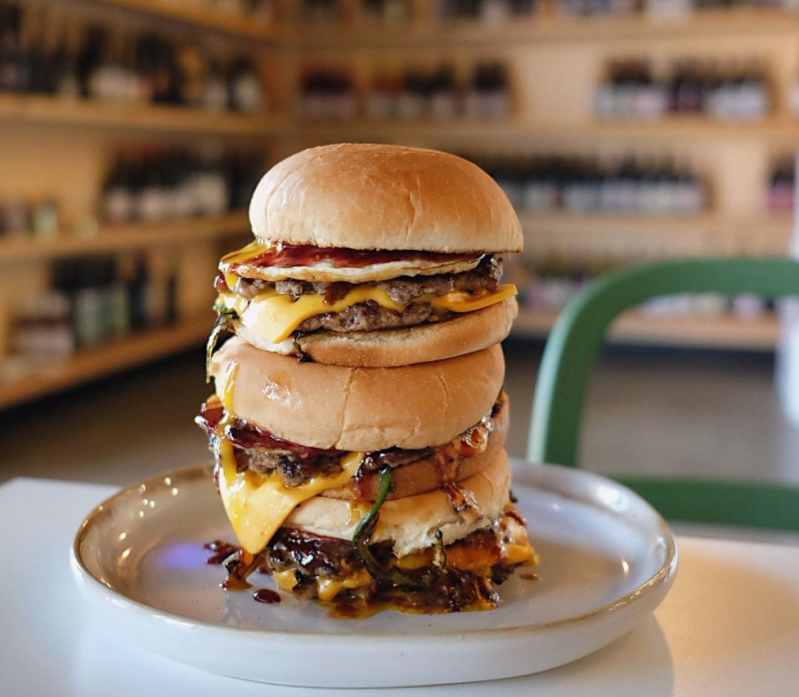 Roaming
Jairo Bogarín is the unofficial ambassador of Long Beach, and his burger pop-up "Hamburger's Nice" was Long Beach's first old-school cheeseburger pop-up. There's nothing fancy about his burgers, except for maybe some blistered jalapeños in a burger, a fried egg if you want it, and maybe a chorizo patty, but Bogarín's uncomplicated approach in between sponge buns is what keeps Long Beach residents coming back for one more bite. He pops up around breweries and always has a residency or two at a local spot.
Check Hamburger's Nice on Instagram to see where he is popping up next.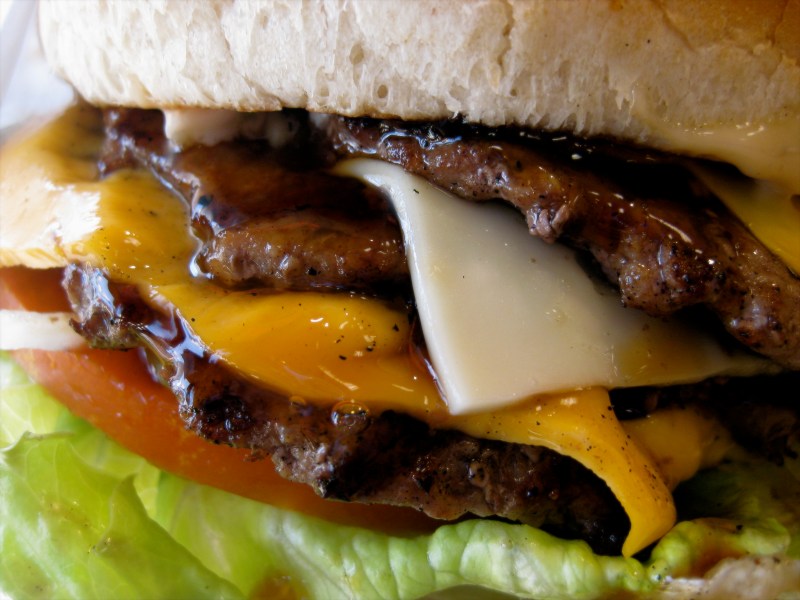 Pasadena
What stands out to me is this is a legit shot at a tasty teriyaki burger. And since triples don't happen as often as you would think in LA, I opted for the ABCX3 (avocado, teriyaki sauce, cheese, and three patties). This is what the B-Man's experience is all about: having burger fun with non-haute burger toppings like teriyaki sauce and Swiss cheese. The slip and slide of the messy burger may have totally compromised the sandwich's structural integrity. It was all in good messy burger fun. ~ Ali Khan
3007 Huntington Dr. Ste 102 Pasadena, CA 91107. Closest Metro lines and stop: Bus Lines 179 or 487 - "Huntington/San Gabriel."
Eagle Rock
Eagle Rock's one-and-only, tried-and-true Filipino-owned burger gem has stood the test of time in quickly gentrifying northeast Los Angeles. It earned the neighborhood's respect after it took over the former Jim's Burgers location and is valiantly carrying the 'hood burger coach. They also earned a lot of street cred amongst L.A.'s most hardcore burger lovers back in the day when they would host their week-long burger festivals, where a new monster burger was released every day.
2005 Colorado Blvd, Eagle Rock, CA 90041. Closest Metro lines and stop: Bus Line 180 - "Colorado/Maywood" or Bus Lines 81 and 251 - "Colorado/Eagle Rock."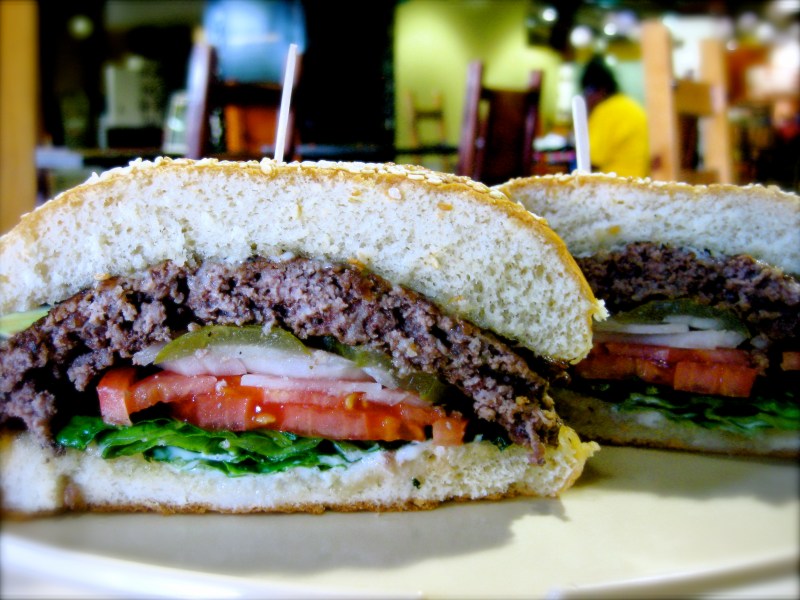 Downtown's Mercado de Paloma
Burger Plaza Grill pulls off something that I have yet to encounter: a legitimate Mom and Pop diner-style burger in a food court. In the King Burger, the patty is made to order and the amount of fresh ground beef used is obscene, which spells a-w-e-s-o-m-e for you and I, my friend. I honestly don't think I have seen that much ground beef displayed in front of me, save for a handful of old-school butcher shops. Elvis would have been damn proud. ~ Ali Khan
3655 S. Grand Ave Los Angeles, CA 90007. Closest Metro lines and stop: Metro J Line (910/950) or Bus Line 460 - "37th Street/USC Station."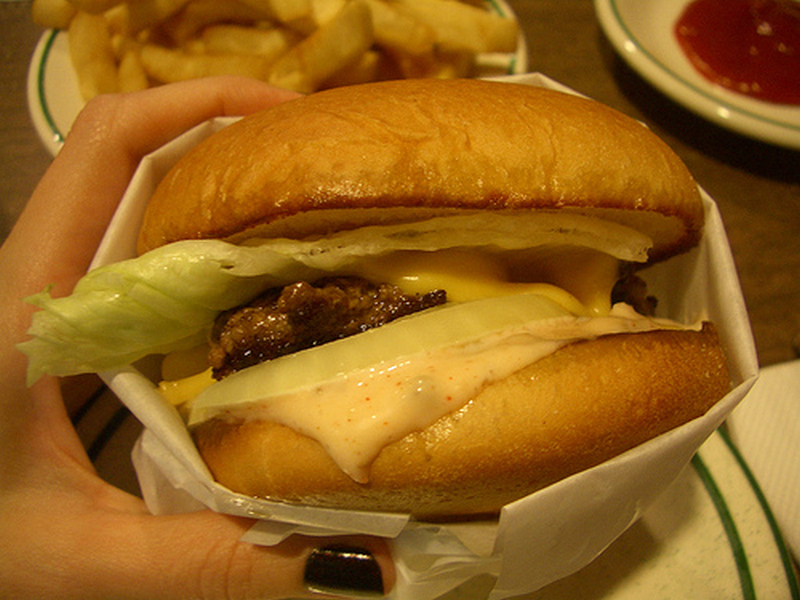 Pasadena
Pie and Burger often gets brought up in "best burger in LA" discussions and just as often is smacked down for being overrated. It's not overrated, it's just a simple greasy spoon burger done the right way, and it's served up by old-school kindly waitresses at a long lunch counter perfect for reading the paper and hiding out for awhile. If I lived near P 'n' B it would be my lunch-hour escape pod. ~ Juan Terrycloth
913 E. California Blvd. Pasadena, CA 91106. Closest Metro lines and stop: Bus Line 177 - "California/Lake" or Bus Lines 267 or 662 - "Del Mar/Lake."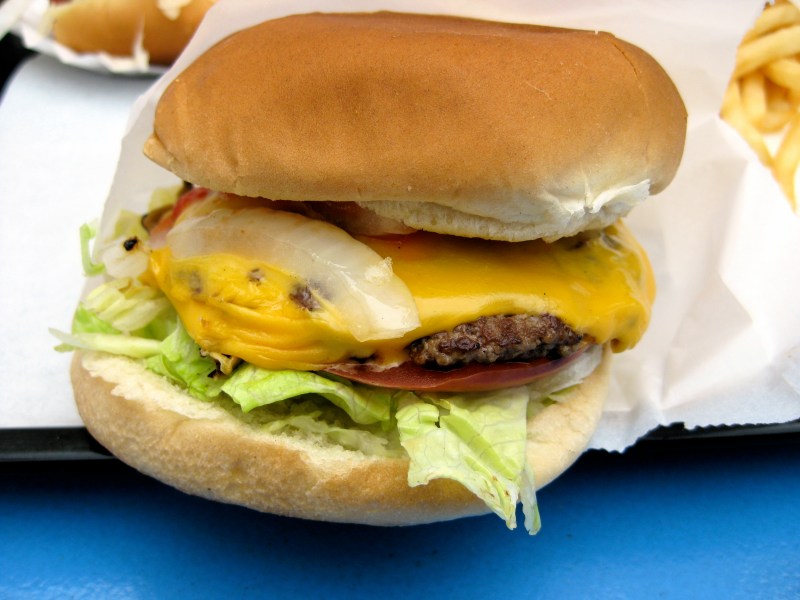 Rancho Park
It's 1996. A Tribe Called Quest is blaring out the car window. I just wrapped up an Apple Pan run, soon to be followed by a screening of Rumble in the Bronx and some mall loitering at the Westside Pavilion. $11 lighter after leaving Apple Pan. I only wish knew then what I know now: Marty's on Pico is West LA's answer for Bang for your Burger Buck. While Kobe or grass fed won't be associated with Marty's burgers, they are worlds beyond the frozen hockey pucks that so often hits griddles at similarly priced stands and diners all over town. The final product at Marty's is essentially the equivalent of a great backyard BBQ your dad would deliver, if you grew up in some Wonder Years-type scenario. I'm no Kevin Arnold, but this is a burger that would win Winnie Cooper over any day.~ Ali Khan
10558 W. Pico Blvd. Los Angeles, CA 90064. Closest Metro line and stop: Metro E Line - "Westwood/Rancho Park Station."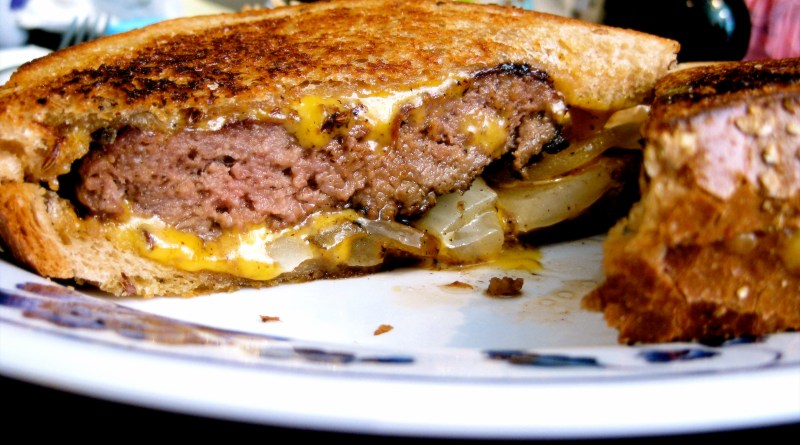 Downtown
The rye bread on the Patty Melt reminds us that Uncle John's is a true diner, a place that keeps a good pantry of breads and knows how to griddle them to golden. Plenty of American cheese and onion, essential to a great melt, are laid out in full force. While this burger was far from dry, I could have stood for it to come off the griddle a tad sooner. Regardless of that, this Patty Melt is one gooey good gut bomb and should be topping your list of "my next hangover meals." ~ Ali Khan
834 S. Grand Ave. Los Angeles 90017. Closest Metro lines and stop: Bus Lines 37, 66, 70, 76, 78 or 81 - "Grand/8th" or Metro A, B, D, E, or J (910/950) Lines - "7th Street/Metro Center Station."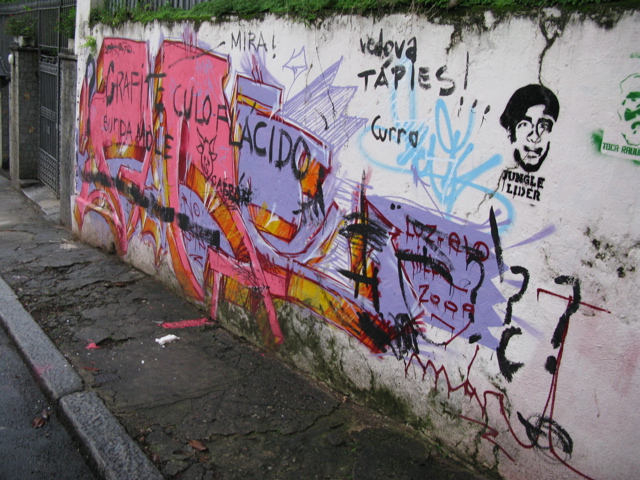 Lawndale
First off, the grind is terrific here, delivering a chew that is savor-worthy and reminiscent of an aged ribeye cap. 81/19 is the meat-to-fat ratio, a notch leaner from the typical 80/20. But after every bite of this brioche bunned burger, you feel like someone just basted the inside of your mouth with drawn butter. It really hits the sweet spot. And there lies the other interesting technique at Corner: they season their patties with sugar. The spice blend is equal parts salt, black pepper and sugar, which makes for a fine beef crust when ordered medium and beyond. But the ringer at Corner Burger is that they bring game to the griddle by serving a burger rare enough to get Hannibal Lecter barreling down the 105. ~ Ali Khan
4437 W. 147th St. Lawndale, CA 90260. Closest Metro lines and stop: Bus Line 40 - "Hawthorne/147th" or Bus Line 125 - "Roscecrans/Hawthorne."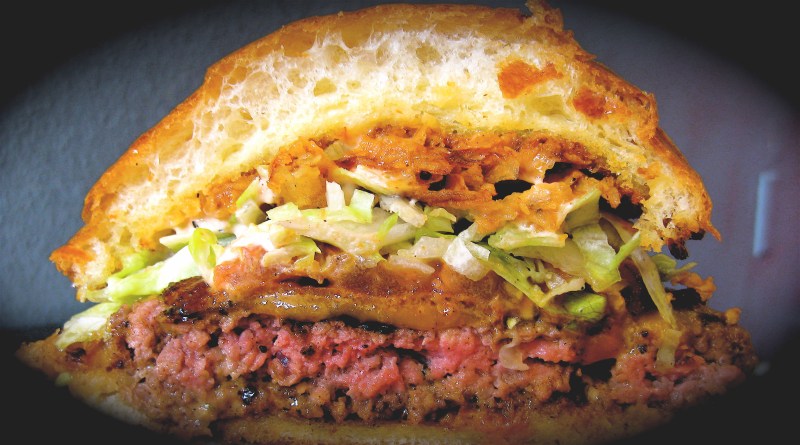 Downey
Dear L.A. Buns, I didn't think much about your name or much about you at all when I eased through your divey front door. But I should have known when I walked in that, if I'm here, it's because you deftly pull the people in with artisan burger mojo, pride in your quality ingredients, and a menu cast of co-stars that might make Christopher Nolan's Batman trilogy jealous. This is exactly what six toppings on a half-pound burger should look like. While it may be almost as overplayed as Call me Maybe, the brioche bun always pulls off the Herculean task of holding the most beastly of burgers together till the final bite. ~ Ali Khan
8237 2nd St. Downey, CA 90241. Closest Metro lines and stop: Bus Lines 115 or 127 - "Firestone/Downey."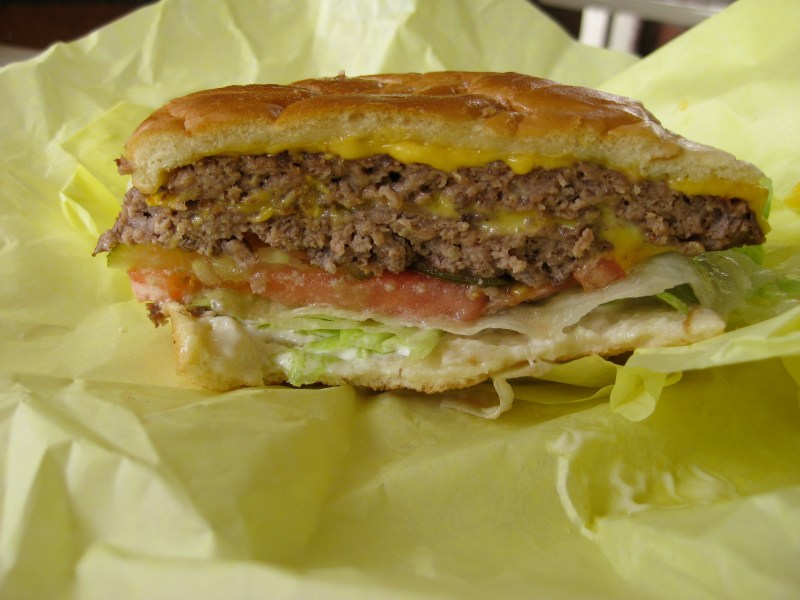 Boyle Heights
Al & Bea's strength is a griddle that has been filling the innards of Angelenos for decades and that history is smeared on both sides of that bun. The double cheeseburger with everything comes with lettuce, tomato, pickle, and mayo. These are burgers are heavy, but so is everything else at Al & Bea's.  Three bites in, and your mouth is coated in burger fat unctuousness. A little ketchup, a few jalapenos or even some roasted salsa verde would work nicely here to cut through the sheer richness of this burger, but that is a mere detail that is eclipsed by the bottom line: with prices like this, Al and Bea's is the bee's knees when it comes to bang for your burger buck. ~ Ali Khan
2025 E. 1st St. Los Angeles, CA 90033. Closest Metro lines and stop: Bus Line 106 - "1st/Cummings", Metro E Line - "Soto Station", or Bus Lines 251 and 605 - "Soto/1st."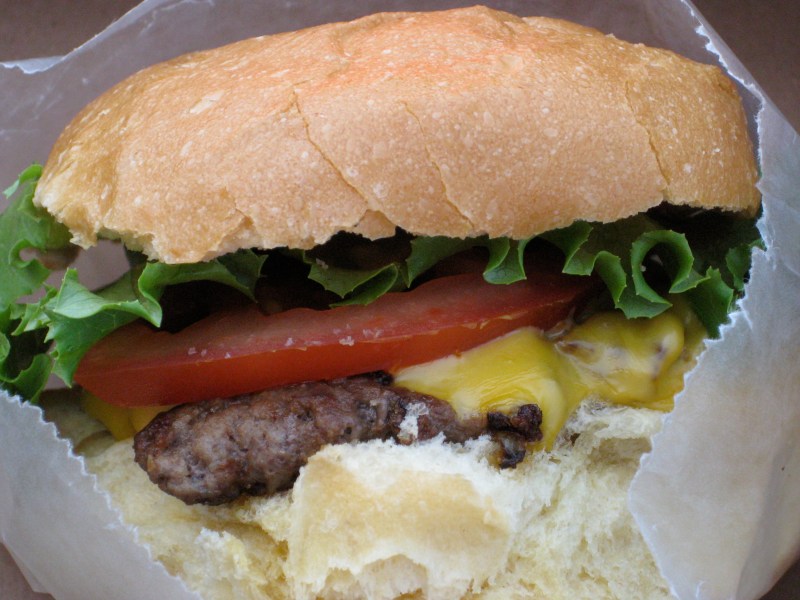 Santa Monica Pier
When my radar first picked up Pier Burger, I got seriously stoked. I grew up on griddled, stacked burgers ala Steak n Shake, and I still dream of finding a shining example of this burger in the Southland. I can't knock In-n-Out for its value, but I am looking for a little more in the beef department. The balance of protein, dairy, and carb, along with the rest of the fresh toppings, is bliss. And that bun is as good as it looks; flaky buttery crust meets a give and chew only freshly made bread can deliver. ~ Ali Khan
330 Santa Monica Pier Santa Monica, CA 90401. Closest Metro lines and stop: Metro E Line - "Downtown Santa Monica Station", Bus Line 134 - "Ocean/Colorado" or Bus Lines 4 and 33 - "Broadway/Ocean."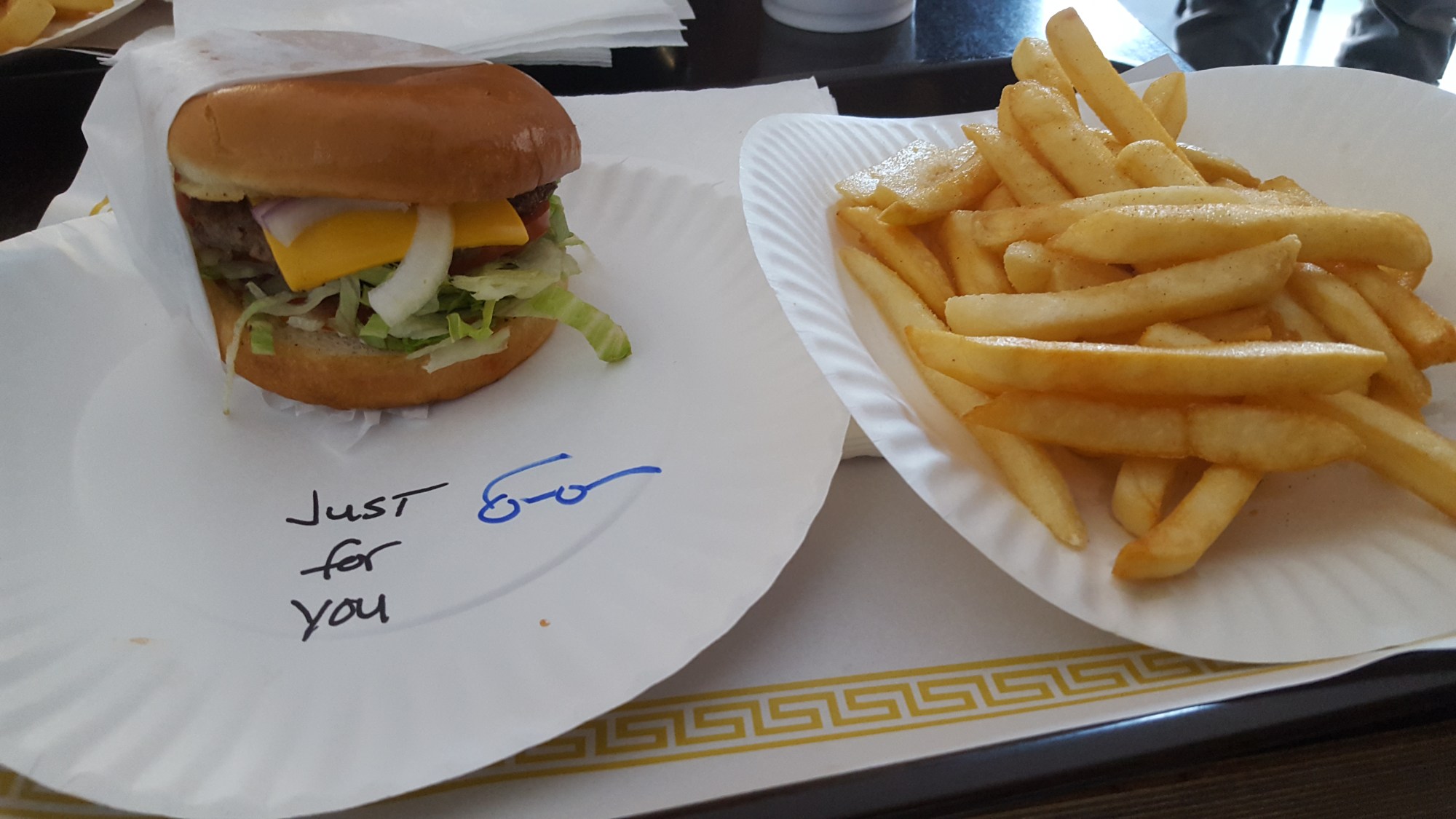 West Hollywood
After scrapping through the wait time, I was hungry; my cheeseburger disappeared with a few bites. I admired the fact that the cheese was laid at the last moment, making it cool and pliable against the bread and the meat. This was the burger you get in someone's backyard or the burger you force to make yourself in your own cramped kitchen, when only a homemade burger will do. An L.A. burger. ~ Daniel Hernandez
7998 Santa Monica Blvd. West Hollywood, CA 90046. Closest Metro lines and stop: Bus Lines 4 or 218 - "Santa Monica/Crescent Heights" or Bus Line 217. -"Fairfax/Santa Monica."
Multiple locations around Los Angeles
It's deliciously sloppy, cheesy, and meaty, and you may think you're not in the mood for it, but once you take that big monster bite of your first Tommy's chili cheeseburger after a while of not having it and then wash it down with some fries and a sip of Coke, you'll immediately remember how much you love it. If you've never tried, this local burger chain is an L.A. icon, specifically a late-night L.A. food icon—when everything else is closed. If you love In-N-Out, you owe it to your L.A. burger-loving self to try an original Tommy's chili cheeseburger.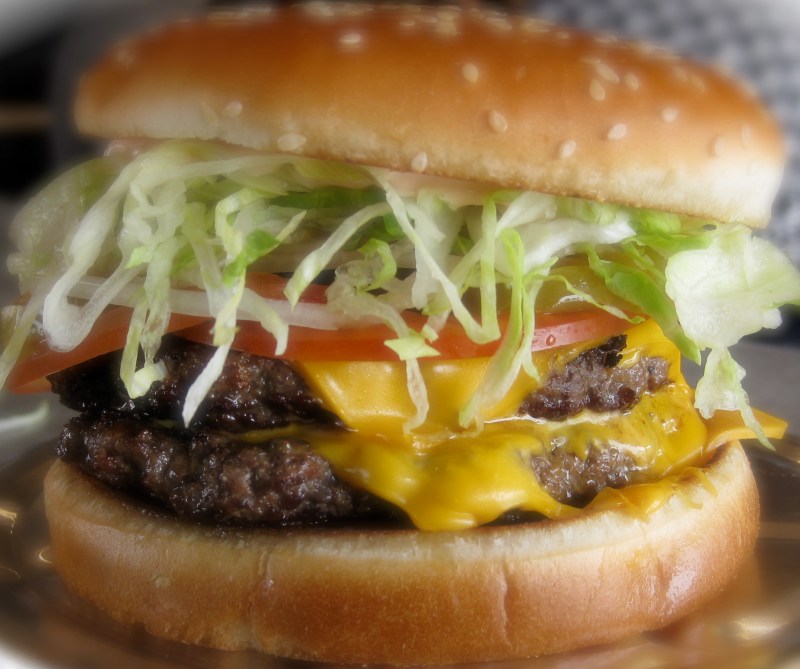 Citywide
These burgers sit quietly compared to Sal's notorious Atkins offenders, like his namesake sub that unites french fries, onion rings, and mozzarella sticks all in the name of a roast beef sandwich. But a half pound of angus aint nothin to sneeze at, and this burger can easily stand alone as the promise of a lunch fulfilled; though you would be mistaken not to get a side of these fries. ~ Ali Khan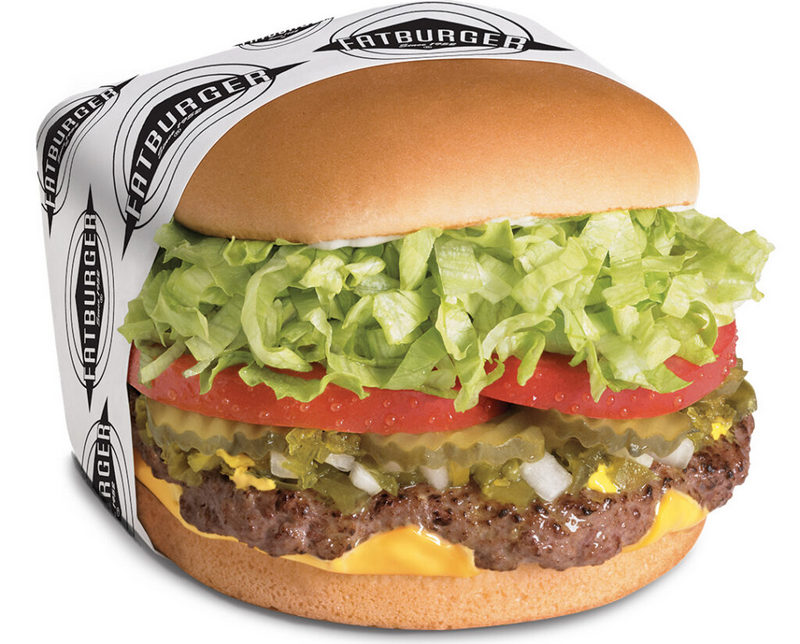 Citywide
Fatbuger's King Burger is another iconic hood delicacy, immortalized by one of L.A.'s favorite sons, Ice Cube, in the equally iconic It Was a Good Day. The lauded franchise, like McDonald's before it, was born here and is now a publicly traded corporation. Lovie Yancey founded it in 1947. She started her first Fatburger as a burger shack in Exposition Park and quickly became almost a party spot thanks to the likes of Ray Charles and other famous folks.
The King Burger itself is a party in your mouth, especially if you order it with The Works. The combination of relish and pickles dances around in the mayo-mustard mixture to compliment the extra crispy all-beef patty. Fatburger uses the same buns as In-N-Out but uses the shredded lettuce that distinguishes L.A. burgers in my book. And the steak fries murder the raggedy paper mache In-N-Out serves. Party metaphor aside, the spot is usually happening, especially right around 9 or 10 PM on the weekends. Pro tip: When you give your name, don't try using Rosalino Sanchez because they won't say it out loud. They'll just walk over to you, tap you on the shoulder, and give you a head shake of este guey.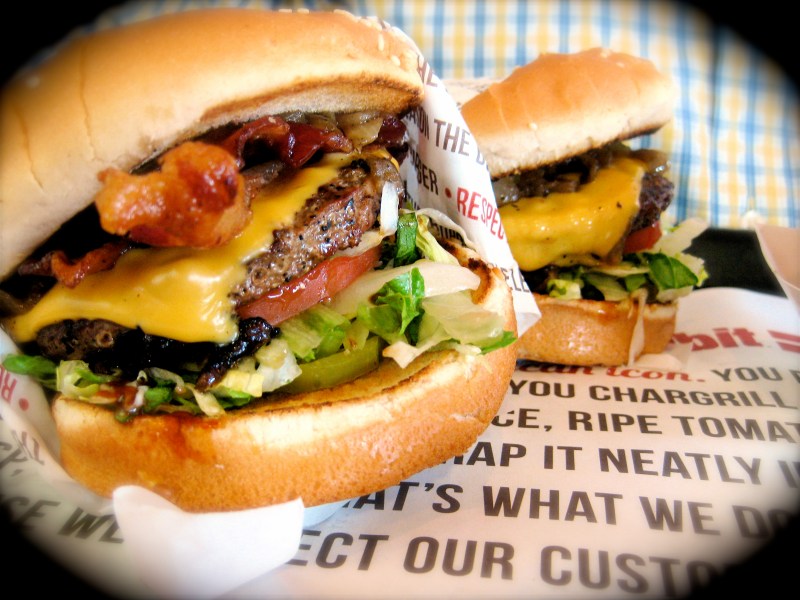 Citywide
Will the Earth momentarily pause its rotational axis when you take your first bite of the double beef teriyaki jack cheeseburger requested medium well when you visit the Habit in Burbank? Nope, and that's ok. Bang for your Burger Buck is all about making the most out of a less than ideal situation: not having $15+ to drop on a burger. The Habit is no In-N-Out, but with a carefully calculated menu hack, this joint will deliver a teriyaki burger that is worth taking a drive across town for. That's enough right there to drop a vintage Ali G line: "Respect." ~ Ali Khan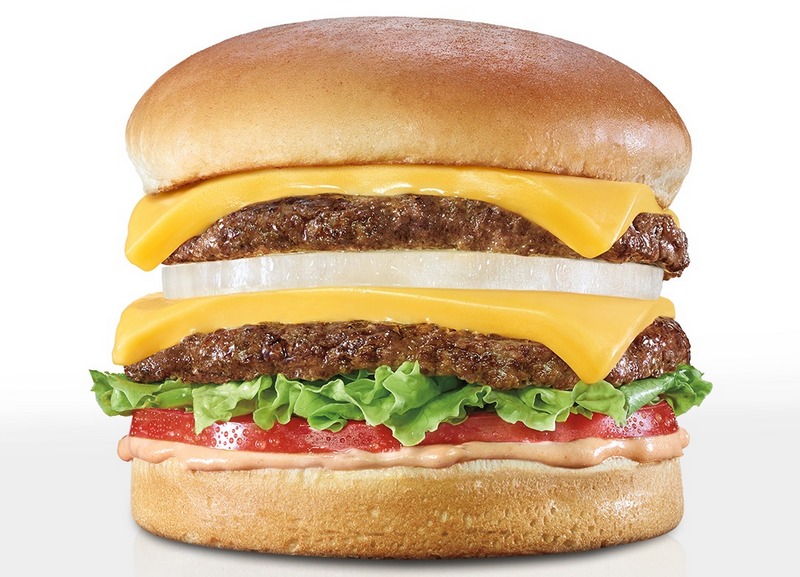 Citywide
Arguably, In-N-Out's Double-Double is the most L.A. of all cheeseburgers. It's certainly the most mainstream, known the world over and hyped to almost impossible levels. It's a good little burger, especially if you have mastered your particular order (mine is to order it with no veggies except for whole-grilled onions). But it's at its greatest when you have been away from Los Angeles for an ungodly amount of time. Even if you are away in food meccas like Mexico City or New Orleans, when you get off the plane or pull off the I-10, this iconic cheeseburger is where you want to be. It's probably the only time it lives up to the hype. ~ Erick Galindo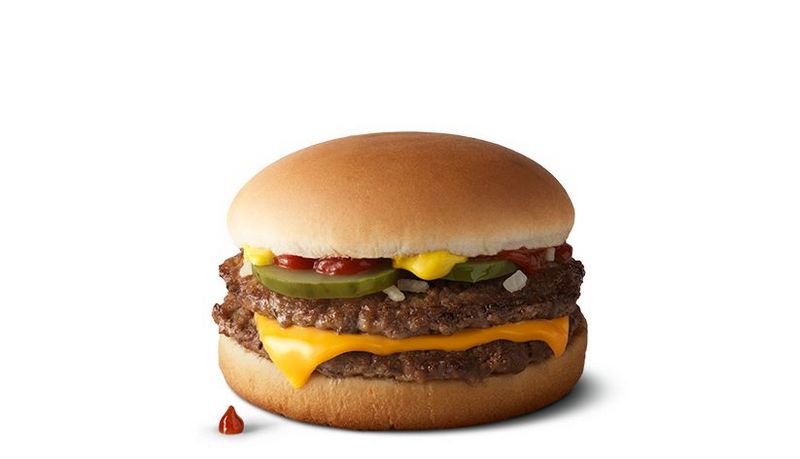 Nationwide
We would be remiss not to feature the original and—sometimes only "hood-burger"—available in many 'hoods. For a lot of people, McDonald's double cheeseburger is the absolute best burger to eat in your car and arguably the best burger ever made. Is it chemically enhanced based on rigorous scientific study so that your sense of smell fools your taste buds into thinking you just ate a slice of heaven? McDonald's says the patty is 100-percent ground beef with no fillers or additives. And it's a 100 percent perfect burger that always leaves me wanting another burger. It's also a burger that hadn't changed a ton since 1948 when the McDonald's brothers perfected the Speedee Service System, following an eight-year effort of trying to master fast food in San Bernardino. It's not fancy, but it wins in its simplicity, the meat, and cheese rolling in your mouth as you tear into it, punched up just right by the sweetness of the bun and ketchup. If you want it to feel extra special, go to the oldest functioning McDonald's in the country located right here in big bad Downey.
This list of places is not exhaustive by any means. We all love the Jim's, John's, and Troy's, but we at L.A. TACO encourage you to visit these hood places beyond your scope, you may discover some new favorites. And we'd love to hear about your favorites in our comments, too!
Stay in touch
Sign up for our free newsletter