History
L.A.'s 13 Most Infamous Murder Sites
While these sites' physical appearance or purpose may have changed over time, the legacy and horrors of what might have happened there linger forever. Once you know the backstory, walking or driving past them on a cool, crisp October evening is sufficient to provide you with a heaping helping of heebie-jeebies. 
12:53 PM PDT on October 16, 2023
Death is an essential ingredient of Halloween.
There would be no proper spectral hauntings without the deceased. No zombie movies without the rising dead. Monsters, both legendary and modern, from Frankenstein to Freddy Kruger, are products of mortal demise. 
These visions are meant to scare, frighten, and unnerve. Without death and its connection to legends, fictional narratives, and philosophical constructs like the concept of evil, Halloween simply becomes a day of store-bought candy and costumes.
Halloween marks an ideal time to delve into the macabre aspects of death in the real world. The Los Angeles area is home to several chilling points of interest for curious souls, as the following list of notorious and tragic murder sites demonstrates. 
Understanding why these often innocuous-looking sites are scary requires diving into history and context. These stories carry an extra eeriness beyond scare mazes, because they stem from real, sad events that happened at actual places, landmarks, or land that you can visit today. 
While these sites' physical appearance or purpose may have changed over time, the legacy and horrors of what might have happened there linger forever. Once you know the backstory, walking or driving past them on a cool, crisp October evening is sufficient to provide you with a heaping helping of heebie-jeebies. 
Disclaimer: Some of the places listed are private residences in residential neighborhoods. Be respectful to those living in and around these buildings, and keep the geeky gawking to a minimum.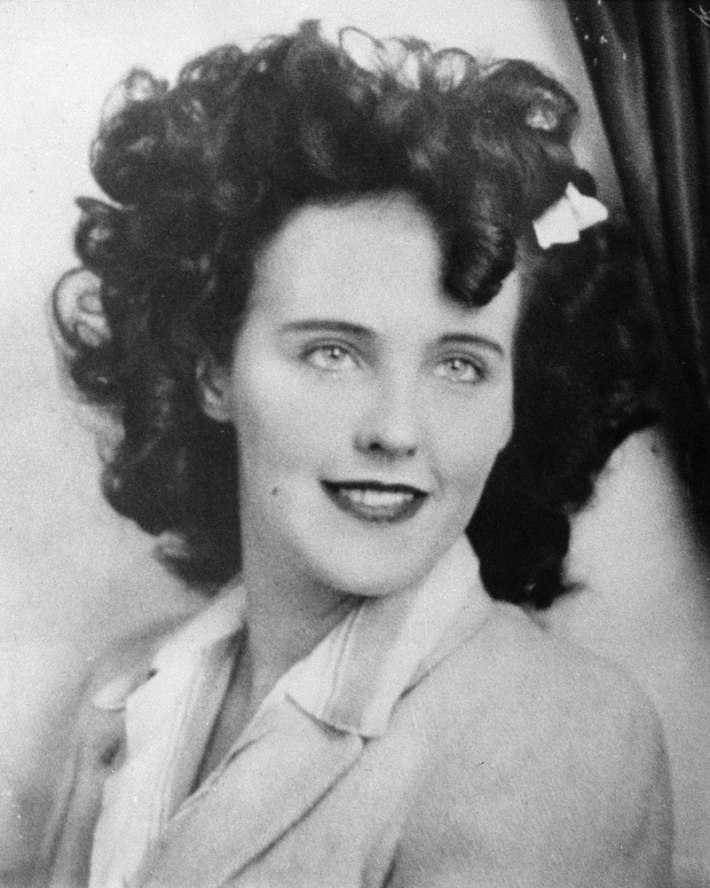 Black Dahlia Body Discovery Site 
It's a residential property now, but this address was an abandoned lot in 1947 when it was the site of Los Angeles' most infamous morbid discovery. On January 15 of that year, a mother walking her child found the body of 22-year-old Elizabeth Short, aka 'The Black Dahlia,' naked, mutilated, and severed at the waist. She was also completely drained of blood, making her appearance so pale the person discovering her initially thought she was a mannequin. While there is plenty of speculation about who may have done such a heinous act, Short's demise remains one of the country's most infamous unsolved murders. Redevelopment may have made the abandoned lot disappear, but the intrigue surrounding this story will never go away.
3925 S. Norton St. Los Angeles, CA 90008. Closest Metro lines and stop: Bus Line 210 - "Crenshaw/39th", Bus Line 40 - "Martin Luther King Jr./Degnan", Metro K Line - "Martin Luther King Jr. Station" or Bus Line 105 - "Crenshaw/Martin Luther King Jr."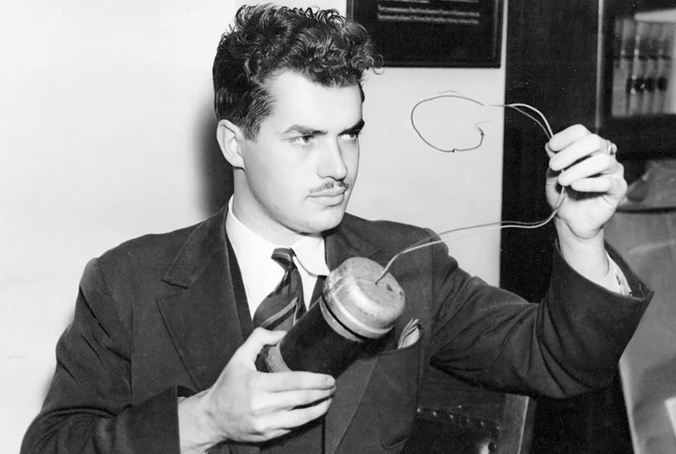 Jack Parsons Death Site
Jack Parsons was a brilliant chemist who co-founded Jet Propulsion Laboratory (JPL). He was also a creepy dude off-hours. A dark arts aficionado and a loyal follower of legendary British mystic Aleister Crowley, Parsons was known to hold drug-fueled, occult-themed orgies at his Pasadena home that he nicknamed "The Parsonage." (He also became good friends with Scientology founder L. Ron Hubbard, but that's another story). 
Parsons met his demise at a house a few doors down from The Parsonage, and his death was allegedly accidental. The story goes that on June 17, 1952, he was conducting a scientific experiment at his home lab—a necessity since he'd lost his credential at JPL due to his unorthodox lifestyle—and he unwittingly blew himself up. However, rumors persist that his death was an elaborate suicide or an even more elaborate murder. 
Today, the address where the incident occurred is amid Pasadena's Millionaire's Row, but neither property exists. The Parsonage was demolished in 1952 and condos with a strict no-trespassing policy stand where Parsons went boom. Nonetheless, if you know what happened, it adds an unsettling vibe to this wealthy area.
1071 1/2 Orange Grove Blvd. Pasadena, CA 91105. Closest Metro line and stop: Bus Line 260 - "Fair Oaks/Glenarm."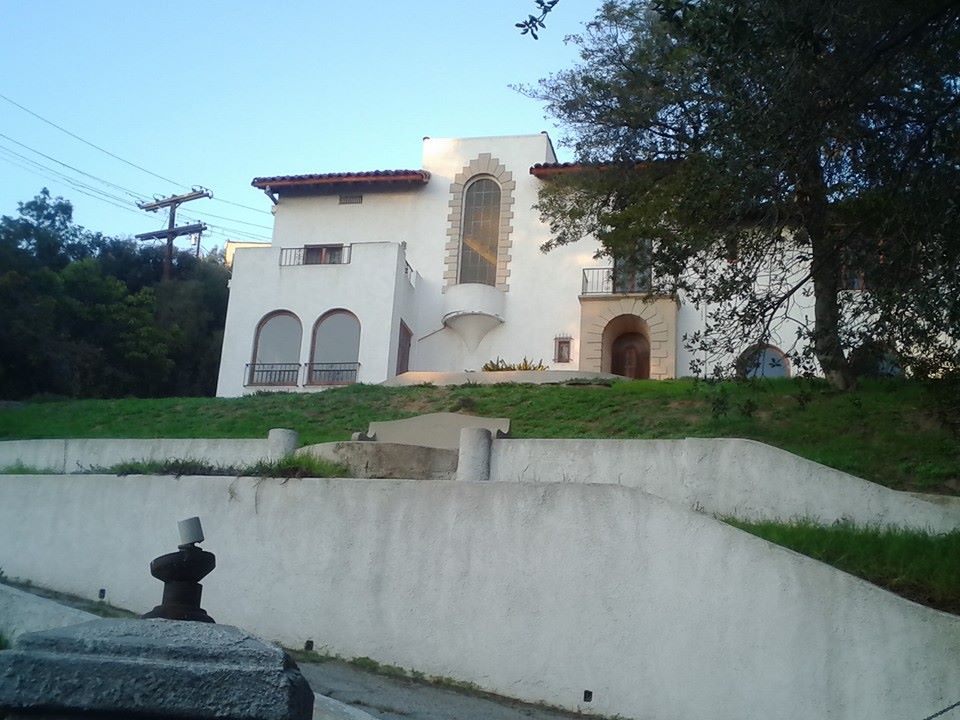 Los Feliz Murder Mansion 
On Christmas Eve, 1959, cardiologist Dr. Harold Perelson murdered his wife with a ball-peen hammer. He unsuccessfully tried to do the same to his daughter before poisoning himself in their upscale Spanish revivalist home. Unlike other murder accounts, this is where the story gets weird. 
Julian and Emily Enriquez bought the house the following year. Depending on who you ask, they either used the storage place or briefly lived there before suddenly fleeing the premises and leaving their stuff behind. Neither they, nor the son who inherited the property, moved in, leaving it abandoned for more than 50 years.  
Naturally, this led to the circulation of ghost stories and tales of wrapped Christmas presents still waiting to be opened in the living room, the latter of which were eventually confirmed by various sources. It's a shell of what it used to be—the home was purchased and gutted in 2016—but the combination of story and legend intrigues the property. 
2475 Glendower Pl. Los Angeles, CA 90027. Closest Metro line and stop: Bus Line 180 - "Vermont/Los Feliz."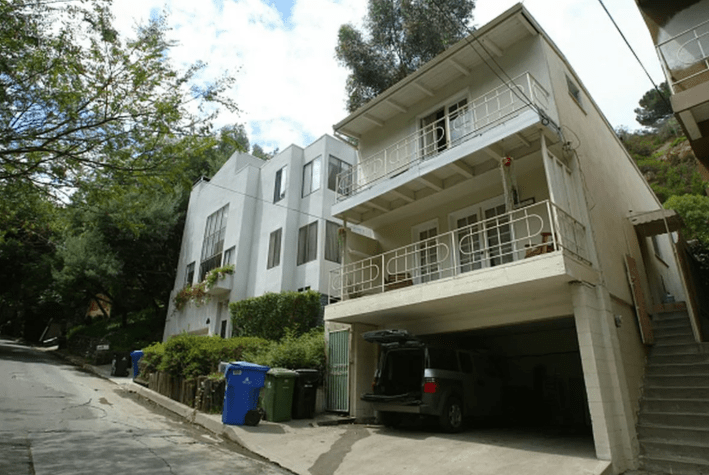 Wonderland Murder House 
Like the Black Dahlia case, the murder at this narrow townhouse, ensconced in Laurel Canyon, remains unsolved. It's also uniquely messy and lascivious, due to the names and activities that were attached to the crime. 
In the late '70s and early '80s, the property was an infamous drug house rented by a group known as the Wonderland Gang. On July 1st, 1981, a group of men broke into the home and bludgeoned four of the five people inside to death, with the lone survivor suffering severe brain damage and permanent amnesia regarding the episode. 
It's said the murders were in retaliation for an armed robbery of the home of Eddie Nash, a nightclub owner and notorious crime figure. Nash was one of two people charged with the killing. The other was adult film star John Holmes. He found himself out of work by 1981 and began running drugs for the Wonderland Gang and trading stolen merchandise for coke from Nash to feed his habit. 
It's purported that Holmes participated in both incidents—he helped the Gang break into Nash's home, while a bloody handprint at the Wonderland house seemed to place him at the murder scene. Ultimately, he and Nash were acquitted. Today, the home is an unassuming property, ideally blending in with the other homes along the curvy canyon. You'd never know one of the city's most brutal murders happened here—unless you already knew.
8763 Wonderland Ave. Laurel Canyon, CA 90046. Closest Metro line and stop: Bus Line 218 - "Laurel Canyon/Lookout Mountain (southbound)" or "Laurel Canyon/Willow Glen (northbound)."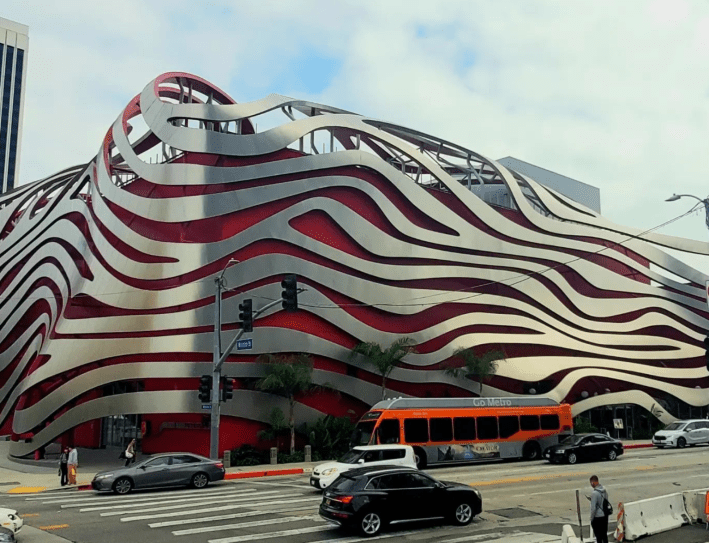 Biggie Smalls' Shooting Outside the Petersen Automotive Museum 
Marked by pops of red peeking through abstract squiggles of stainless steel, this funky building is one of the most iconic structures on one of Los Angeles' most famous streets. It's worth a visit for its excellent inventory of vehicles, but it's also noteworthy for one of the city's most infamous unsolved murders.
In 1997, an unknown assailant murdered Christopher Wallace, aka The Notorious B.I.G. (aka Biggie Smalls), in a drive-by shooting shortly after the New York emcee and his entourage left an after-party at the Petersen in an SUV. 
The murder shook the hip-hop community and music world. Stopping by this major intersection is a must for Biggie fans to pour out an E&J at.
6060 Wilshire Blvd. Los Angeles, CA 90036. Closest Metro lines and stop: Bus Line 217 - "Fairfax/Wilshire" or Bus Lines 20 and 720 - "Wilshire/Crescent Heights (westbound)" or "Wilshire/Mc Carthy Vista (eastbound)."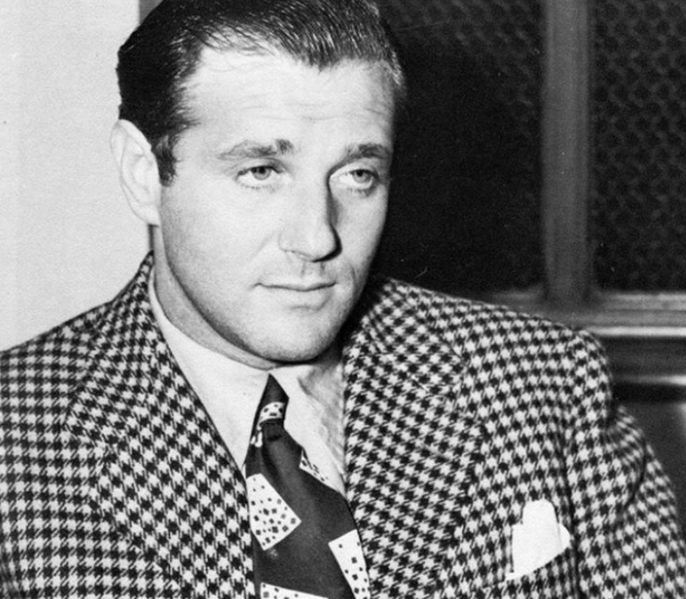 Bugsy Siegel Murder Mansion
Few, if any, murder houses are more opulent than the 7,000+ square-foot Spanish Colonial property where Benjamin "Bugsy" Siegel met his fate. It's so luxurious that even the killing of a prominent mob kingpin on its grounds can't hurt its value—it hit the real estate market in 2022 for $16.6 million.
 Then again, perhaps Siegel's murder enhances the value, because Siegel wasn't your ordinary gangster. He integrated himself into Hollywood high society, befriending movie stars and dating actress Virginia Hill. Still, in the end, he met a gangster's death. 
On June 20, 1947, Siegel was gunned down by a hail of bullets that penetrated his living room window and one of his eyes. The murder was unsolved, and theories about who did it range from mob leaders to Hill's own brother. Regardless of who killed Siegel, the fact such a brutal murder happened at such a stunning place still packs a punch.
810 N. Linden Dr. Beverly Hills, CA 90210. Closest Metro line and stop: Bus Line 2 - "Sunset/Whittier."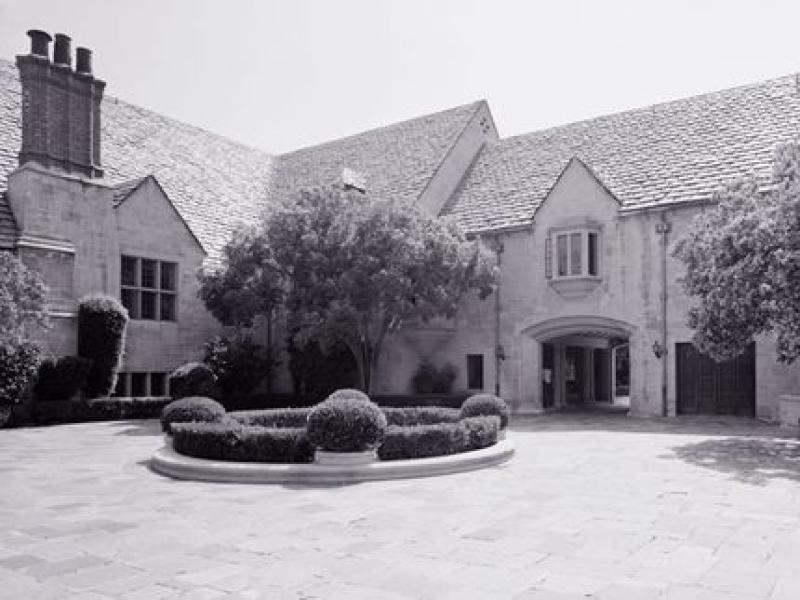 Ned Doheny Murder Mansion
Then again, there's no site of murder more opulent than Greystone Mansion, site of the 1929 murder of Ned Doheny, son of oil tycoon Edward L. Doheny. The scion was killed in a guest room shortly after moving into the grand Beverly Hills manse, which his daddy built for him at a $4 million cost, with his wife and kids. The murderer, Hugh Plunkett, then shot himself and fell beside Doheny's body. The motive will always be fodder for speculation as to whether he was just a disgruntled employee… or something more.
Despite the notorious murder-suicide, the location is still dazzling enough to play host to constant weddings, corporate events, romantic picnics, and film shoots, where it has added a touch of necessary evil to such movies as The Witches of Eastwick, Eraserhead, and Flowers in the Attic. 
905 Loma Vista Dr. Beverly Hills, CA 90210. Closest Metro line and stop: Bus Line 2 - "Sunset/Hillcrest."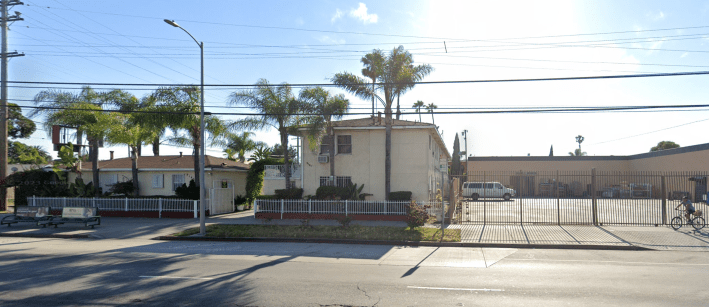 Sam Cooke Murder Site
The only thing on this address now is a gated parking lot next to a grocery store. It's so basic and pedestrian that it's almost impossible to fathom that a motel was once here. It was indeed the former home to the Hacienda Motel, a property that unwittingly played host to the tragic murder of a gifted entertainer that's equally convoluted and bizarre. 
On December 11, 1964, R&B pioneer Sam Cooke was fatally shot in the chest by the motel's manager, Bertha Franklin. The shooting and the events leading up to the shooting remain shrouded in mystery. According to Franklin, she shot a half-naked Cooke after he burst into her office and physically confronted her, demanding answers about another woman. 
The woman in question, Elisa Boyer, was with Cooke at the motel that night. She said she escaped the motel room they were in due to Cooke sexually assaulting her. She also ran off with half of Cooke's clothes and, some allege, the $5,000 Cooke was carrying with him at the time. This latter half of the story led Cooke's family and associates to speculate Franklin and Boyer were working together to rob the musician, but things got out of hand. Ultimately, the shooting was ruled a justifiable homicide.
9137 S. Figueroa St. Los Angeles CA 90003. Closest Metro lines and stop: Bus Line 81 - "Figueroa/92nd" or Bus Line 45 - "Broadway/92nd."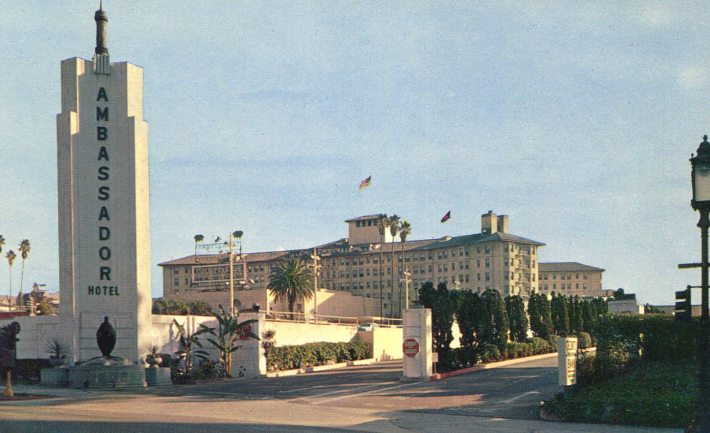 RFK Assassination Site 
A tall, white obelisk stands on the southeast corner of this K-town public space. Its Art Deco design doesn't jibe with the space's other more modern structures, save for its graffiti tags and signs of L.A.'s ongoing homeless crisis. Its presence doesn't make sense until you know what it was—and what used to be here. The obelisk was once part of the entrance gate of the Ambassador Hotel, the upscale property where presidential candidate Robert F. Kennedy was assassinated by Sirhan Sirhan over his pledges of military support for Israel, following a speech in 1968. There is a street-facing memorial for RFK in the park—and appropriately so—but this structure stands without a marker, making it a strange-looking structure that may become even stranger as time moves further away from the hotel's 1989 closure and 2006 demolition.
3384 Wilshire Blvd. Los Angeles, CA 90010. Closest Metro lines and stop: Bus Line 20 - "Wilshire/Alexandria", Metro D Line and Bus Lines 206 or 720 - "Wilshire/Normandie Station."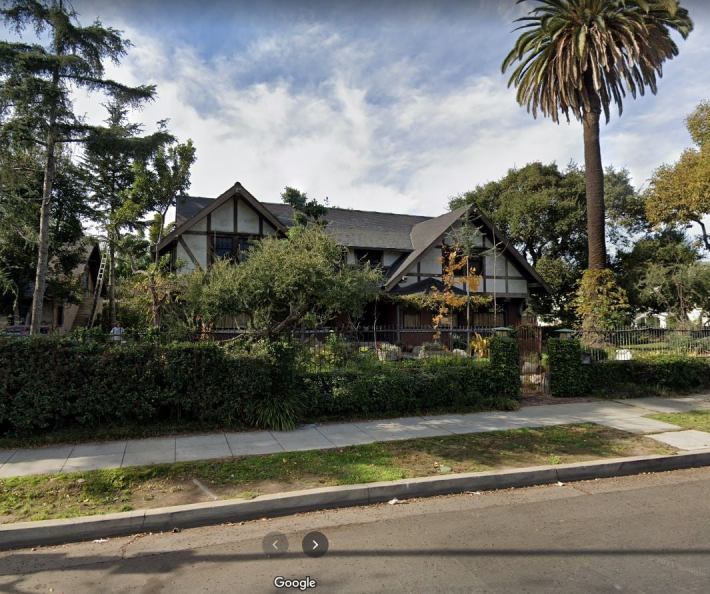 Marvin Gaye Murder House 
On April 1, 1984, R&B legend Marvin Gaye was shot and killed by his abusive father at this sprawling Tudor-style home in L.A.'s Western Heights neighborhood, the day before what would have been the singer's 45th birthday. It was a tragic end fueled by a tumultuous relationship between the two men, with the actual episode occurring on the heels of a physical altercation. 
Its notoriety stretches beyond the murder: Gaye's siblings believe that Gaye, who was battling drugs, under financial distress, and dealing with depression, committed premeditated suicide by pushing the buttons needed to get his father to pull the trigger. 
It's a theory bolstered partly by Gaye's purported last words: "I got what I wanted… I couldn't do it myself, so I made him do it."
2101 S. Gramercy Pl. Los Angeles, CA 90018. Closest Metro lines and stop: Bus Line 35 - "Washington/Gramercy" or Bus Line 207 - "Western/Washington."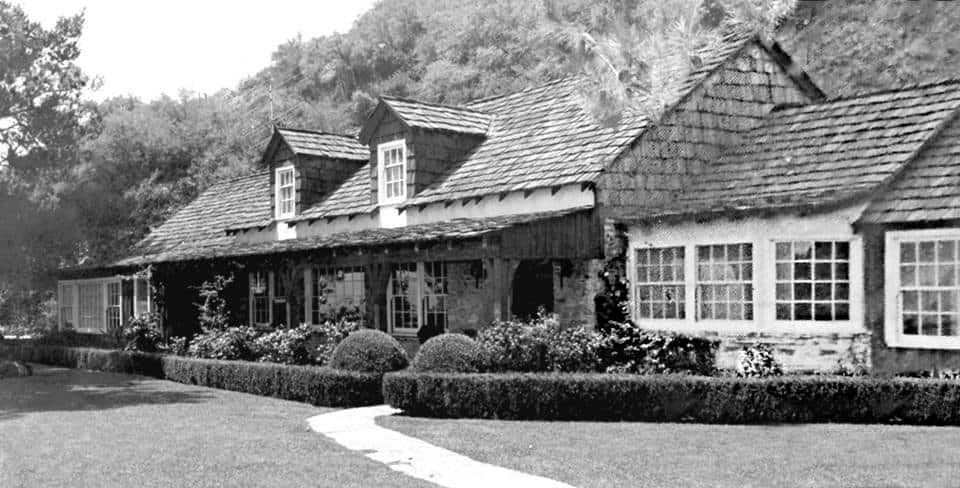 Sharon Tate Murder House Site 
There's an odd mythos surrounding the plot of land where the Manson family's horrific murder of actress Sharon Tate and four others occurred. Trent Reznor of Nine Inch Nails lived there for a couple of years. Marilyn Manson used the property's in-house recording studio for recording sessions. 
When the house was torn down in the mid-90s, the owner of a new home built on the site changed the address to 10066 Cielo. Eventually, this new property would fall into the hands o" Jeff Franklin, the television producer who created "Full House."  The house is currently up for auction at $55 million, but buyers beware: No amount of building reconstructions or address changes will probably ever allow this property to escape its past. That may be especially true during Halloween when curious creep-seekers come out in full force.
These aren't the only murder sites connected to Manson's cult in Los Angeles either. 3311 Waverly Dr. in Los Feliz is where Leno and Rosemary LaBIanca were murdered in their homes the next day. While Manson follower Bobby Beausoleil killed Bhuddist music teacher and UCLA PhD student Gary Hinman in his Topanga Canyon home just weeks before, supposedly on Manson's order, after Beausoleil and a couple of Manson girls had taken him hostage for days. That continues to be a private residence to this day.
10050 Cielo Drive/10066 Cielo Dr. Beverly Hills, CA 90210. Closest Metro line and stop: Bus Line 2 - "Sunset/Carolwood."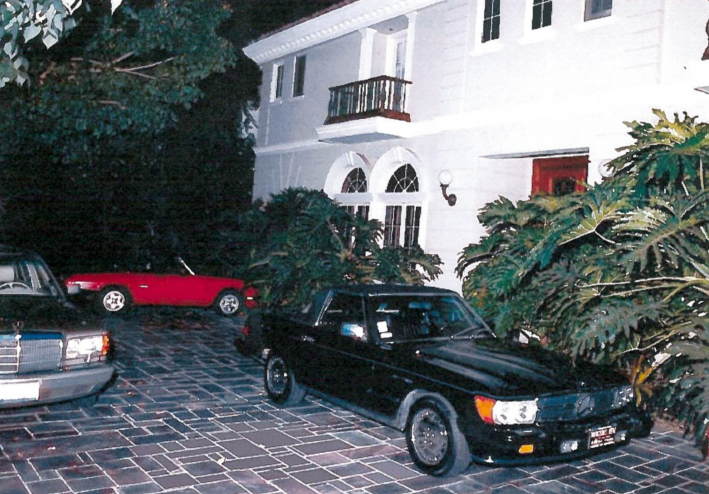 The Menendez Brothers Murder Mansion
In 1989, Beverly Hills brothers Eric (18) and Lyle Menendez (21) offed their folks with a pair of 12-gauge shotguns in a stately mansion on Elm Drive. Today, the house is currently occupied by new owners, while the brothers are currently doing life, still maintaining that the murder resulted from years of horrific sexual and physical abuse at their father's hands.
722 N. Elm Dr. Beverly Hills, CA 90210. Closest Metro line and stop: Bus Line 2 - "Sunset/Foothill."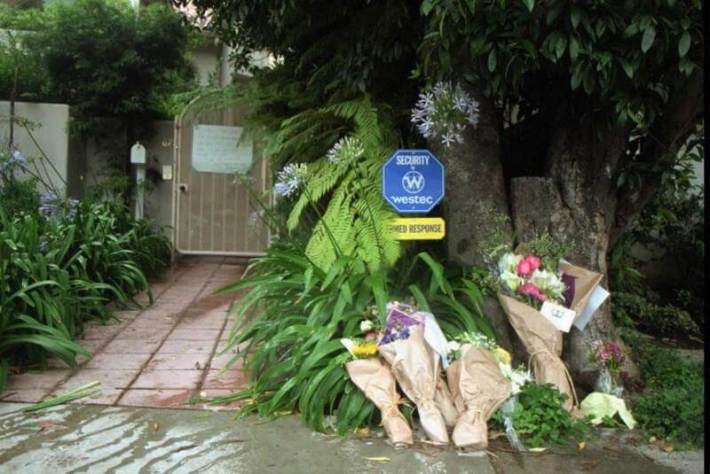 Nicole Brown Simpson and Ronald Goldman's Murder Sites
You probably know all about what happened here. If not, who, um, exactly did it? You know… If they did it.
Anyway, up Bundy, smack in the middle between Wilshire and San Vicente, you can see where one, likely large and nimble, murderer murdered two innocent people in cold blood with a knife in a size 12 pair of Bruno Magli Lorenzos. If you have to.
875 S. Bundy Dr. Los Angeles, CA 90049. Closest Metro lines and stop: Bus Lines 20 and 720 - "Wilshire/Bundy."
Rich Manning is a freelance writer who lives in Fountain Valley, CA with his wife and two daughters, and is likely eating a burrito as you read this.
Read More:
Stay in touch
Sign up for our free newsletter