Tacos
The 69 Best Tacos In Los Angeles In 2023
9:30 AM PDT on October 4, 2023
Eating tacos in Los Angeles is a sport. Especially this year, when taco stands seemingly multiplied across every other city block. It's the culmination of more regional styles getting the respect they deserve, immigrants who hustle, and street vending slowly becoming fully decriminalized. Birria is no longer just a special occasion dish; T.J.-style tacos continue to demand long lines, corn tortillas were revolutionized, and unforgettable flour tortilla tacos are no longer a rarity.
While tacos are one of the most democratic and blue-collar foods, they can also be ephemeral and sophisticated—dictated by what's in season.
The taco is a many-faced god.
Depending on what part of L.A. you're from and live in now, the kinds of tacos you're exposed to are about access and location. But since L.A. is such a transient city, you're usually only a short drive away from your next amazing taco-eating experience. And if it's longer, the tacos on this vetted list will still be worth it.
This list looks at all the greats and new voices that represent the varied and complex tacos of Los Angeles. From the taco chains that have been servicing their working communities for decades to the steamy tacos al vapor of Southeast and East L.A. to the smoky Tijuana-style taquerías in South Central lots, or the many Alta California taqueros pushing the boundaries of the taco throughout the city, it is a hell of a time to be eating tacos.
Whether eating them on the street or at a restaurant, tacos are near, plentiful, and always satisfying.
After being the first L.A. publication dedicated to covering L.A.'s TACO LIFE since 2005, we are still proudly at it. Catch us in the streets! Here are the tacos that define Los Angeles.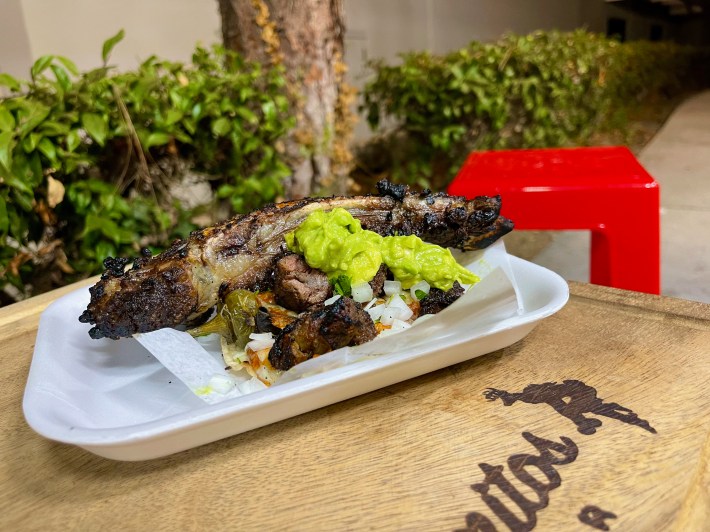 Taco de Costilla on Handmade Flour Tortilla
Found in a dimly lit corridor in Whittier, Mochomitos is here to remind you of that serving tacos on handmade flour tortillas piled high with juicy, charred arrachera (skirt steak), costilla (sliced beef rib), or sirloin is what real carne asada is all about.They are a family-owned, formidable, eight-month-old food truck located along historic Whittier Boulevard in east of east. They are also the first truck in Los Angeles to treat asada like an adjective by offering you the different cuts of asada to be placed on their handmade flour tortillas, the same used for their hulking asada burritos. Every cut arrives gristled and juicy. - Javier Cabral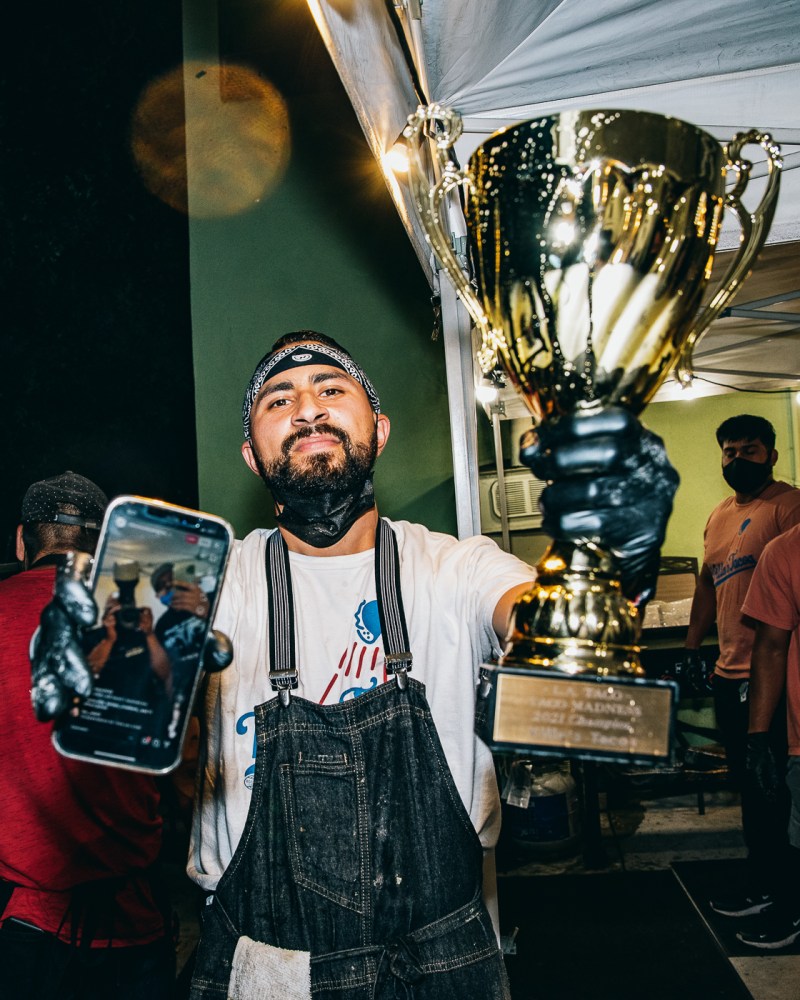 Tacos de Chorizo
Taco Madness 2021 and 2022 champion Villa's Tacos won L.A.'s heart with their heavily-condimented tacos served on "Dodger-blue" tortillas. With each taco, you can add various cheeses, four different salsas, and pickled onions. The chorizo stands out, bright crimson with plenty of fatty and spicy crumbled pork that doesn't get lost in all the sauces. Come find out why this was L.A.'s favorite taco in recent years. - Cesar Hernandez
5455 N Figueroa Street, Los Angeles, CA 90042. Closest Metro lines and stop: Bus Lines 81 or 182 - "Figueroa/Avenue 54" or Metro A Line - "Highland Park Station."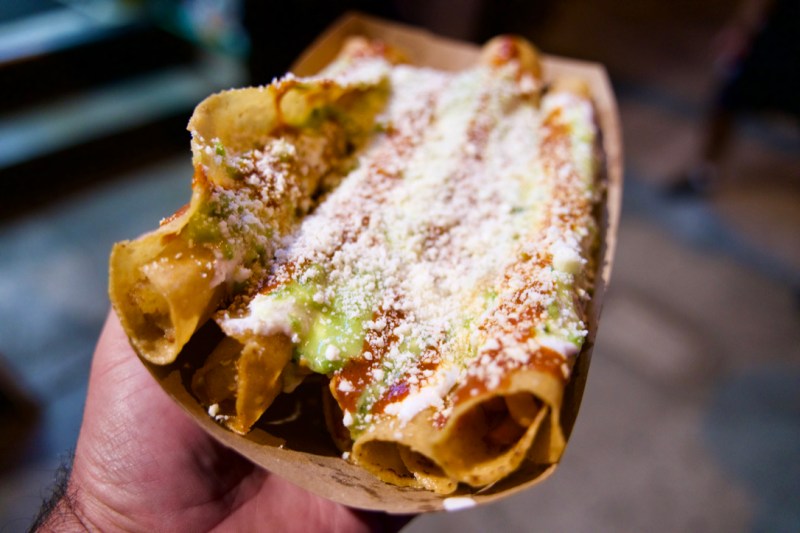 Potato and lamb barbacoa flauta
The flautas from Los Dorados are mind-shatteringly crunchy. This taquería has two small loncheras that set up around Los Angeles and only sell flautas. I believe that the potato flauta is the purest way to experience Los Dorados because it gives you the chance to really taste the company's fantastic green and red salsas. But the lamb barbacoa, covered with a mole-like salsa borracha, is just insanely good, gamey and meaty, but enlivened with a smokey salsa and tangy crema. - Cesar Hernandez
Follow them on Instagram to see when they are going to pop up next.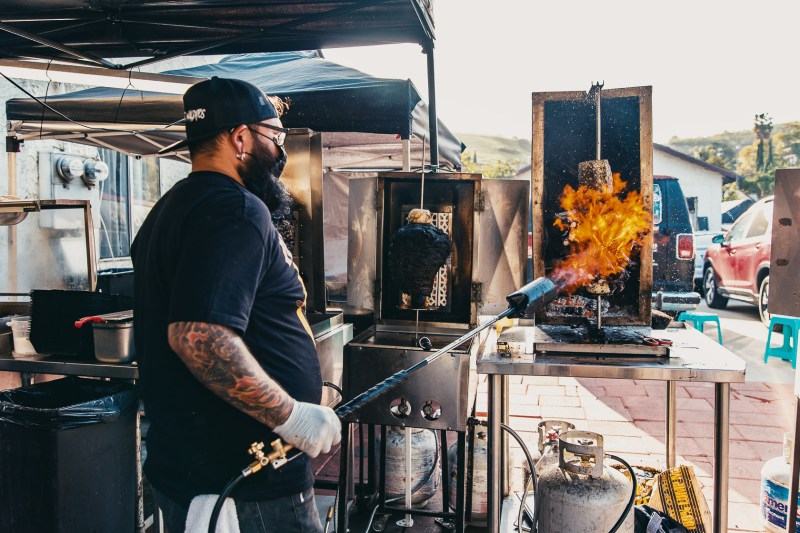 "The Three From Hell"
Evil Cooks power-slid onto the scene with a screaming metal guitar solo, starting off with one black trompo; now they're up to three, each bearing different meats. The "Three From Hell" comes with three tacos from every one of these trompos: beef, pork, and octopus. Each protein is rubbed with recado negro, a Yucatán-style adobo paste made from charred spices and chiles. Make sure to try their rockero dessert tacos for something completely different.
2461 N. Eastern Ave. Los Angeles, CA 90032. Closest Metro line and stop: Bus Line 665 - "Eastern/Klamath."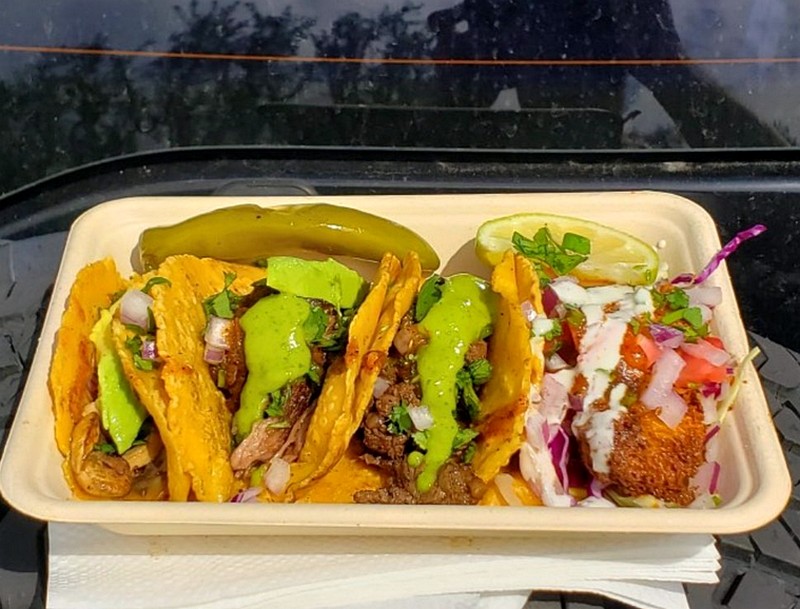 Taco de Hongos
DREAMer Rudy Barrientos' Pacific Palisades taco truck has defied the odds, parking a tried-and-true taqueria in a wealthy White suburb and quickly gaining a dedicated following of locals and Westsiders for his hand-pressed tortillas, rich sazon, and marinades and salsas made from scratch each day. There's no going wrong with the meats, be it the high-quality asada or the Tecate-battered tilapia. Still, the taco de hongos is our favorite, with its juicy shroom innards lending their earthy, sweet funk to the taste of the clean, corny, rustic tortillas. - Hadley Tomicki
15120 W. Sunset Blvd. Pacific Palisades, CA 90272. Closest Metro line and stop: Bus Line 602 - "Sunset/Carey."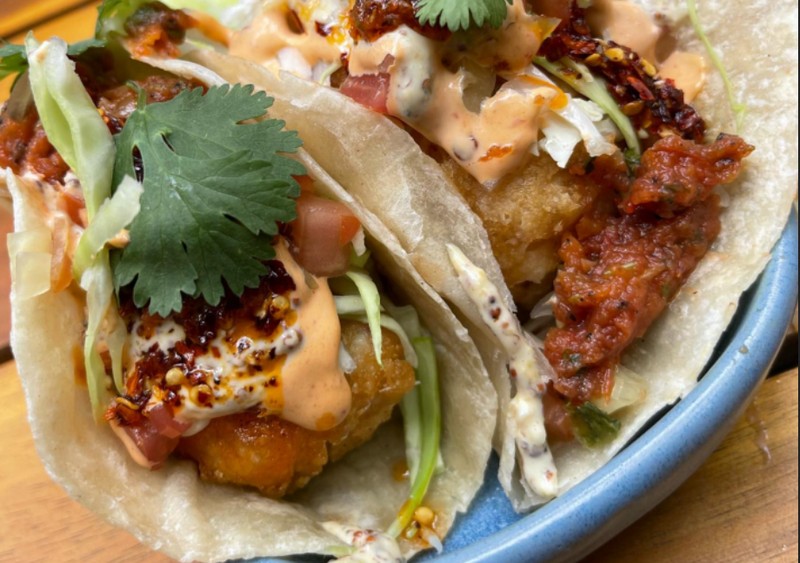 Fish Tacos
While we await the return of Wes Avila's seasonal Taco Thursdays here in later 2023, we can depend on this mainstay of his lunch menu: a daily taco centered on wild-caught fish, picked for its freshness, flavor, and overall taco-mpatiability. Right now, he's encasing rockfish in the thinnest of tempura batters for two tacos with a mötley crüe of salsas, including mustard-habanero and chipotle aiolis, pico de gallo, a spicy "salsa China," and heirloom tomato molcajete salsa, sure to leave a scene of taco destruction all over your plate and hands (and your pocket liberated of $18). Through it all, the fresh fish clings to the spotlight. - Hadley Tomicki
970 N. Broadway Suite 114, Los Angeles, CA 90012. Closest Metro lines and stop: Bus Line 45 - "Broadway/Bernard" or Metro A Line - "Chinatown Station."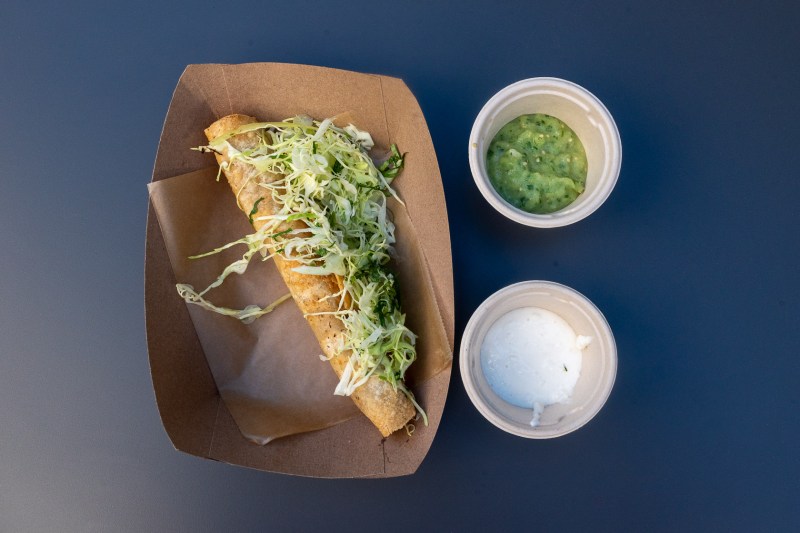 Fish Machaca Fish Flauta
Ditroit's crispy fish machaca flauta, fried in rice bran oil and topped with avocado salsa and a creme fraiche-queso fresco mixture, is the loftiest expression of a taco dorado in Los Angeles. The highly-pedigreed Arts District taquería, opened by the Enrique Olvera Mexican restaurant empire, came out swinging with this taco. It is virtually greaseless, and the fishiness that can exist in this apex sailfish is minimal. You are not alone if you find yourself spending a small fortune on three of these. - Javier Cabral
2117 Violet St. Los Angeles, CA 90021. Closest Metro line and stop: Bus Line 60 - "Santa Fe/Violet."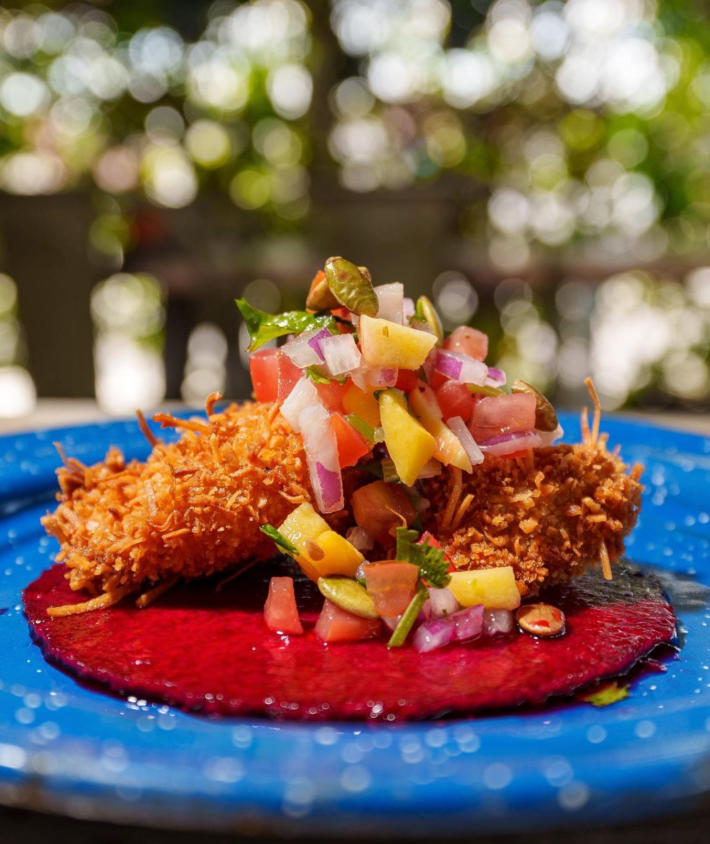 Coconut Shrimp on Jamaica-Infused Jicama "Tortilla"
It's OK to be taco curious, and if your eye catches the coconut shrimp on a "jicama tortilla" on the menu at Balam, then go for it. Is it officially a taco if it has no flour or corn tortillas? Maybe not. But it's still one of the most memorable taco-esque bites in a city full of tacos. It's refreshing, tart, crispy, and definitely carries the feeling of paradise that its ingredients—mango forever—purport it to be.
11700 Long Beach Blvd. Lynwood, CA 90262. Closest Metro lines and stop: Metro C Line or Bus Line 251 - "Long Beach Boulevard Station" or Bus Line 60 - "Long Beach/Josephine."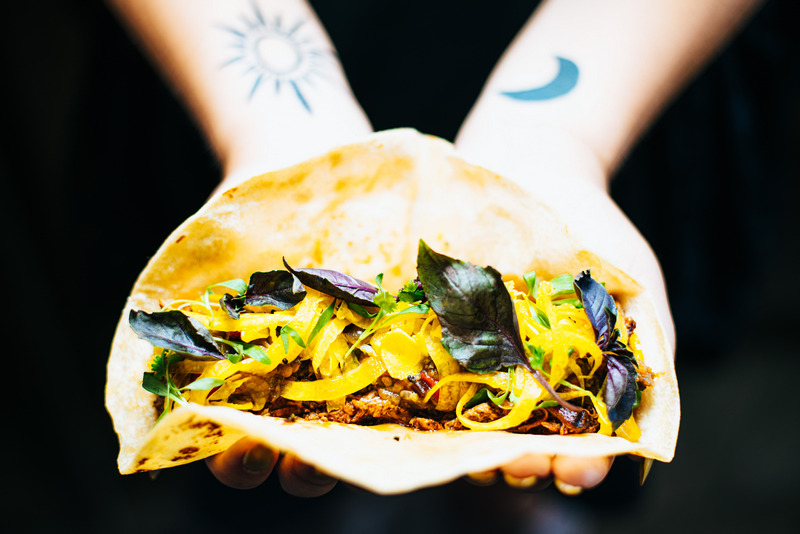 Beef Brisket Taco Árabe
Michelin-star awarded chef Josh Gil's has fine tuned the menu at his beautiful Los Feliz modern Mexican restaurant. He no longer serves the pressed pig-face tostada that was prominent at his now shuttered Beverly Hills location. Now, we head straight for his taco árabe menu, which packs a wallop of beef brisket in the cradle of a tender flour tortilla, swirling with sweet and sour notes of a tomato-nopal vinaigrette and briny feta cheese. On a house-made flour tortilla, it's an unforgettable taco in this part of town, especially when paired with a house-fermented colonche (fermented cactus fruit juice) shooter made by bartender and meme master, Maxwell Rees. – Javier Cabral
1712 N Vermont Ave, Los Angeles, CA 90027. Closest Metro lines and stop: Bus Lines 180, 206 or 217 - "Hollywood/New Hampshire", Bus Lines 204 and 754 - "Vermont/Hollywood" or Metro B Line - "Vermont/Sunset Station."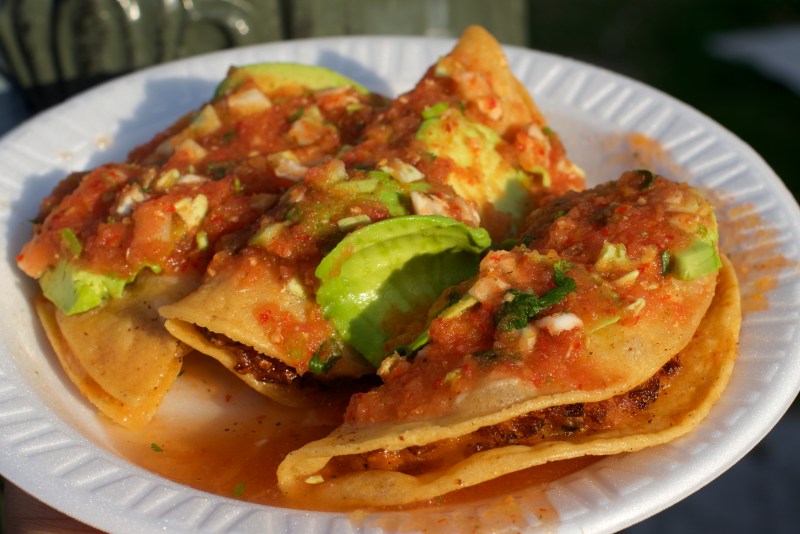 Taco de Camarón
Speaking from purely a gustatory standpoint, no other taco is as purely delicious to inhale as these, crispy, creamy, refreshing, and spicy all the same time. Whether you eat just a couple, or five—it happens—this may be L.A.'s most iconic [daytime] taco. It is everything you want in a taco: filling, spicy enough, refreshing, and buttery thanks to the avocado slice. This taco is timeless; this taco is perfect. – Javier Cabral
3040 E. Olympic Blvd. Los Angeles, CA 90023. Closest Metro lines and stop: Bus Line 62 - "Olympic/Dacotah" or Bus Line 605 - "Grande Vista/Olympic."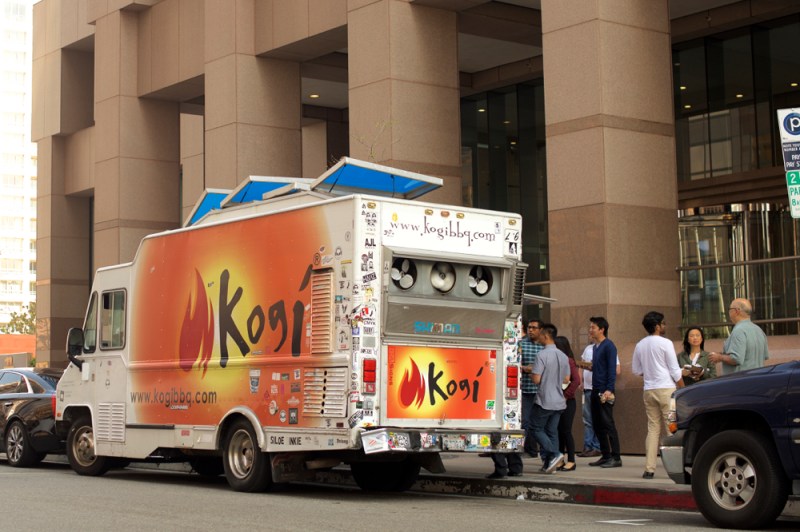 Short Rib Tacos and Sweet Chili Chicken Quesadilla
Often imitated but never duplicated. When the Kogi truck first hit the streets with their Korean tacos, L.A. became possessed with the urge to follow and find it. The short rib taco is still one of the city's most unique tacos, with chopped, charred, Korean-seasoned beef topped with a slaw on a corn tortilla. The sweet chili chicken quesadilla smothered in a sweet and spicy salsa already inspires nostalgic memories of chasing the truck around Los Angeles. - Cesar Hernandez
Follow Kogi on Instagram to see where their truck is popping up next.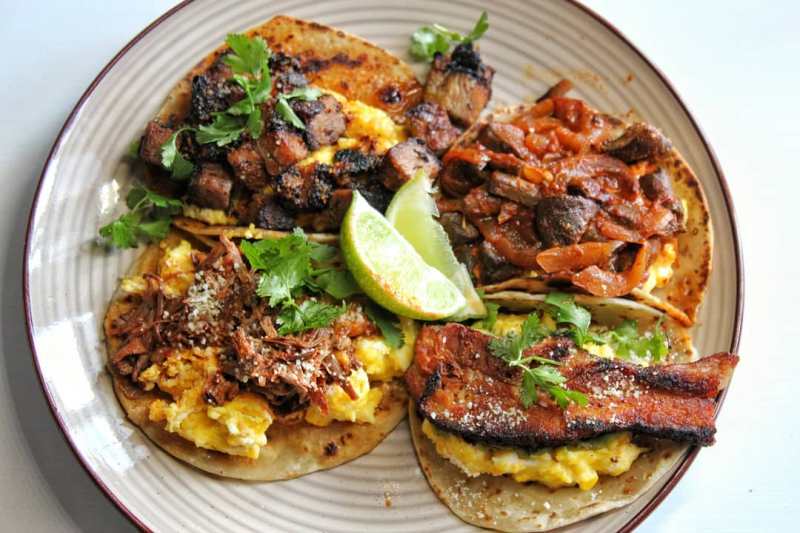 Hongos Al Pastor
Macheen is known for making wildly creative tacos. Like the hongos al pastor breakfast tacos that place mushrooms in a silky adobo over fluffy scrambled eggs, emanating waves of acidity and heat. This taco is the current iteration of Macheen's neverending hustle, but I urge you to try anything from their menu at any of his restaurants or pop-up at Smorgasburg LA; every taco has the same amount of love and care put into it. - Cesar Hernandez
Currently popping up 8 AM - 2 PM, Mon.-Sat. at Milpa Grille, 2633 East Cesar E. Chavez Ave., Los Angeles, CA 90033, and 10 AM - 4 PM at Smorgasburg L.A.
Milpa Grille: Closest Metro lines and stop: Bus Line 70 - "Cesar E Chavez/Mott" or Bus Line 251 - "Soto/Cesar E Chavez."
Smorgasburg LA: Closest Metro lines and stop: Bus Lines 53, 60, or 62 - "7th/Central."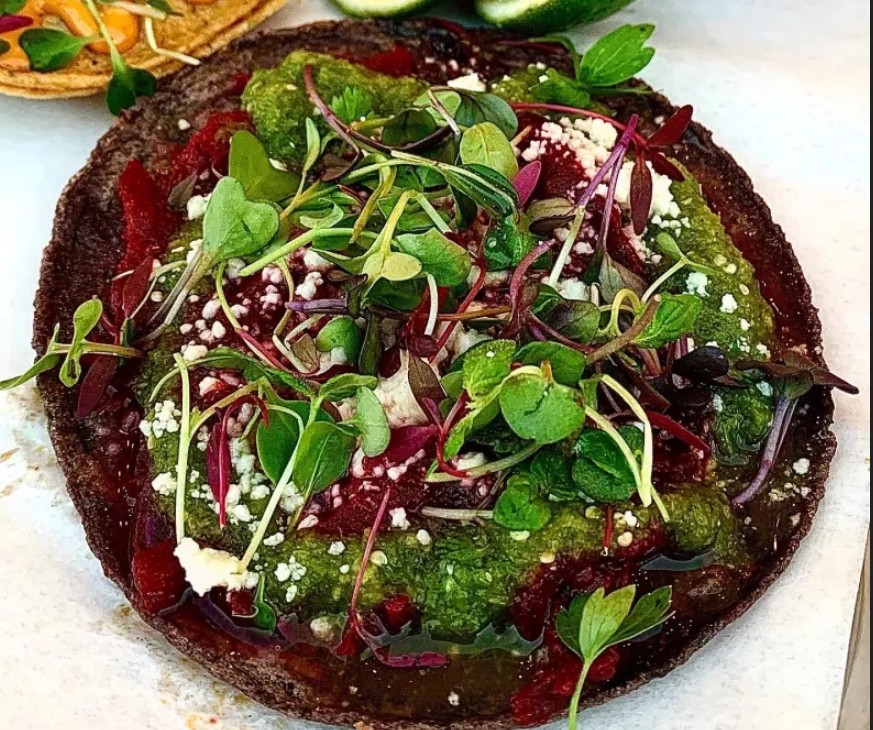 Beet Tinga Taco
While many self-proclaimed taco-eating experts will tell you what a taco should be, Bee Taqueria is here to show you how radically different and still chingón a taco can be. It's an exhibition of the art of the taco as a canvas for flavors, colors, and imagination. This vibrant and colorful taquería serves brilliant culinary splendors on a tortilla and is also home to one of only two famous taco omakases globally. These tacos are an experience that challenges the perception of the tortilla as just a thin, flat, circular vehicle used to eat food. From a brilliant vegan beet taco to a cochinito slow braised pork, these tacos are here to make an impression on your taco preconceptions.
5754 W. Adams Blvd. Los Angeles, CA 90016-2441. Closest Metro lines and stop: Bus Line 37 - "Adams/Thurman" or Bus Lines 38, 105 or 217 - "Fairfax/Adams."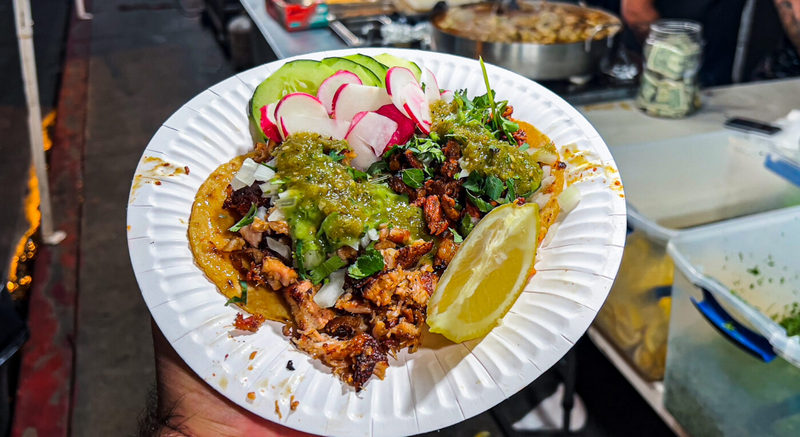 Adobada
Mariana's trompo features a Sonora-style adobada with her own flavors. You can almost taste the flavor of the adobada with your eyes alone as the trompo handler turns the spit with his blade and slices delicately charred pork ribbons onto a tortilla in his left hand as he prepares taco after taco. It's like watching a potter sculpt a terra-cotta pot made from flame-kissed pork. It's earthy, seasoned well, and so balanced that it just tastes like a solid but gentle embrace after a long day. – Memo Torres
You can find most of Tacos Naomi's locations on their Instagram or linktree, although not all are listed.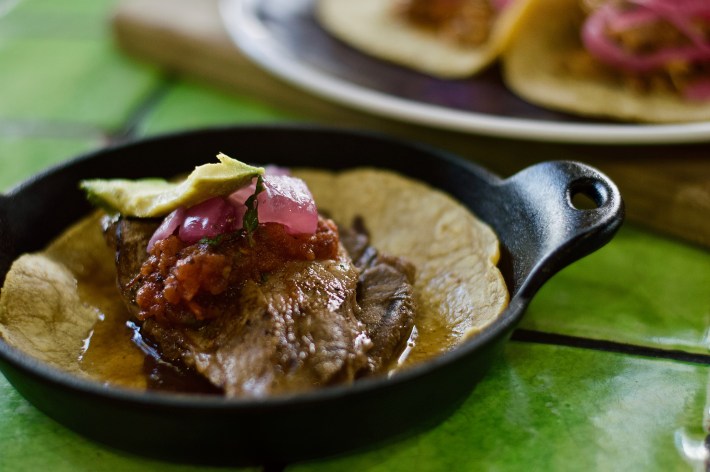 Cochinita Pibil Taco
Chichen Itzá is one of L.A.'s many portals to different parts of Mexico, and here you'll be transported to Yucatan. The cochinita pibil is a revelation, pork-filled with naranja agria and chiles, roasted in a banana leaf until succulent. - Cesar Hernandez
3655 S. Grand Ave. #C6 · In Mercado La Paloma. Closest Metro lines and stop: Metro J Line (910/950) or Bus Line 460 - "37th Street/USC Station."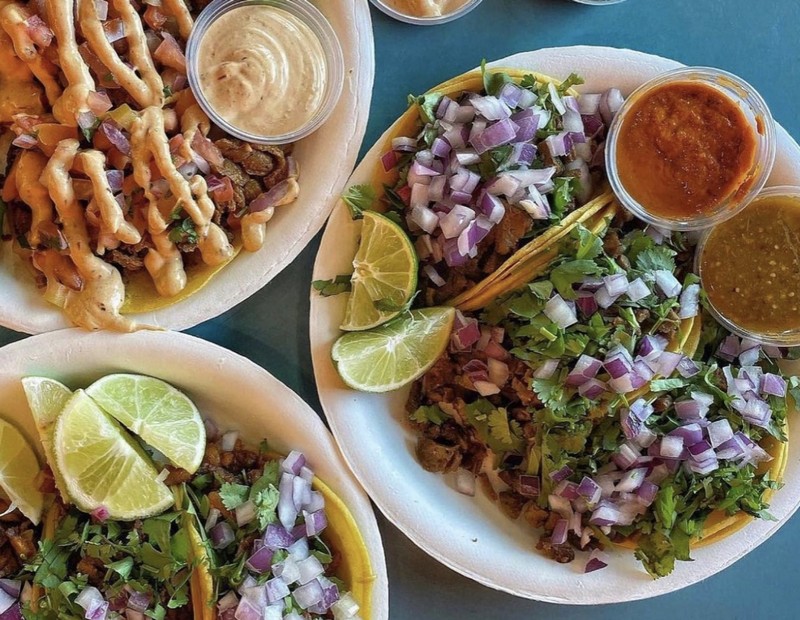 Vegan Chicharron
Jalisco-born Alex Vargas, the owner of El Cocinero, became vegan in 2014, which eventually led him to open the first vegan Mexican restaurant in the San Fernando Valley. He wanted to retain the rich, soulful flavors of the cooking he loves, but without meat products. Everything is delicious here, but I'm particularly impressed with the vegan chicharrón taco. Chicharrón is typically made by frying pork rinds, and, when they're used in tacos, they're stewed which can make them a bit spongy. At El Cocinero, Vargas has somehow gotten around that textural issue to create a vegan chicharrón taco with an amazing crunch. It's made with soy curls that are fried until they're airy and puffed up. It has those satisfying, umami-forward flavors of true chicharrón—But I think I prefer the vegan version. - Javier Cabral
6265 Sepulveda Blvd. Unit 12, Van Nuys, CA 91411. Closest Metro lines and stop: Bus Lines 154, 164, 234 or 237 - "Sepulveda/Victory" or Metro G Line - "Sepulveda Station."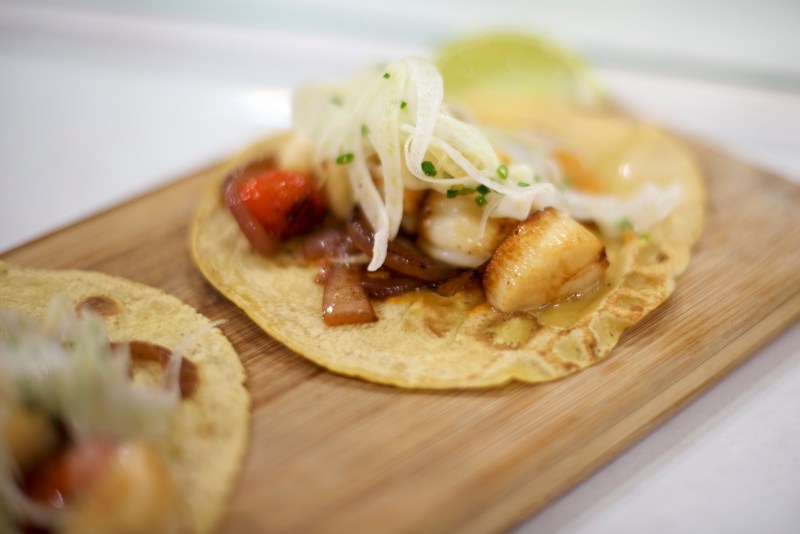 Scallop Taco
Almost everything at Holbox is a home run, but the scallop taco seems like it was plucked from a tale of divinity. Meaty, seared scallops on a bed of caramelized onions, pickled fennel, and beautifully spicy salsa. It always feels like a treat and a wonderful way to experience exceptional seafood tacos. - Cesar Hernandez
3655 S. Grand Ave. #C9 · In Mercado La Paloma. Closest Metro lines and stop: Metro J Line (910/950) or Bus Line 460 - "37th Street/USC Station."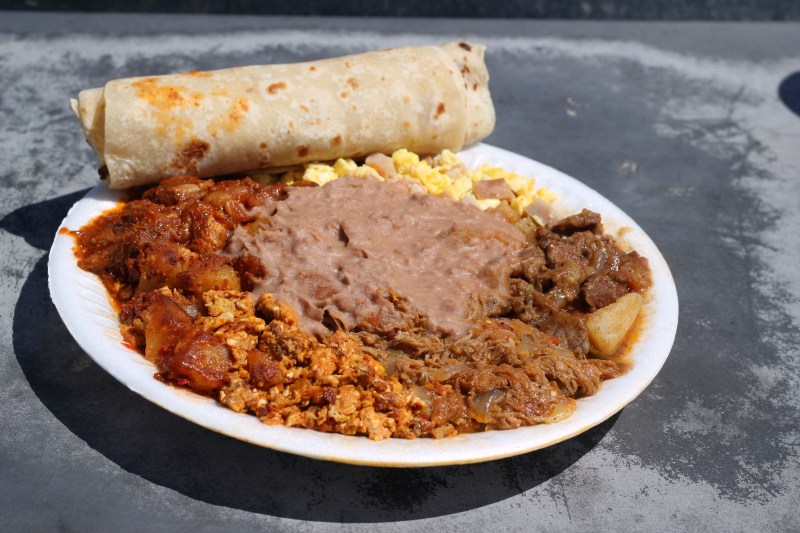 Breakfast Guisado Plate
While you could order asada or barbacoa de res tacos at Asadero Chikali, the true way to experience this taquería is the guisado plate. It comes with a spread of all of their breakfast guiozs:  chorizo con papa, chicharrón con salsa, bistec con papa, carne deshebrada, huevo con jamón, and a pool of frijoles right in the middle. Make sure to go early and take a couple of friends so you can make your own. - Cesar Hernandez
1321 S Atlantic Blvd. East Los Angeles. Closest Metro lines and stop: Bus Line 260 - "Atlantic/Goodrich" or Bus Lines 62 or 258 - "Telegraph/Atlantic."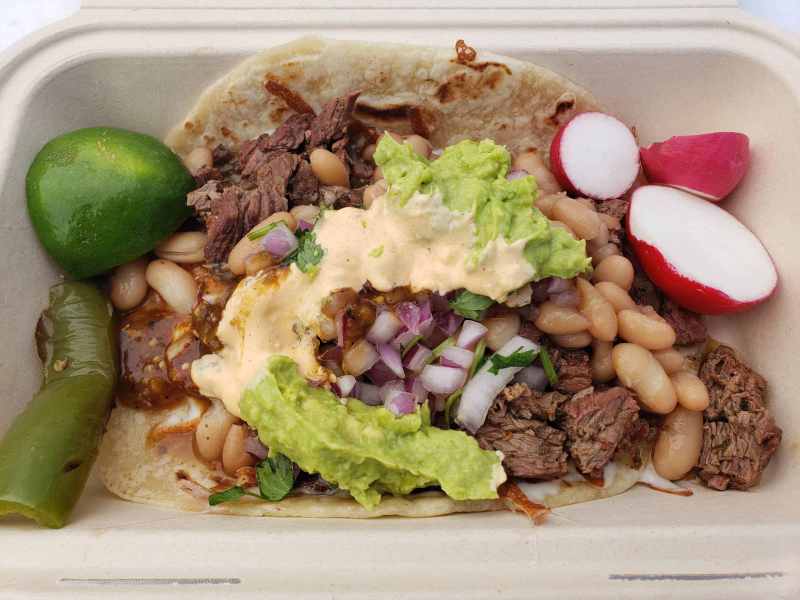 Taco Perro
When the guys at Perro 110 hand you one of their tacos perrónes, or "perros," you might find yourself a bit overwhelmed by the monstrosity before you. Gargantuan and splattered in a muddle of grilled mozzarella, Peruano beans, guacamole, onions, chipotle crema, salsa roja, and cilantro. Tender, smoky carne asada spills from both ends, leading to visions of a nice, long nap and a few badges of salsa-stained honor on your t-shirt, jeans, or car seat. - Hadley Tomicki
Multiple locations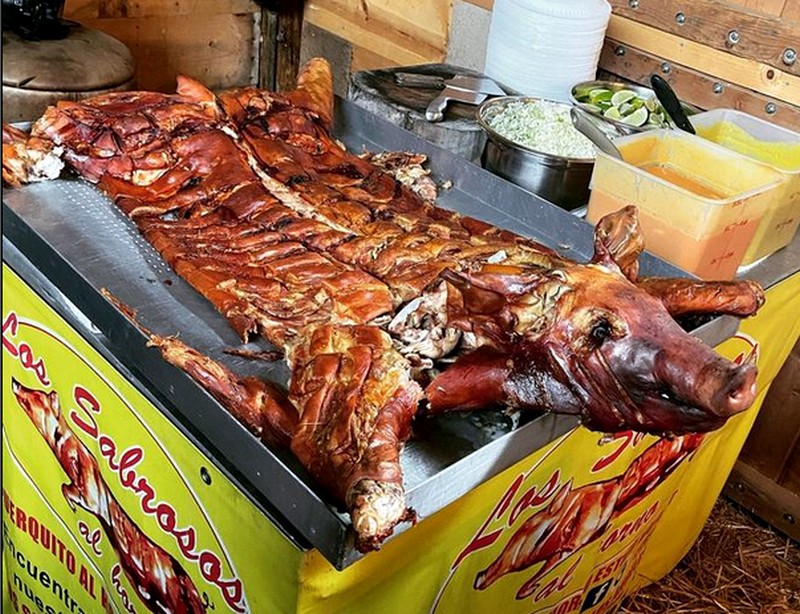 Suckling pork taco
The folks at this taquería specialize in suckling roasted pig. They'll grab chunks of hot chopped pork, place them on your tortillas, dress them with two mustard salsas, and then garnish it with ultra-crispy pig skin. The salsas make this a wholly unique taco-eating experience, imparting that unmistakable mustard tang to the tender roasted pork. - Cesar Hernandez
Follow them on Instagram to see when they are going to pop up next.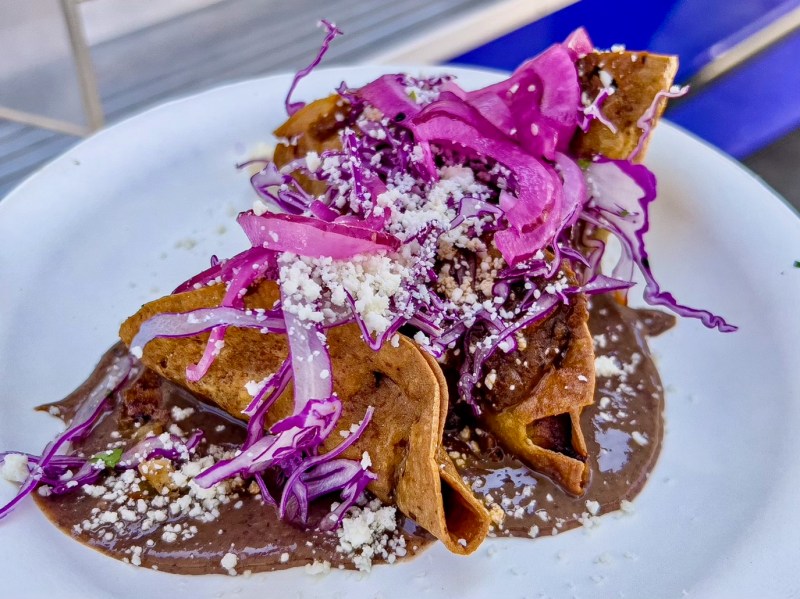 Pescadillas
It is experiences like Simón that provide living proof that L.A.'s regional Mexican food scene is evolving in real-time. If you've eaten around the southern part of Mexico's Pacific coast, you will immediately trip out on the "Pescadillas" they offer, crispy taquitos filled with a savory filling of seasoned, minced wild fish served over a tasty puddle of umami-intensive pasta de frijol (black bean paste). They are an extremely hard-to-find, the type of crispy fish taco that you'll see in Guerrero's Costa Chica and a handful of beaches in Oaxaca, and now also at Simón L.A. to give Mariscos Jalisco's holy shrimp taco some very serious competition. – Javier Cabral
3667 W Sunset Blvd. Send Simón a DM via Instagram to confirm their latest hours of operation. Closest Metro lines and stop: Bus Lines 2 or 4 - "Sunset/Maltman."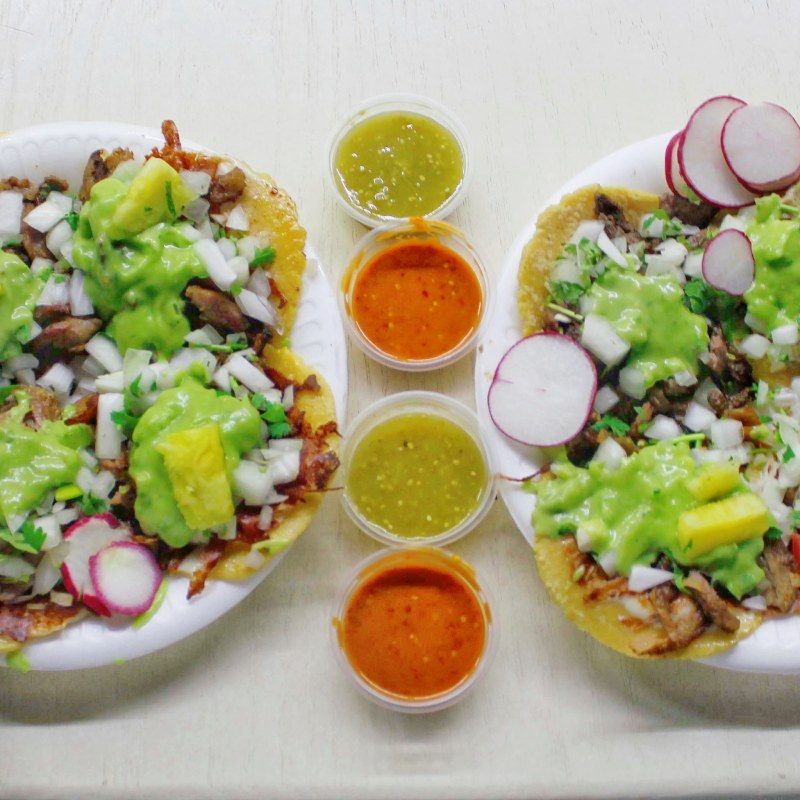 Asada Taco
This Downey taquería is a united front of CDMX and TJ-styles on fresh handmade tortillas. The asada is grilled over flame to give it a smokey flavor, then topped with guacamole, onions, and cilantro. You can also get asada fries, burritos, or sopes. Make sure to try the al pastor as well. They roast it on a trompo and top each taco with pineapple. - Cesar Hernandez
8502 Telegraph Rd. Downey, CA 90240. Closest Metro lines and stop: Bus Lines 62 or 266 - "Telegraph/Lakewood."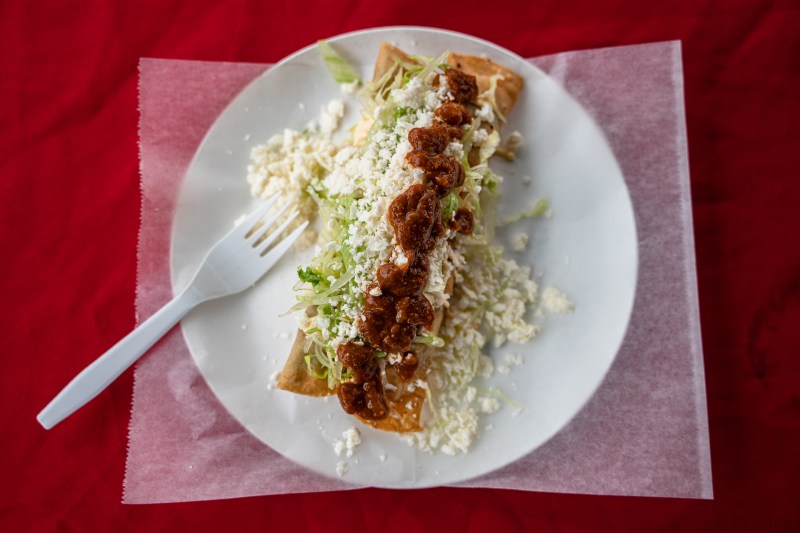 Los Garduños Barbacoa
Lamb Barbacoa Flauta
Every week, Josefina Garduño purchases four live lamb to make a traditional barbacoa in the style of the town of Capuhualc in the state of Mexico. As the youngest sibling, Josefina learned her father's technique and recipe almost 20 years ago from her oldest brother, Ricardo, who serves the same barbacoa from his restaurant, Taquería Capuhualc, in South Central. Garduño graced Lincoln Heights with her family's barbacoa when she moved there four years ago. The steamy barbacoa is simply seasoned with salt rather than marinated in spices or chiles, except for la pancita (the stomach), which is boldened with added flavor. At the stand, you'll see her husband, Carlos Sanchez, pulling meat off the lamb head—the most prized—and preparing tacos. Her son Ryan is helping with orders while her daughter Shanty makes fresh tortillas. Order a cup of consomé filled with bits of stringy meat crumbs, garbanzo beans, rice, and veggies. And if you like your tacos crispy, they make tacos dorados too. They're not just the best tacos in Lincoln Heights; their barbacoa should rank amongst the best in L.A. - Memo Torres
Saturday and Sunday mornings only, on the corner of Ave 24 and Pasadena Street, outside Smart & Final. Closest Metro lines and stop: Bus Line 251 - "Daly/Pasadena" or Bus Line 45 - "Broadway/Avenue 22."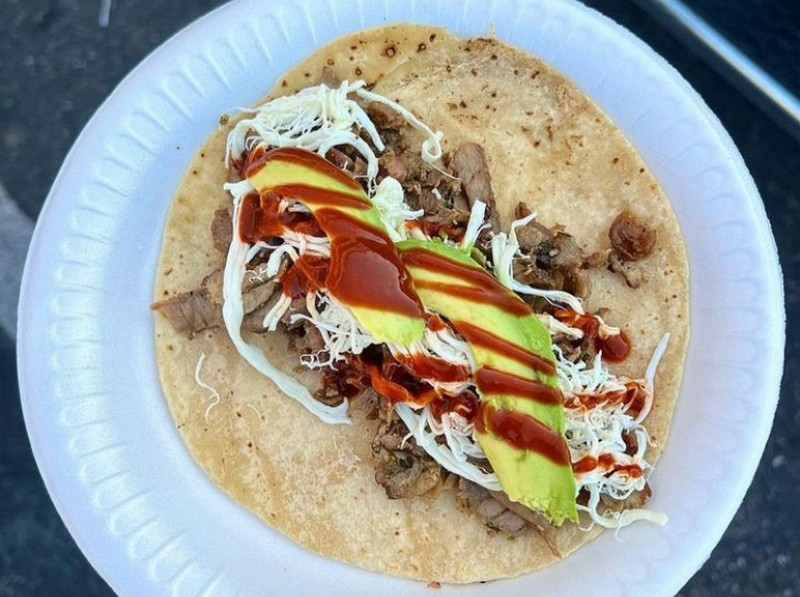 Tacos Árabes Especiales
As you might have guessed, Lebanese-influenced, Puebla-style tacos árabes are the specialty of this Boyle Heights lonchera. The especiales add stringy quesillo and slices of avocado to thicker tortillas known as "pan árabes," filled with marinated pork. Even though the pork is shaved from a trompo, it is not the same as al pastor. This recipe for protein is one of the Villegas family's most guarded secrets, receiving offers of up to $15,000 to sell it. They didn't, so their lonchera is the only place to find it. - Cesar Hernandez
3600 E. Olympic Blvd. Los Angeles, CA 90023. Closest Metro lines and stop: Bus Line 62 - "Olympic/Mirasol" or Bus Line 66 - "8th/Mirasol."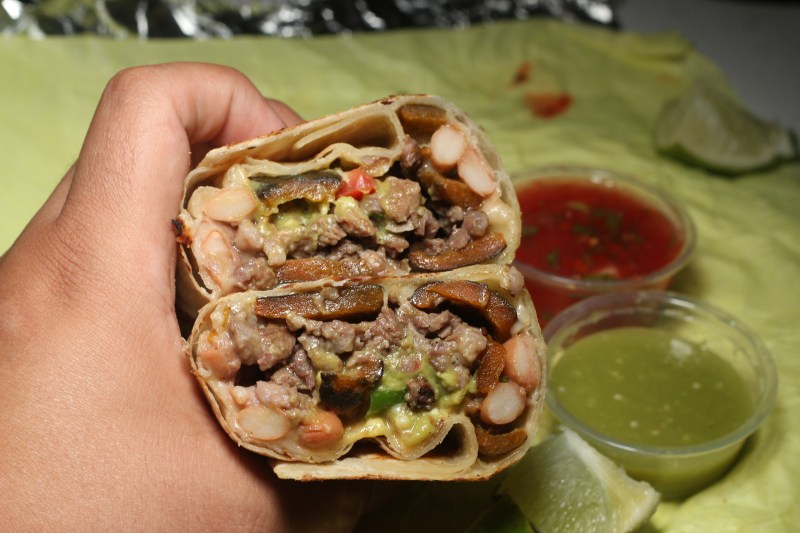 Burrito 2.0
The burrito 2.0 has become my go-to order at Sonoratown and is also in the running for the best burrito in L.A. This burrito shines because of its strong fundamentals, excellent grilled asada, buttery, fluffy flour tortillas, and frijoles. But the real hack at this taqueria is adding the option of chile poblano for an extra earthy and smoked chile flavor. - Cesar Hernandez
208 E. 8th St. Los Angeles, CA 90014. Closest Metro lines and stop: Bus Lines 10, 28, 30, 33, 40, 45, 48, 55, 66, or 92 - "Main/9th."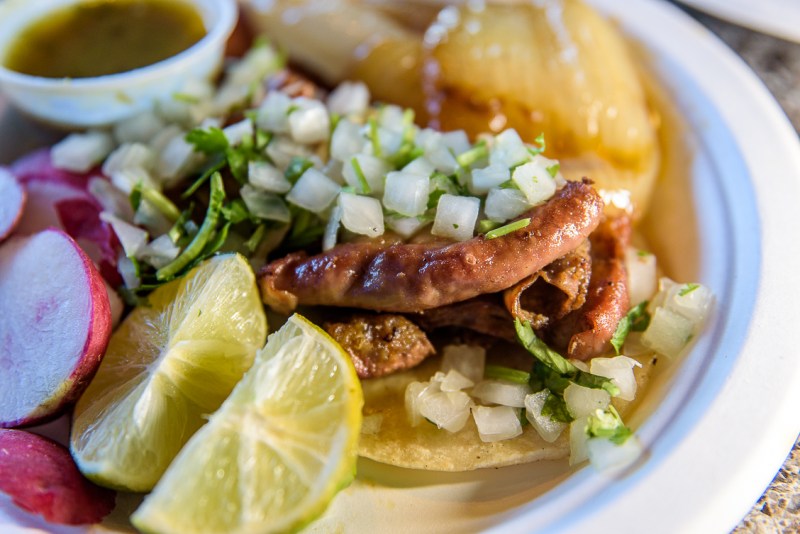 Tripas Taco
Long Beach's own El Sauz, located on Anaheim Boulevard in Cambodia Town, serves up the crispiest tripas found on this side of the 405. The super-thin, ribbon-like cuts of meat are deep-fried into a crisp. The final tripa product is akin to the wonton strips you'd find in a Chinese chicken salad. It's all about the texture with this taco, given its satisfying crunch as you first bite in. Note: The later it is in the night and the more buzzed you are, the better this taco tastes. - Gab Chabrán
1616 E. Anaheim St. Long Beach, CA 90813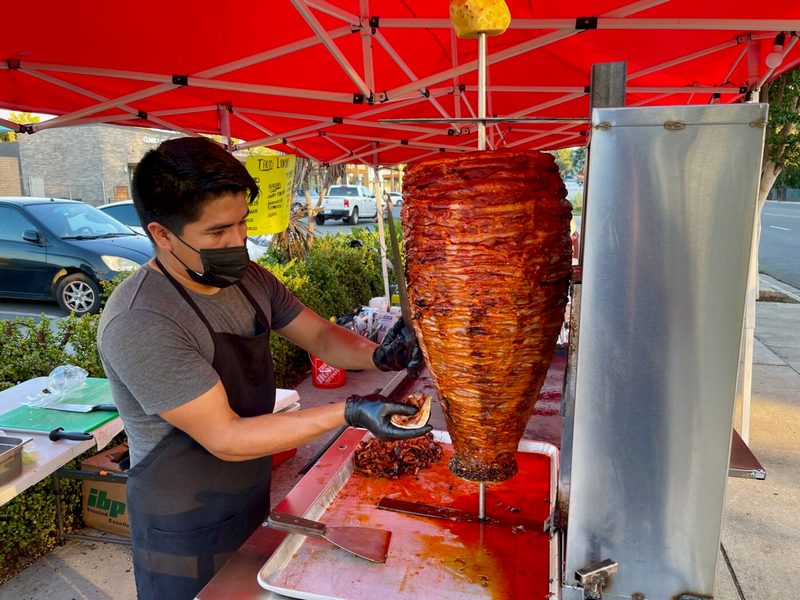 Taco Al Pastor
The Mixe-style adobo found on many of L.A.'s pastor trompos usually has a higher amount of vinegar and dried chiles that reflect Oaxaca's similar use of these flavors in their famed chorizo. The Mixe-powered al pastor taquería playbook usually also includes supplementary options of excellent, fatty cabeza (steamed beef head), and decent mesquite-grilled asada. All these taco standards are honored at Tacos Lionel. - Javier Cabral
E. Atherton St. and Clark Ave., open 5 PM to midnight on weekdays, and 5 PM to 1 AM on Friday and Saturday.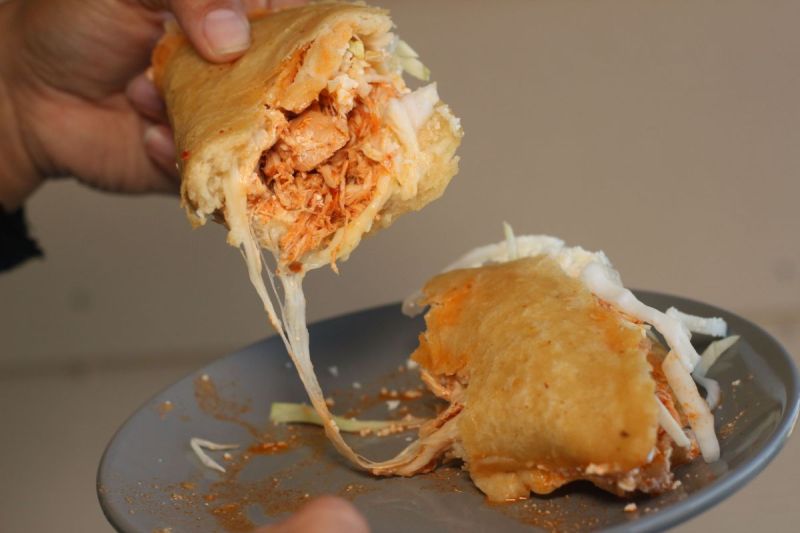 Chorizo con Papa Quesadilla
Each puffy quesadilla features a crunchy shell of masa housing a river of melted cheese, customized with guisos al gusto. The chorizo con papa (my favorite) casts a powerful spell of nostalgia, creating images of comfort and home. - Cesar Hernandez
2620 S. Vermont Ave. Los Angeles, CA 90007. Closest Metro lines and stop: Bus Lines 37, 204, or 754 - "Vermont/Adams."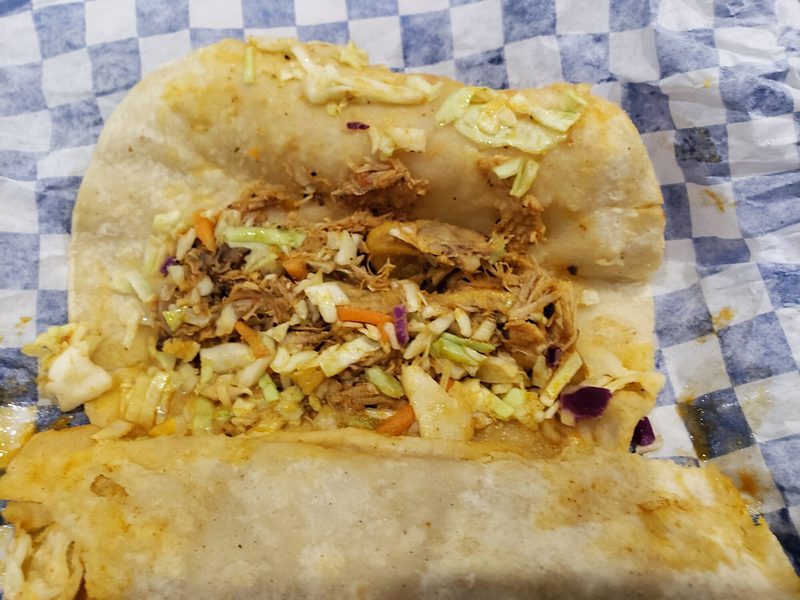 Belizean Orange Walk Tacos
Orange Walk Tacos are widely coveted in Belize, where they're traditionally consumed as a comforting breakfast treat aside a cup of morning coffee. In Gardena, Blue Hole's are notably juicy, rolled tacos in handmade corn tortillas, bearing super tender chicken rubbed and marinated in a ground recado, before it's shredded and slowly stewed in its own juices. – Hadley Tomicki
14008 Crenshaw Blvd. Gardena, CA 90249. Closest Metro lines and stop: Bus Lines 209 or 210 - "Crenshaw/139th" or Bus Line 125 - "Rosecrans/Crenshaw."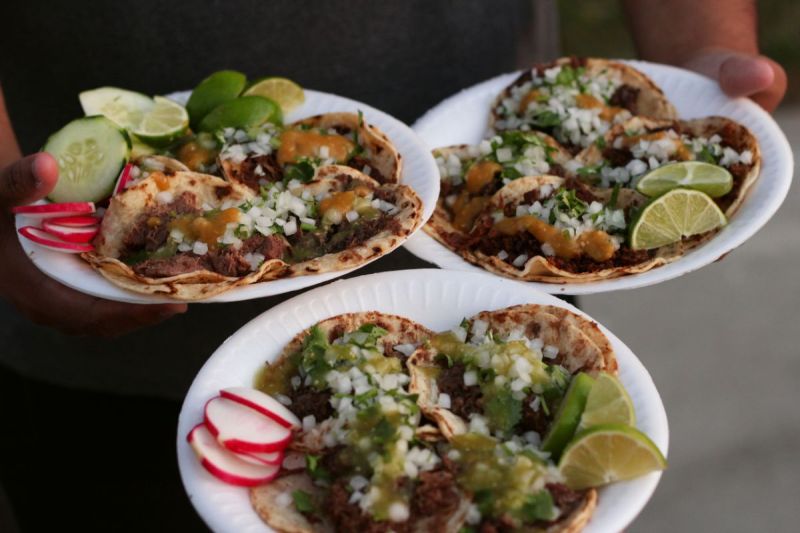 Taco de Labio
The labio (lip) is meaty, fatty, and melts in your mouth, the favorite of El Toro owner Benjamin Padilla. He always buys extra cachete and labio because each cow head only has a bit and they're the stars of his most popular tacos. Working swiftly, he'll grab steamed cow head proteins like cachete, labio, or cabeza, chop it down, pack a tortilla full of meat, and serve it. The sound of the syncopated chopping of cleavers rings like a drum here, building anticipation and filling the air with the music of tacos. - Cesar Hernandez
600 Bradshawe Ave. East Los Angeles, CA 90022. Closest Metro line and stop: Bus Line 18 - "Whittier/Leonard."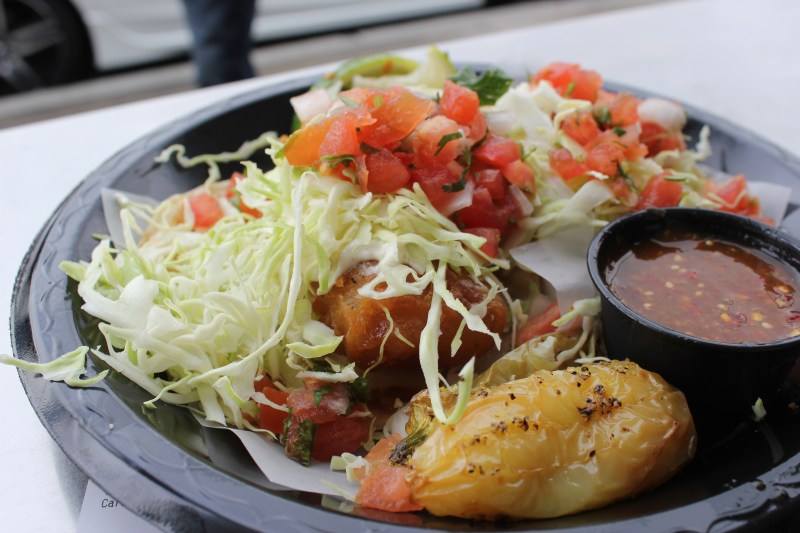 Fish and Shrimp Taco
This fish taco chain has locations all around L.A., but the Bellflower address holds a special place for Southeast L.A. locals. They specialize in Baja-style fish and shrimp tacos that come with fried fish filets, cabbage, pico de gallo, and crema. Chiles gueros are also mandatory at this taqueria. If you're looking for something more substantial, they also have burritos filled with fried shrimp and fish, too.
Multiple locations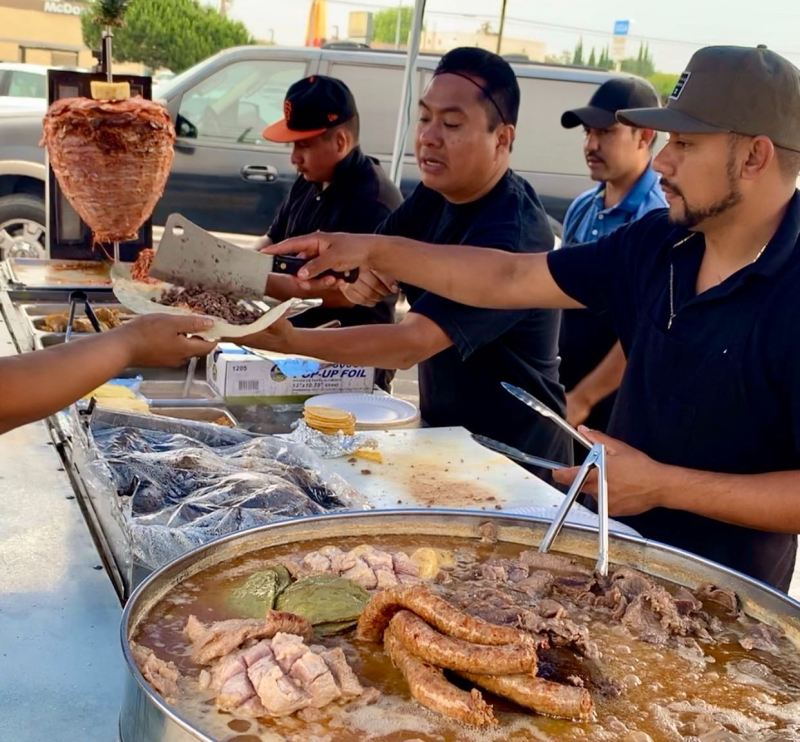 Al Pastor Taco
One of the Westside's emerging taco voices with the lines to prove it. They slice the slightly cooked pork from the trompo and finish it on the plancha. But what stands out is the speed at which the taquero chops the searing pork on the plancha. After it reaches the right sear, it is served and placed on small tortillas. The great thing about taqueros strapped with a choricera is that they'll have things like nopales, caramelized onions, and on occasion, potatoes, which are all readily available for your taco's supplemental needs. - Cesar Hernandez
11341 National Blvd. Los Angeles, CA 90064. Closest Metro lines and stop: Metro E Line or Bus Lines 233 or 761 - "Expo/Sepulveda Station."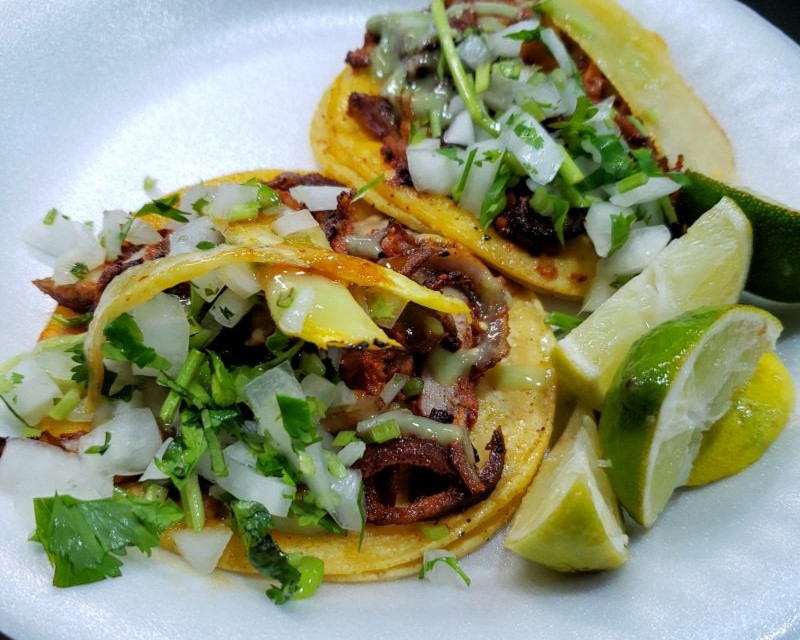 Taco de Al Pastor
This lonchera is parked curbside on Whittier Boulevard in an East L.A. pocket known for its powerful taco scene. They keep their trompo outside so you can see how the magic happens. Attached to the trompo rig is a small plancha where they place the shaved pork and cover it with two corn tortillas – like they're tucking them into bed. Placing the already crispy pork on the plancha for extra crispiness is what us taco goers deserve. With a flick of the wrist, you'll see a small piece of pineapple flying through the air and somehow, the trompero always catches it. - Cesar Hernandez
5851 Whittier Blvd. East Los Angeles, CA 90022. Closest Metro line and stop: Bus Line 18 - "Whittier/Keenan."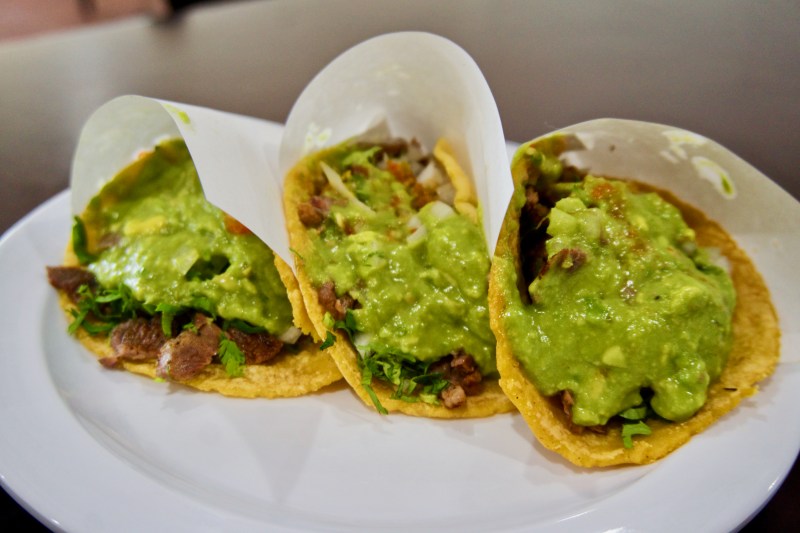 Vampiro con Asada
El Poblano's vampiro is a crowd favorite. Tortillas toasted over an open flame are filled with melted cheese, protein, salsa, guacamole, and topped with another tostada. It's like a tostada sandwich. Of all the taco options at El Poblano, asada is the draw. They recently opened a location near Disneyland, so you can get your vampiro fix before going to the oppressive mouse kingdom. - Cesar Hernandez
Multiple locations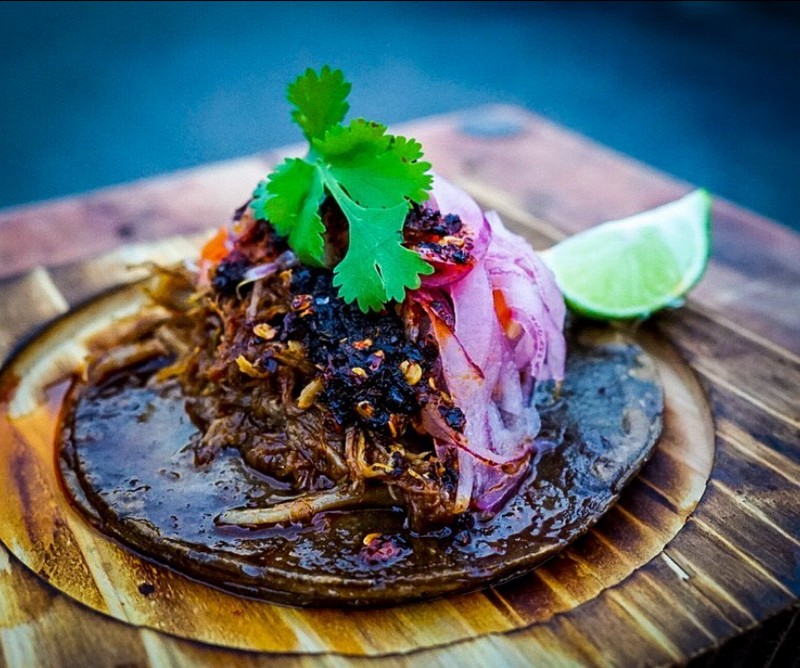 Carnitas de Pato
For the ultimate stunt burrito, look no further than the Cacao's, stuffed with carnitas de pato, rich and juicy tasting duck confit, along with fresh sliced avocado, pickled red onions for added acidity, and fresh radish for the right amount crunch. It's all topped with salsa macha made with heavenly combination of dried chiles, peanuts, and herbs for a thick and spicy, not to mention satisfying, bite. The duck is similarly sublime in a taco. - Gab Chabrán
1576 Colorado Blvd. Los Angeles, CA 90041. Closest Metro line and stop: Bus Line 180 - "Colorado/Townsend."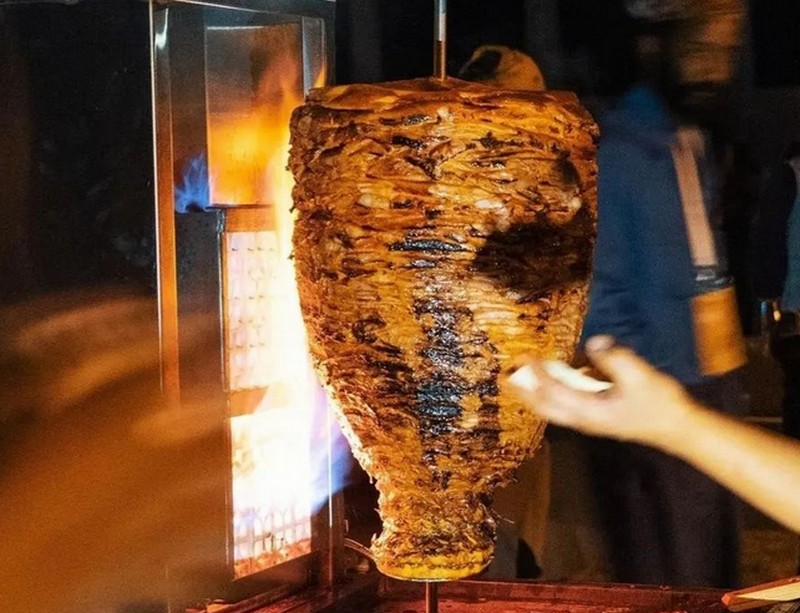 Al Pastor Taco
Tacos Tamix is one of the big players in the al pastor game. After trying a taco,  you'll see why. The crispy pieces of al pastor manage to stay juicy even though it is sliced very thin. The tortillas are small but packed with this iconic L.A. al pastor. - Cesar Hernandez
4817 Pico Blvd. Los Angeles, CA 90019. Closest Metro lines and stop: Bus Line 33 - "Venice/Rimpau", Bus Line 30 - "Pico/Rimpau Transit Center" or Bus Line 212 - "La Brea/Pico."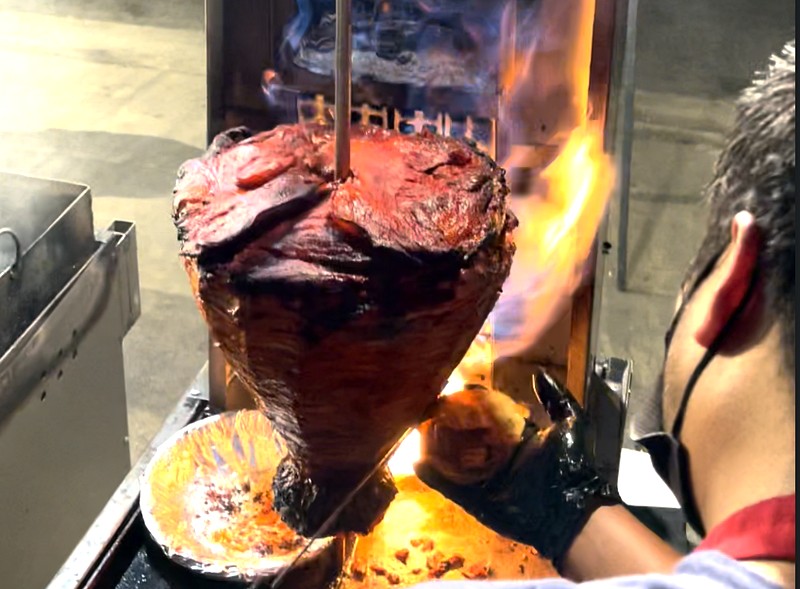 Tacos Al Pastor
What stands out from the al pastor at Taquería Juquilita is the tightly-stacked trompo. The layers are compressed as tightly as a chocolate babka and the crimson adobo's tinge appears to have seeped deeply into the thinly-carved pork, showing the pork had enough time to marinate in the adobo before being stacked and impaled. The second is the trompero's slices. They are effortless and precise with each finesse of the knife. – Javier Cabral
5944 Santa Monica Blvd. Los Angeles, CA 90038. Closest Metro line and stop: Bus Line 4 - "Santa Monica/Bronson."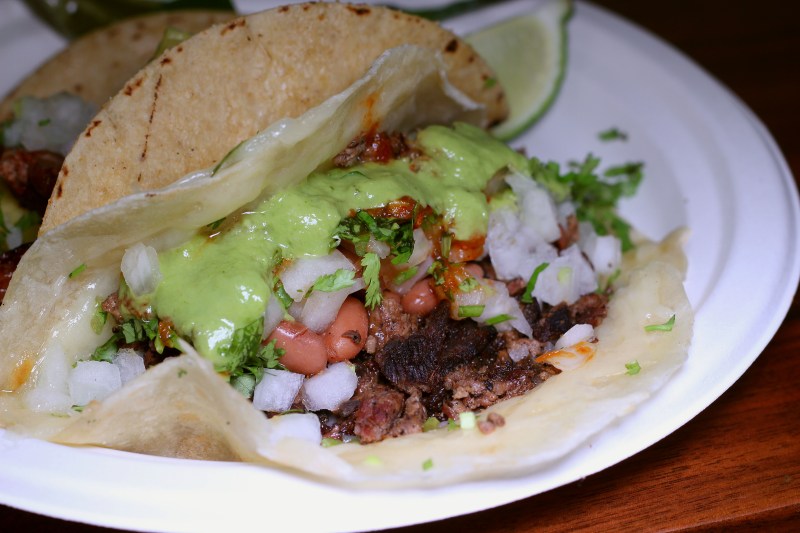 Asada Taco
This Redondo Beach taquería specializes in five different types of taco and four ceviches. The asada is one of the standouts, similar to a perrón, which features a flour tortilla with melted jack cheese, asada, avocado salsa, and salsa roja. It's definitely worth trying the rest of the tacos, too, like the sweet potato, before washing it down with a coconut horchata. - Cesar Hernandez
1223 S. Pacific Coast Hwy. Redondo Beach, CA 90277. Closest Metro line and stop: Bus Line 232 - "Pacific Coast Highway/Avenue F."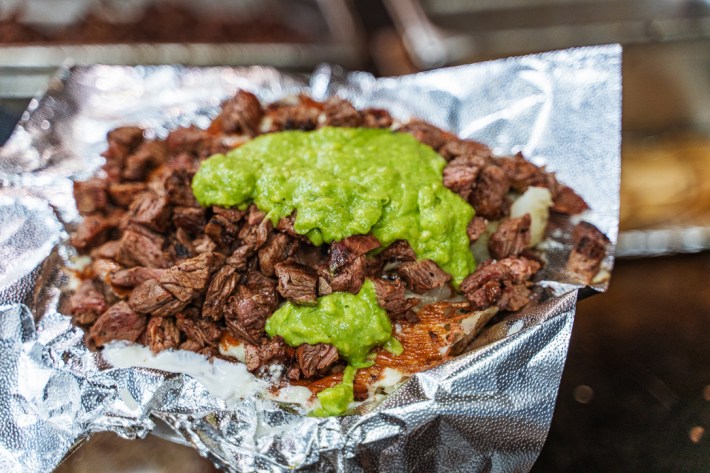 Taco de Costilla Asada
Besides offering consistently delicious tacos, it takes an extreme amount of effort to win the online component of our annual taco tournament. Tacos Los Cholos did just that in 2023, knocking out two-time champion Villas Tacos. Once relegated to Orange County only, Tacos Los Cholos now has a location in Huntington Park in L.A. County. Their award-winning tacos give the customer the power to decide how much money they want to drop on their tacos, which include premium Prime-grade meat upgrades for nearly every taco they offer. The taste and texture of their grilled meat gets exceptionally better the more you're willing to splurge. However, their salsas and guacamole make any of their tacos worth the trip.
San Pedro St. & 28th St., Los Angeles, CA 90011. Closest Metro lines and stop: Bus Lines 51 or 55 - "San Pedro/Adams."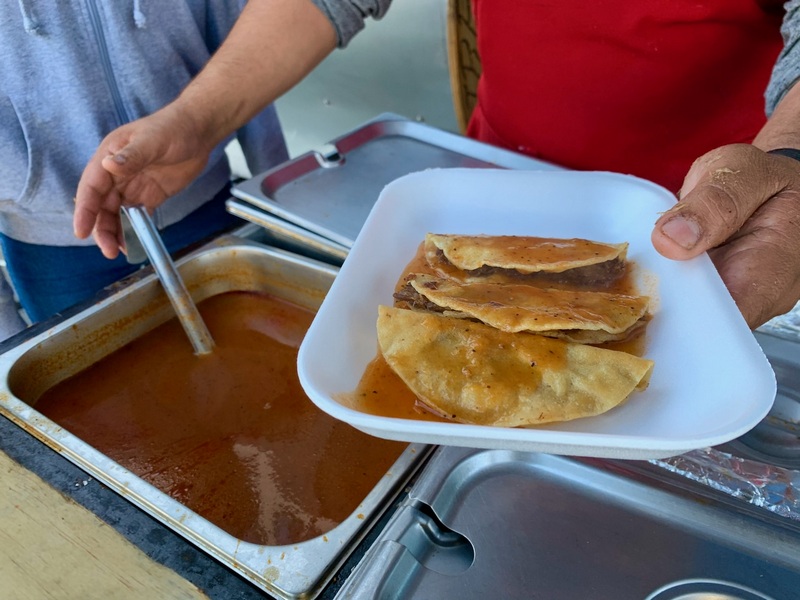 Birria de chivo
The only thing on the menu at this weekly, laundromat-bound Boyle Heights stand is their birria tatemada. Chopped goat meat that is steamed for four hours before finishing in the oven to achieve a type of birria-flavored bark not unlike the bark you'll find on a good piece of BBQ. You can get it on a plate with a ladle of a tomato-rich consomé and a pile of tortillas, or tucked inside tortillas in taco dorado form. – Javier Cabral
3442 E. Olympic Blvd Los Angeles, CA 90023. Closest Metro lines and stop: Bus Line 62 - "Olympic/Spence" or Bus Line 66 - "8th/Spence."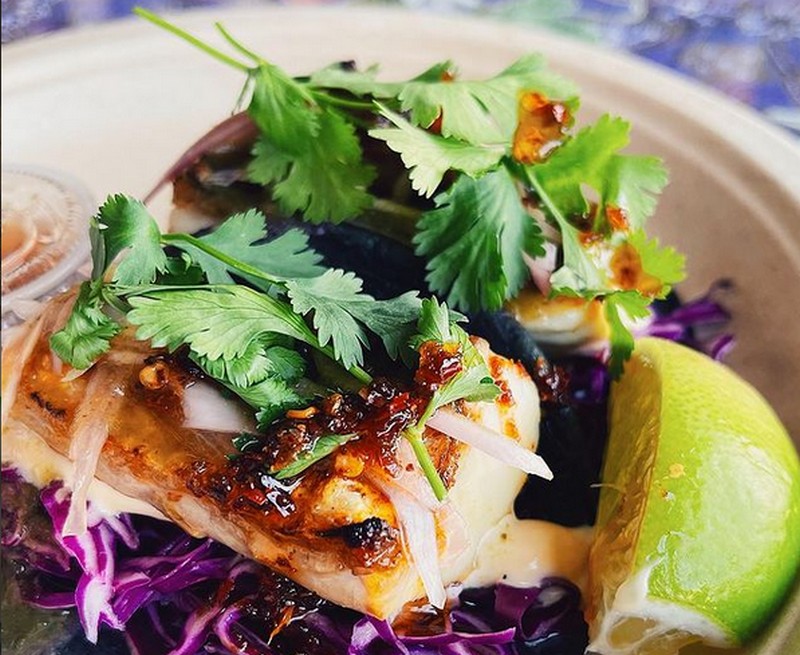 Striped Bass Tacos
The dry-aged taco is the most unique from the weekly Taco Tuesday event held at this perpetual award-winning SFV Thai restaurant. The striped bass is hung and aged for a little over a week, fried at a low temperature, then seared to develop a smokiness. The taco is then  topped with Boon sauce, a chile oil made by L.A. chef Max Boonthanakit, as well as a house mayo for a touch of Ensenada realness. The bass' dry-aging adds a fruitful flavor that combines effortlessly with the sauce's heat and the mayo's umami. - Cesar Hernandez
14704 Ventura Blvd. Sherman Oaks, CA 91403. Closest Metro lines and stop: Bus Lines 155 or 240 - "Ventura/Cedros."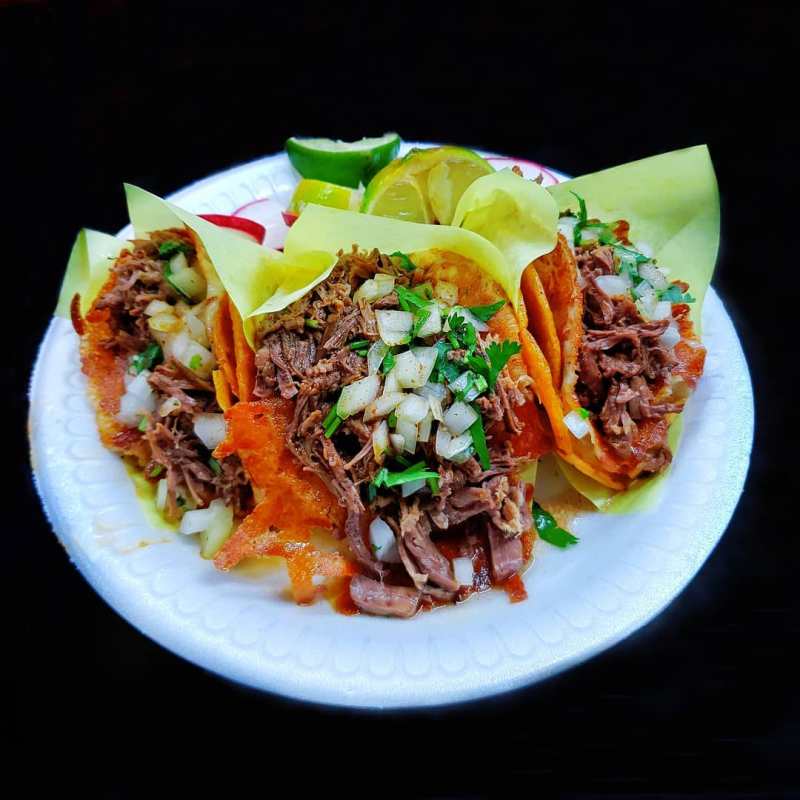 Birria de Res Taco Dorado
Birria powerhouse Birriería Gonzales has so many locations in Los Angeles, that they had to open one in Las Vegas, to staisfy the demand for beef birria. The tacos dorados hold their structural integrity best against the juiciness of its beef birria. Their quesabirria is also one of the best. It's cheesy, spicy, beefy, and will cure your hangover. But what works best is the smoky and deep red salsa—it's so good that it's the only one they offer. - Cesar Hernandez
Multiple locations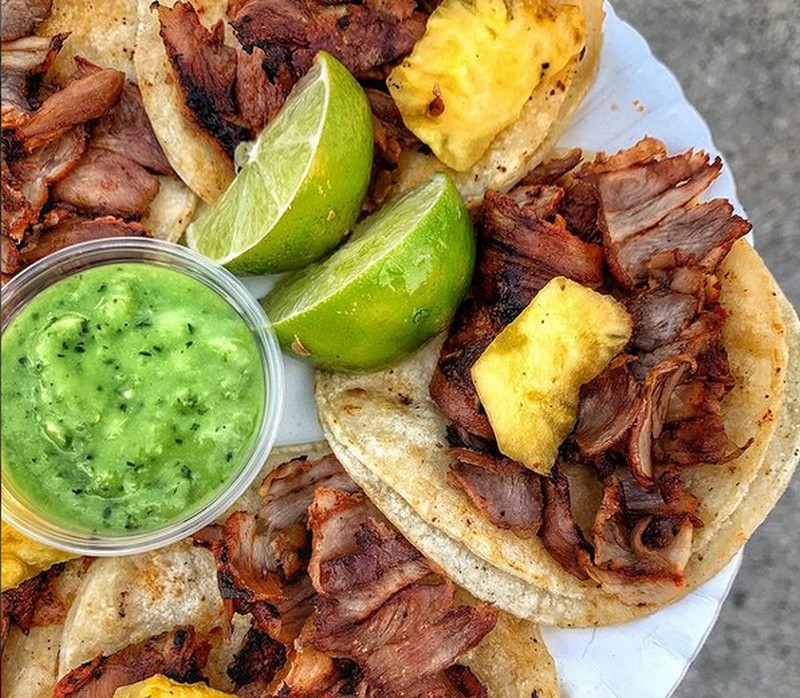 Suadero and Al Pastor Tacos
La Güera's puestos are visible from the line that always forms at its trompos. Full of fans who recognize the strength of its adobo. The acidity of La Guera's juicy al pastor marries well with the library of assorted condiments they offer. Perhaps the most impressive protein at La Güera, next to the pastor, is the suadero. Thick cuts of brisket are cooked in the rendered fat of the other proteins, then chopped, and thrown on a tortilla. It tastes porky and beefy at the same time. - Cesar Hernandez
Multiple locations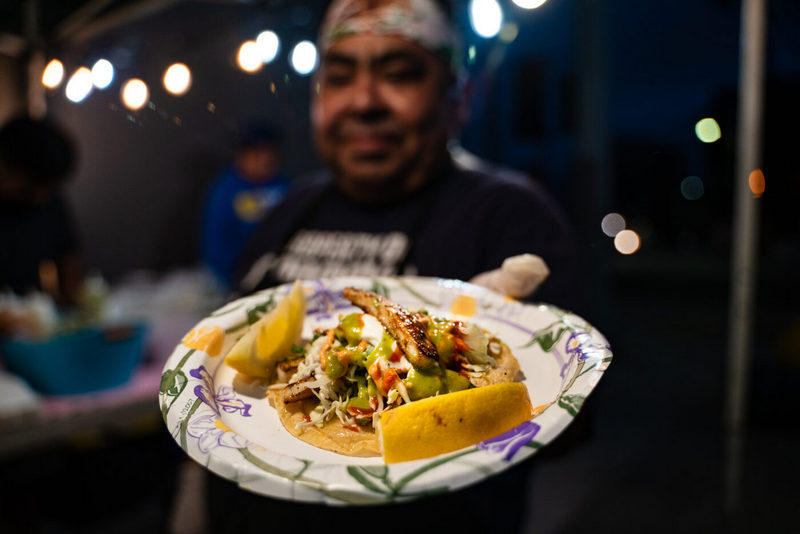 Calamari Tacos
Just like the legendary burgers that Mario makes at Hinano's, these tacos have the same approach. Simple, fresh, and correct. No reductions, emulsifications, rare ingredients, or gourmet shit is happening, except for a conscious choice to use wild rockfish instead of farmed tilapia—just quality ingredients, the right portions, and flavors, and made fresh to order and perfectly satisfying. – Memo Torres
Lupita's Tacos pop up every Friday and Saturday evening at Palms and Lincoln Boulevard. Closest Metro line and stop: Bus Line 33 - "Venice/Lincoln."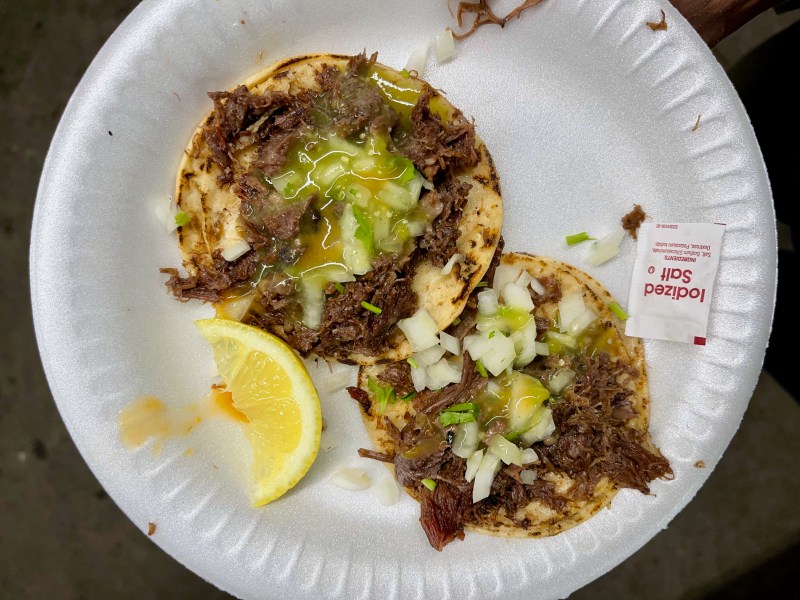 Tacos Al Vapor
The beef head is steamed and separated for each taco according to each meat's respective skull compartment. Usually, the tacos you can order at these establishments are cachete (beef cheek), labio (beef lip), lengua (beef tongue), sesos (beef brain), and surtido, which is sometimes called "cabeza" and usually means a mixture of all the meats and then some. - Javier Cabral
4518 Rosecrans Ave. Compton, CA 90221. Closest Metro lines and stop: Bus Lines 125 or 260 - "Rosecrans/Atlantic."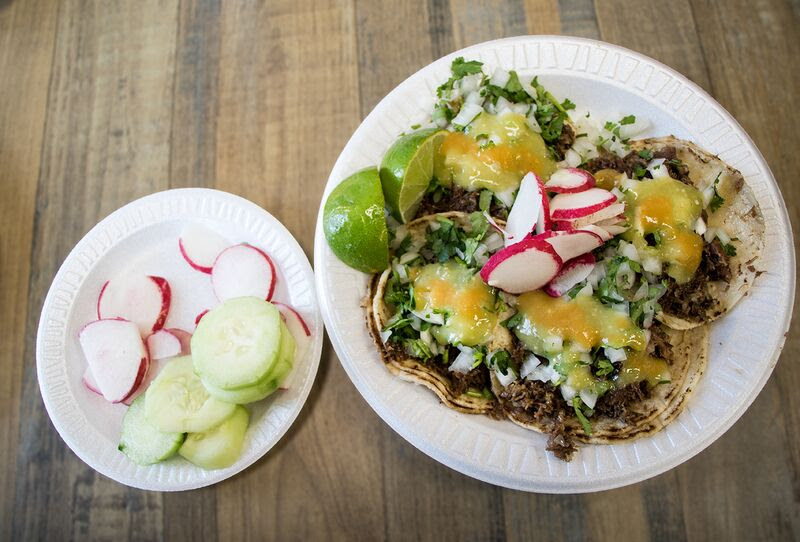 Tacos Al Vapor
The godfather of tacos al vapor is my city's pride and joy. Born in Lynwood, Tacos Estilo Guadalajara has been serving tacos al vapor for the better part of this decade and has moved a few times. What makes Estilo Guadalajara special is the perfect balance of meat and tortilla. The meats are cooked to velvety perfection. - Cesar Hernandez
10733 Long Beach Blvd. Lynwood, CA 90262. Closest Metro line and stop: Bus Line 60 - "Long Beach/Martin Luther King Jr."
13121 Lakewood Blvd. Downey, CA - Closest Metro lines and stop: Metro C Line - "Lakewood Boulevard Station" or Bus Lines 117, 265, or 266 - "Lakewood/Gardendale."
724 W. Holt Blvd. Ontario, CA 91762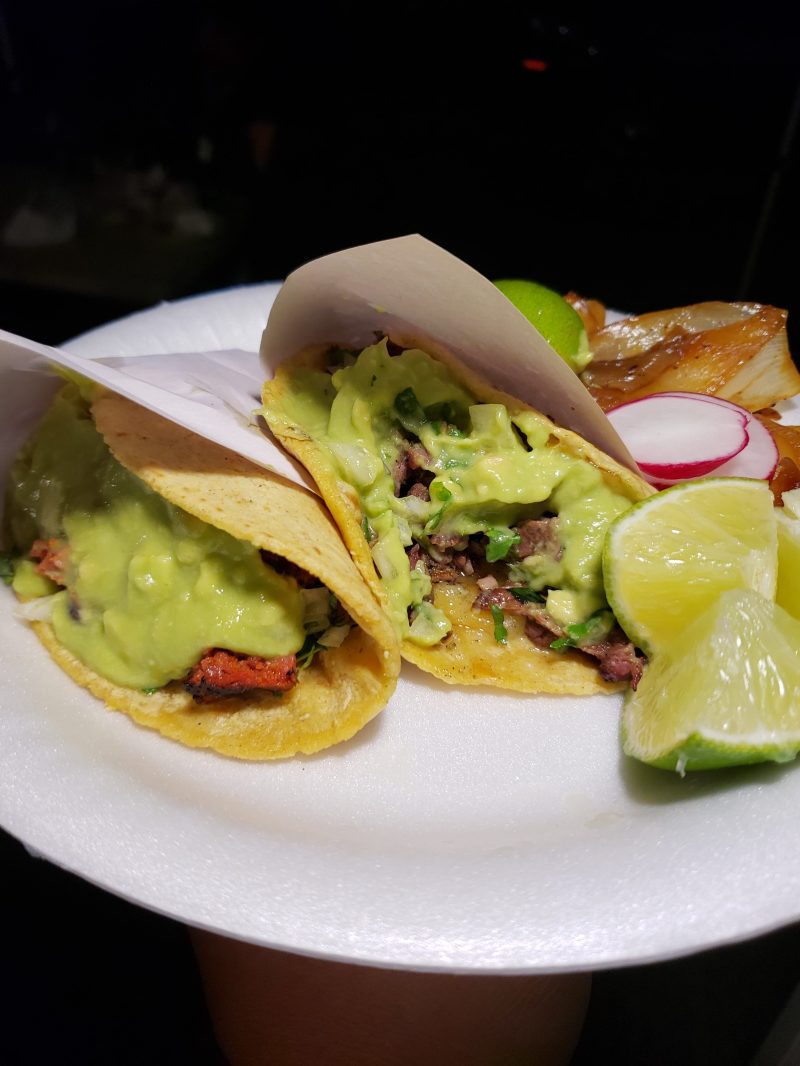 Asada Quesadilla
When the kind taquera at Taquería San Miguel asks you if you're going to be ordering a quesadilla—say 'yes.' They will hand you a quesadilla made with hand-pressed corn tortillas and filled to the brim with smokey meat. It's what I imagine is served in the halls of Valhalla, if Valhalla was in Mexico. Of course, they offer their signature TJ-style meats, grilled over mesquite coals, and served with a healthy smear of bright green guacamole. - Cesar Hernandez
4077 S. Avalon Blvd, Los Angeles, CA 90011. Closest Metro line and stop: Bus Line 51 - "Avalon/41st."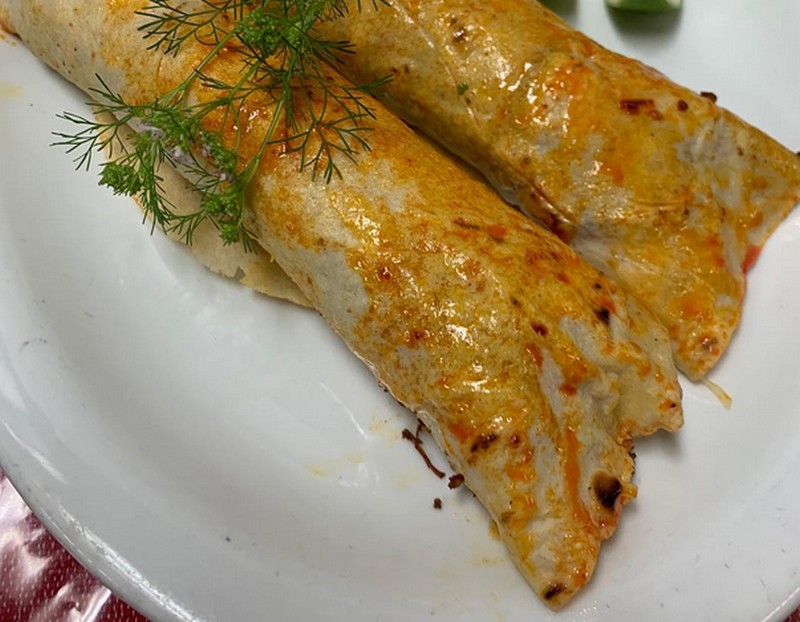 Barbacoa Enchilada Taco
Every order of barbacoa tacos at Gish Bac comes rolled, like a duo of sauceless enchiladas, filled with goat barbacoa and a cup of consomé. The chivo meat is soft, tender, and spicy, roiling in the undeniable richness of rendered goat fat. This Oaxacalifornia restaurant not only specializes in barbacoa enchilada, but also makes a fantastic barbacoa blanca. - Cesar Hernandez
4163 W. Washington Blvd, Los Angeles, CA 90018. Closest Metro lines and stop: Bus Lines 35 or 210 - "Washington/Crenshaw."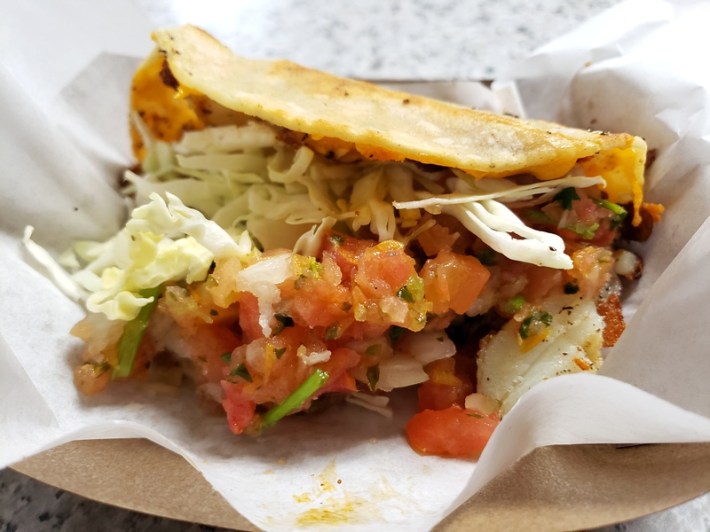 In its characteristic, stand-alone style, Sky's prepares potato tacos much differently than the tightly-sealed tacos dorados full of mashed spuds you usually find around town. Boiled potatoes are chopped then fried on the plancha before getting stuffed into a cheddar-padded tortilla that's been given a light char. Served piping hot, there's an audiblecrunch in this superlative multi-textured taco. Vegetarian by nature, it can also be turned dairy-free with the addition of vegan cheese and made extra crispy. For everyone else, the buttery crawfish tacos are all but mandatory. - Hadley Tomicki5303 W Pico Blvd Suite #01, Los Angeles, CA 90019. Closest Metro line and stop: Bus Line 33 - "Venice/Cochran."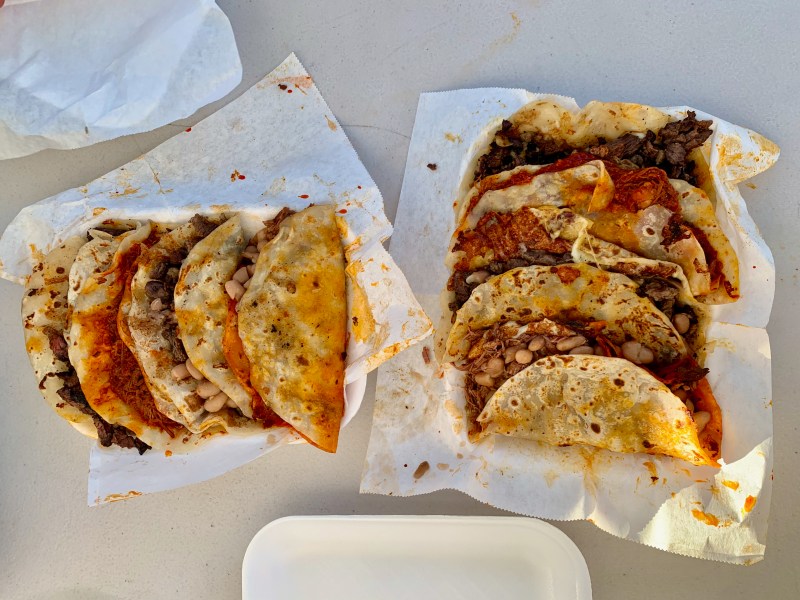 Asada taco on a flour tortilla
El Ruso pairs excellent grilled asada with supple flour tortillas made in the Sonoran style. The cashier will ask you if you want beans and cheese, and yes, you do. A pile of cheese is placed on the plancha and covered with a flour tortilla then scraped off, creating a cheese crust. In goes the chopped asada and a scoop of beans for a quintessential L.A. taco experience that combines several Mexican regions in one flour tortilla. - Cesar Hernandez
1647 W Sunset Blvd, Los Angeles, CA 90026. Closest Metro line and stop: Bus Line. 4 - "Sunset/Echo Park."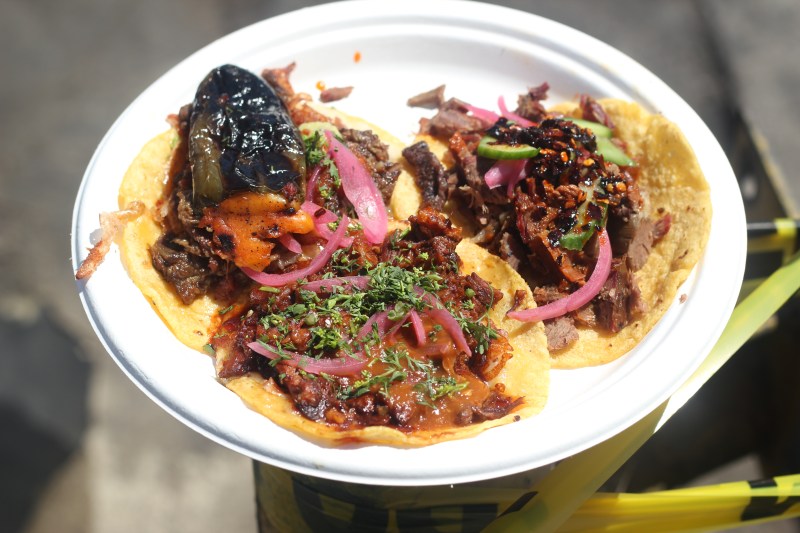 Goat Birria Taco
Juan Garcia is a taquero from Compton who specializes in hich family's age-old, Jalisco-style goat birria recipe, and proudly dedicated to all the birria purists out there. His version is rich, meaty, gamey, and bold. Each taco features tortillas from tortilla-darlings Kernel of Truth, with goat birria, a ladle of consome, pink pickled onions, and cilantro. Check them out at Smorgasburg and try their other inventive tacos, like the Cabrito, which features grilled kid. - Cesar Hernandez
Goat Mafia pops up every Sunday at Smorgasburg L.A. Closest Metro lines and stop: Bus Lines 53, 60, or 62 - "7th/Central."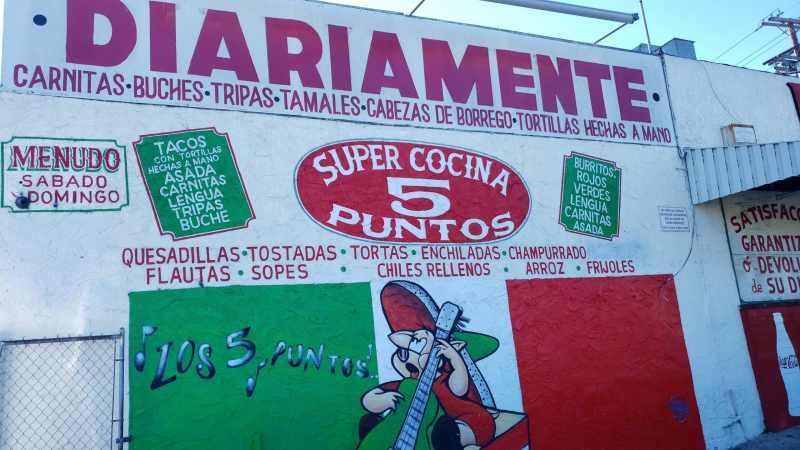 Carnitas Taco
Los Cinco Puntos is a Boyle Height institution, a hallowed hall of carnitas that also serves excellent menudo. The tacos are made on thicker tortillas, which you can see being made live as the tortilleras place fresh masa on a plancha, flip them and carefully watch as they inflate. The carnitas here have a pinkish hue, offered by the pound or in taco-ized form. Make sure to get them fully loaded with guacamole and a scoop of nopales. - Cesar Hernandez
3300 East Cesar E. Chavez Ave. Los Angeles, CA 90063 Closest Metro lines and stop: Bus Line 70 - "Cesar E Chavez/Indiana" or Metro E Line - "Indiana Station."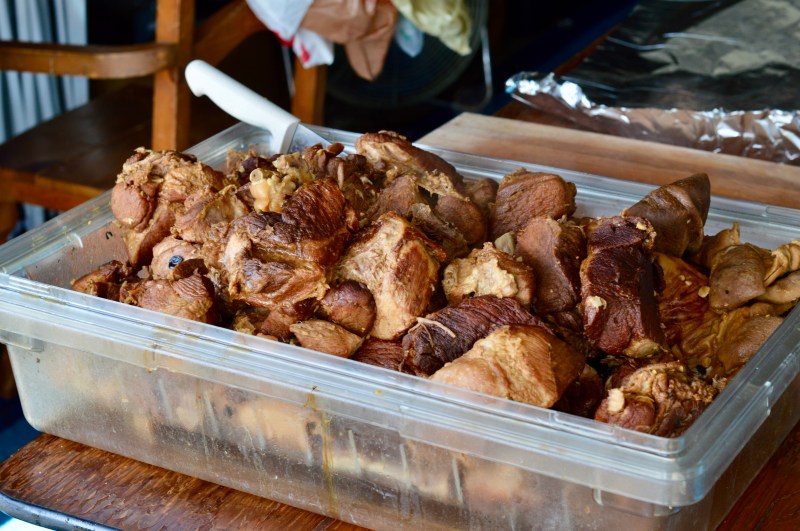 Carnitas Taco
El Artista is known for their succulent carnitas tacos and taqueria in Inglewood. The tacos come fully dressed with salsa, onions, and cilantro, along with pickled onion and habanero. Make sure to add a bit of chicharron for texture and porky flair, and check to see if they have costillas available. - Cesar Hernandez
510 N. La Brea Ave. Inglewood, CA 90301. Closest Metro lines and stop: Bus Line 212 - "La Brea/Hazel" or Metro K Line - "Downtown Inglewood Station."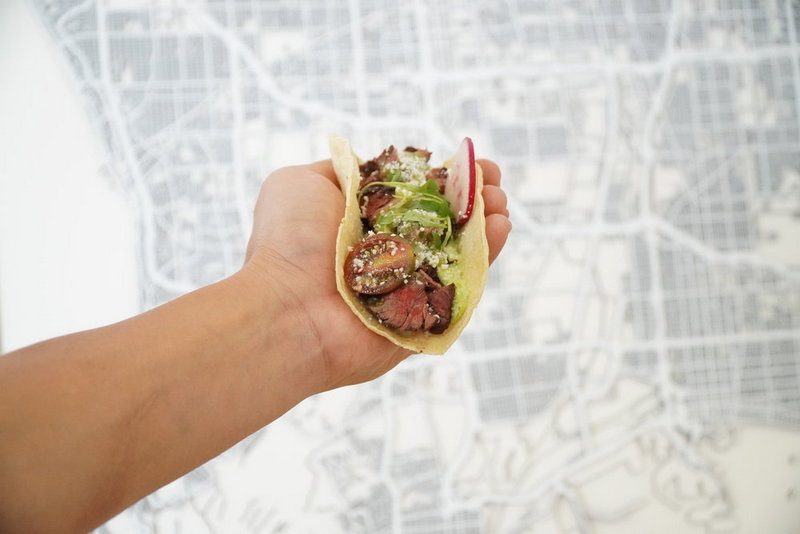 Wagyu Carne Asada Taco
El Barrio is for everyone who wants high-quality, healthy meats without losing the essence of a good taco. The mesquite-grilled Wagyu carne asada uses all-natural farmed beef, dressed with light avocado crema, tomatillo salsa, pico de gallo, and cotija cheese. Your taste buds and health consciousness don't have to be at odds with each other when you eat at El Barrio Neighborhood Tacos. - Memo Torres
3500 Overland Ave. #100, Los Angeles, CA 90034. Closest Metro lines and stop: Metro E Line - "Palms Station" or Bus Line 33 - "Venice/Overland."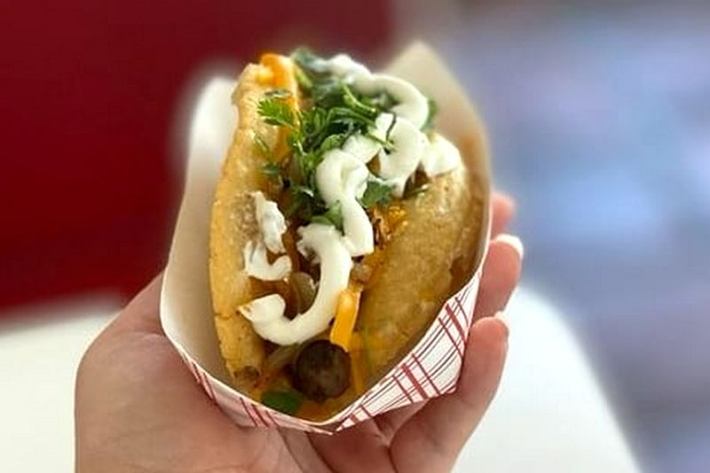 Puffy Tacos
Arturo's was the first to unlock this new taco in Whittier over four decades ago, serving generations of Angelenos with the minor miracle of puffy tacos ever since. Credited to San Antonio, the style involves masa that is deep-fried into v-shaped tortilla balloons of airy, puri-thin skins. These get filled quickly and efficiently with iceberg lettuce, fluorescent orange cheese, your choice of carne molido, carnitas, guisado de res, chicken, or picadillo, and chunky salsa roja or a spicier, creamier salsa verde. Hot and messy, sweet dreams are made of these. - Hadley Tomicki
15693 Leffingwell Rd. Whittier, CA 90604. Closest Metro line and stop: Bus Line 120 - "Santa Gertrudes/Leffingwell."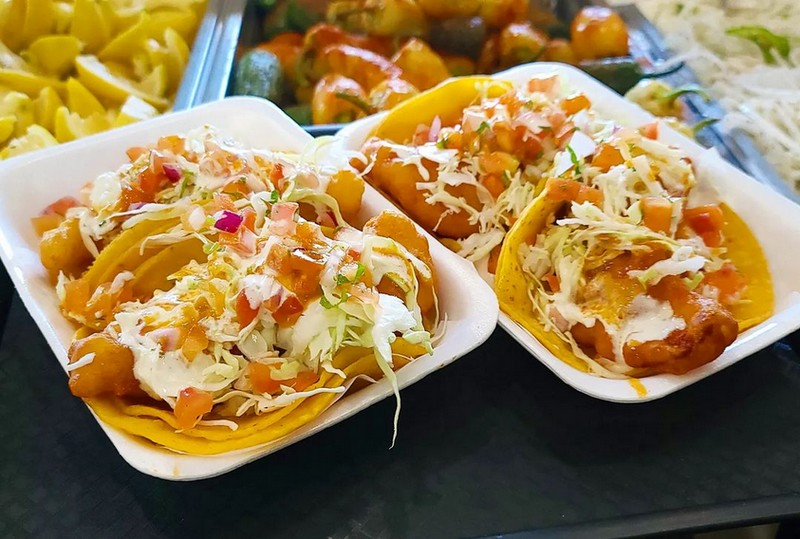 Fish Taco
This South Bay taqueria specializes in Baja-style fish tacos. They beer-batter white fish filets and fry them until golden. Make sure to grab a few of the blistered chiles gueros for an ideal experience - taking a bite of the fish taco followed by another of the chiles. Rinse and repeat. - Cesar Hernandez
Multiple locations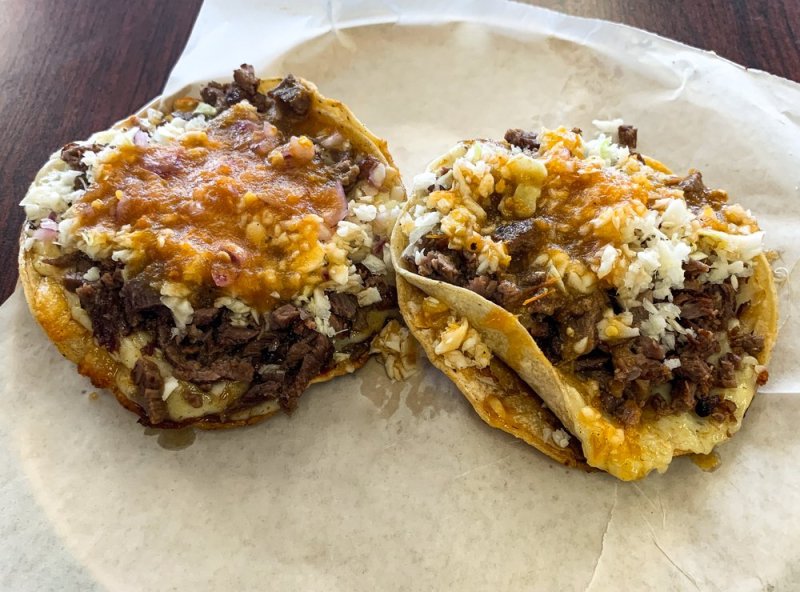 Carne Asada
What makes Long Beach's La Carreta float among L.A.'s sea of amazing taqueros is Morales's hyper-focus on asada. It is the only carne the young taquero carries on the menu, and the heavenly smell of the mesquite-grilled sirloin attracts those who know what's up to come from all corners of the county.-  Javier Cabral
401 E. 69th St., Long Beach. Closest Metro lines and stop: Bus Line 266 - "Lakewood/Flower" or Bus Line 265 - "Paramount/70th."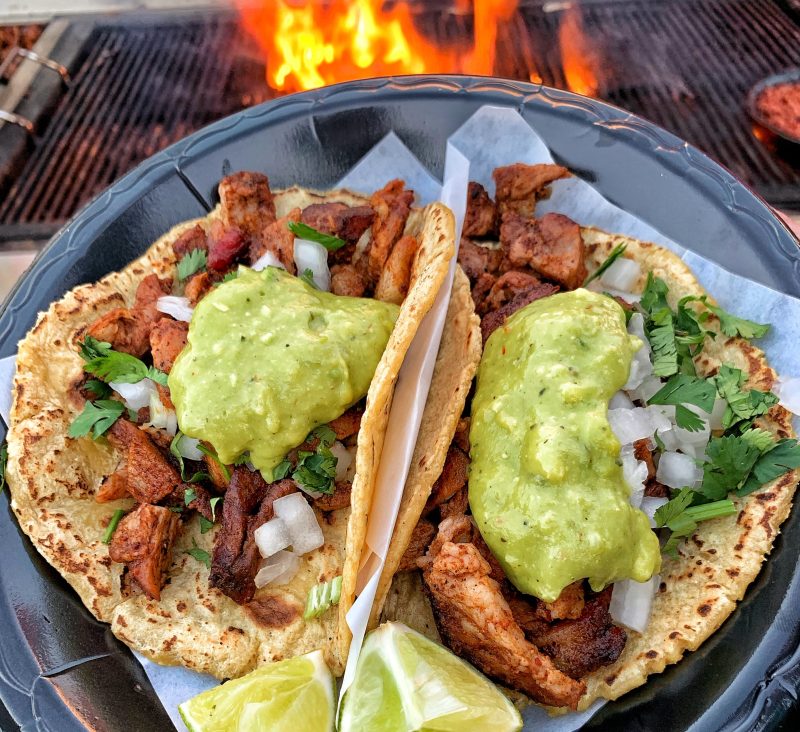 Al Pastor Taco
Pablito's Peruvian-tinged tacos aren't trying to change the traditional street taco formula; they just added a different dimension of deliciousness from tapping Peruvian flavors. Part of their secret is to adding Peruvian chile to the trompo, serving it over fluffy but sturdy handmade corn tortilla, topping it off with guacamole, and adding a final spoon of their signature aji - Memo Torres.
Multiple locations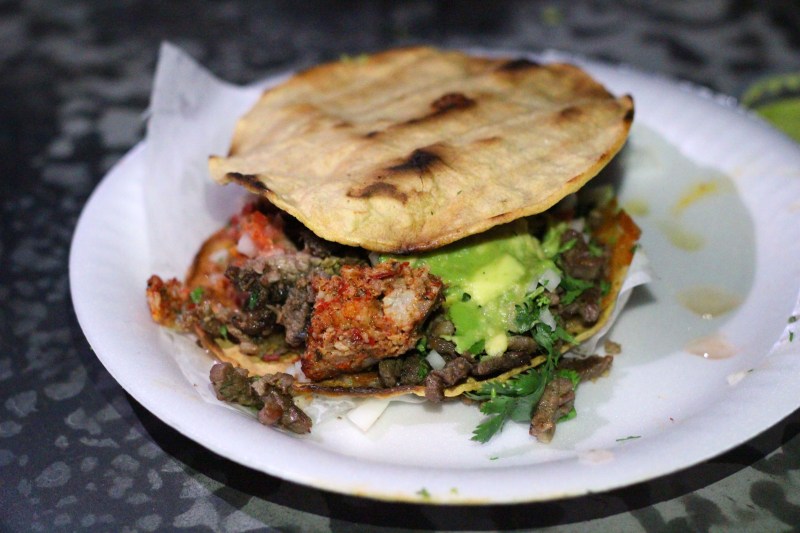 Adobada and Asada Vampiro
One of East L.A.'s best Tijuana-style tacos, Don Cuco's adobada is grilled over coals instead of on a trompo like al pastor, which they believe to be the true method of adobada. The result is a smoky, succulent pork that certainly tastes different. Try the vampiro with both adobada and asada, basically a crunchy and meaty tostada sandwich with melted cheese. - Cesar Hernandez
752 S. Fetterly Ave. East Los Angeles, CA 90022. Closest Metro lines and stop: Bus Line 18 - "Whittier/Ferris" or Bus Line 258 - "Arizona/Whittier."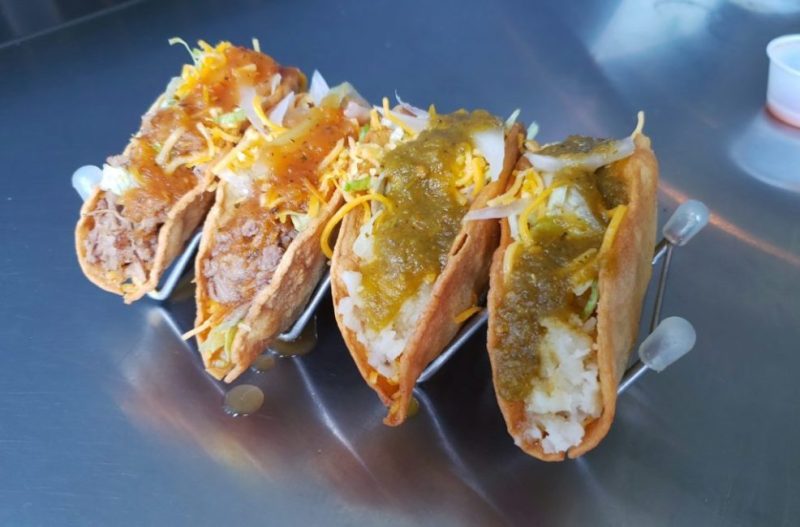 Shredded Beef Taco
At Chuy's, they do everything just as their great grandparents would—no cutting corners. Take, for example, the carne desebrada (shredded beef). It's simmered for six to eight hours. The results are undeniable. The shell has an audible crunch while still managing to be airy. The tacos with shredded beef are a perfectly packaged gift that has a mellow beefy flavor enhanced only by the salsas. The cheese starts to melt from the heat of the salsa, as the various flavors and textures combine wonderfully. - Cesar Hernandez
1335 Willow St. Los Angeles, CA 90013. Closest Metro line and stop: Bus Line 18 - "6th/Mateo."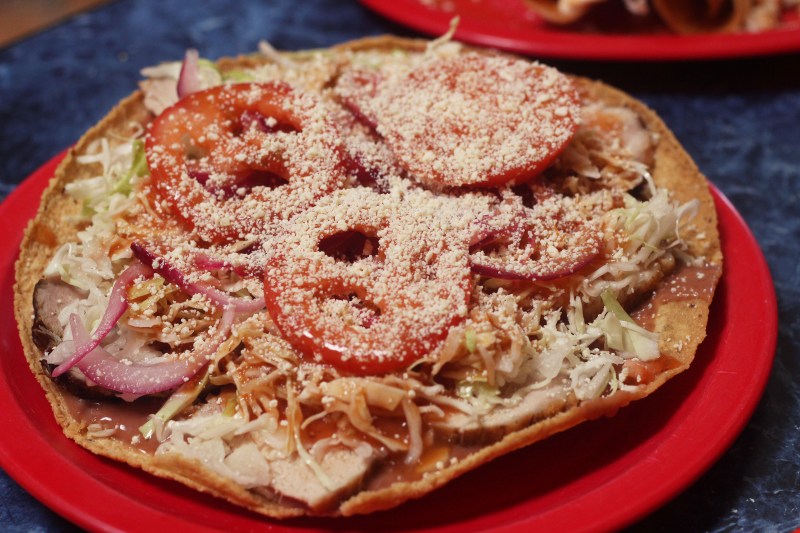 Tostadas Raspada de Lomo
Antojitos Los Cuates is one of the most humble and unassuming restaurants in L.A., specializing in amazing antojitos. The tostada raspada, topped with cold sliced lomo (pork loin), is a delicacy. The rough-edged, oversized tostada is smeared with beans, then layered with slices of lomo, tomato slices, cabbage, and crumbled cheese. The cheese has a bit of a funk to it that is both slightly fruity and tangy, and undeniably addicting.
1811 N. Long Beach Blvd. Compton, CA 90221. Closest Metro lines and stop: Bus Line 60 - "Long Beach/Pine" or Bus Line 125 - "Rosecrans/Long Beach."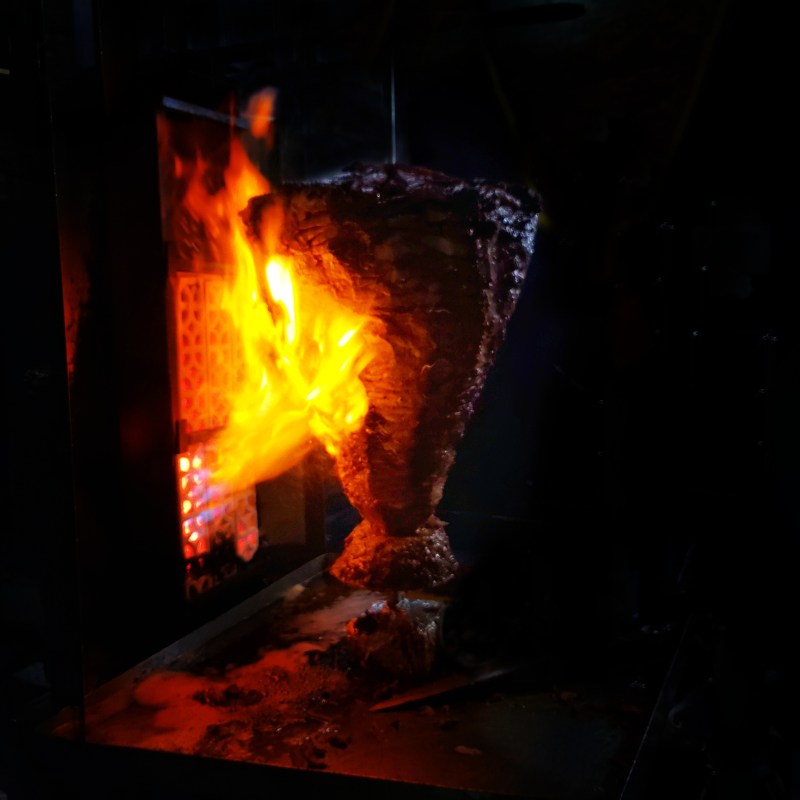 Al pastor taco
Tacos Los Güichos is one of the kings of al pastor and their domain is a tire shop right next to the 110 freeway. They take their al pastor so seriously that you get the tacos from the person manning the trompo almost like a separate leg of the company. The sound of the raging fire licking the bright red trompo is mesmerizing. At the trompo station, taqueros will prepare your tacos with a specific red salsa tailored to the al pastor flavors. - Cesar Hernandez
320 W. Slauson Ave. Los Angeles, CA 90003. Closest Metro lines and stop: Metro J Line (910/950) and Bus Lines 108 or 460 - "Slauson Station" or Bus Line 45 - "Broadway/Slauson."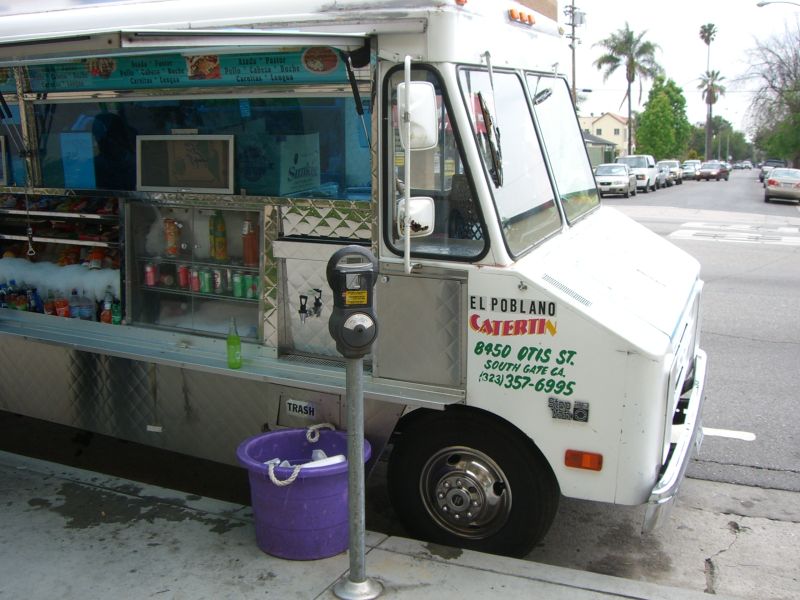 Asada taco
Up and down Central or Avalon, you can find Tijuana-style tacos with relative ease. All you have to do is follow big plumes of smoke, the signal that tacos are near. If that fails, do like Toucan Sam and follow your nose. The tacos at this taquería feature freshly made tortillas that are quickly assembled. With quick hands, the taquero will grab a piece of paper, tortilla, chopped asada, a handful of onions, and cilantro, then they'll rapidly toss a spoonful of salsa in the air and catch it, before finishing it off with a thick smear of guacamole.
5821 S. Avalon Blvd, Los Angeles, CA 90011. Closest Metro lines and stop: Bus Lines 51 or 108 - "Slauson/Avalon."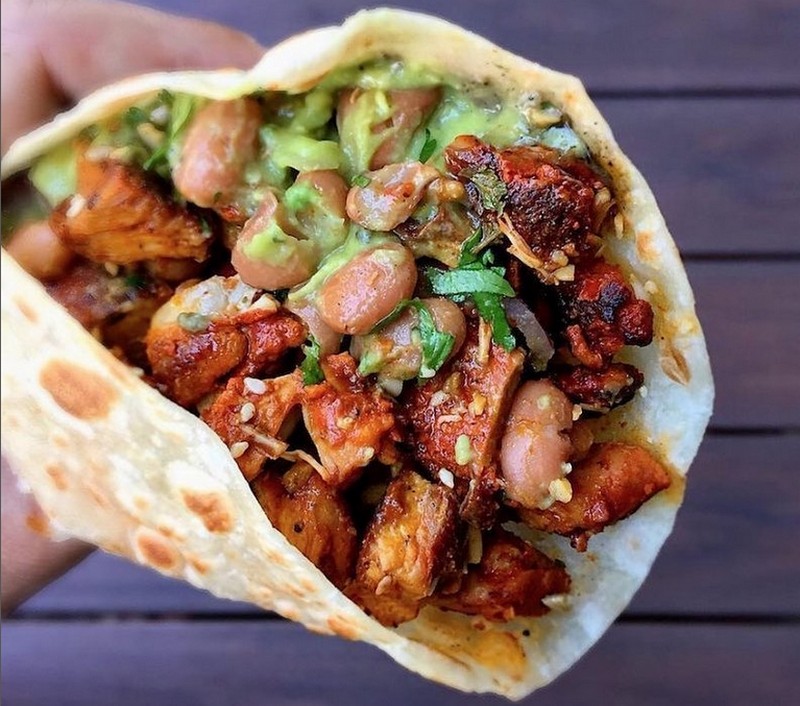 Chicken Taco
When do you come to a taqueria and order... chicken?! When you're at Loqui, of course. The San Francisco-orignated chain serves one of our favorite chickens in town, rolling a surplus of tender, smoky, red-stained thigh meat inside of its signature buttery tortillas. Make sure to add a liberal scoop of guacamole to that. - Hadley Tomicki
Multiple locations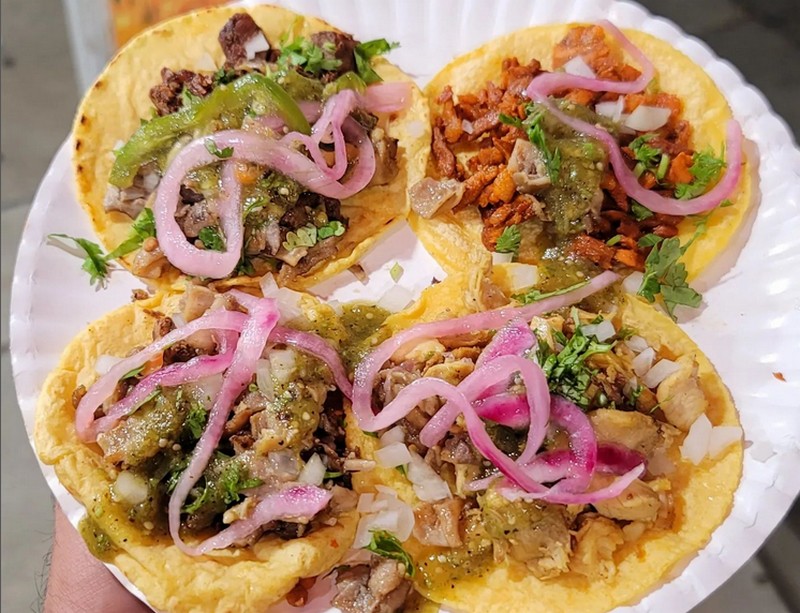 Al pastor taco
The al pastor is shaved thin from a large trompo and has a slight crisp from the roaring flame that licks the trompo. Each taco de al pastor is topped with shaved pineapple. You can find Taco Los Palomos curbside on Vermont near the 105 freeway with a bright green banner adorned with white doves. - Cesar Hernandez
Multiple locations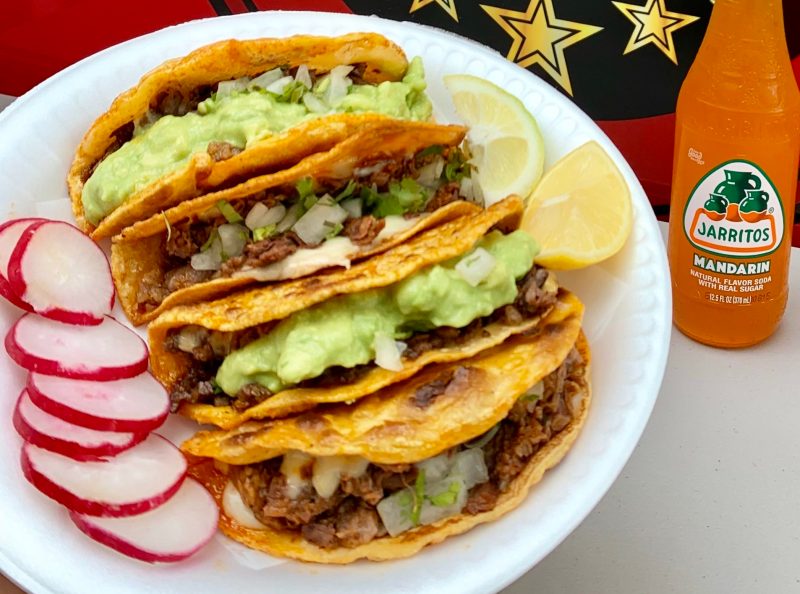 Chivo Taco Dorado
Not many taqueros in L.A offer tasty-ass versions of both birria de chivo and beef. These guys also offer handmade corn tortillas for all their tacos, which is a game-changer and another rarity in L.A.'s cutthroat Birria Wars. Catch me swimming in their clavo-intensive consomé. - Javier Cabral
2840 E. Olympic Blvd. Los Angeles, CA 90023. Closest Metro lines and stop: Bus Line 62 - "Olympic/Camulos" or Bus Lines 66 or 251 - "Soto/Olympic."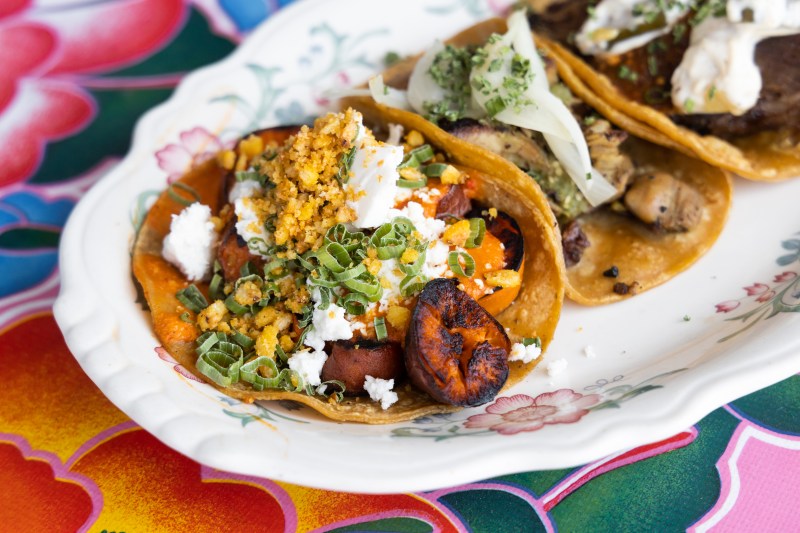 Sweet Potato Taco
Guerrilla Tacos marked a shift for tacos in L.A. and no taco is more emblematic of that than the sweet potato taco. It consists of a couple of yam coins cooked with butter, leeks, and herbs, then topped with creamy feta cheese, corn nuts, and a killer almond salsa. This taco will go down in the annals of history as a taco game-changer. - Cesar Hernandez
2000 E. 7th St. Los Angeles, CA 90021. Closest Metro lines and stop: Bus Lines 60 or 62 - "7th/Imperial (westbound)" or "7th/Santa Fe (eastbound)."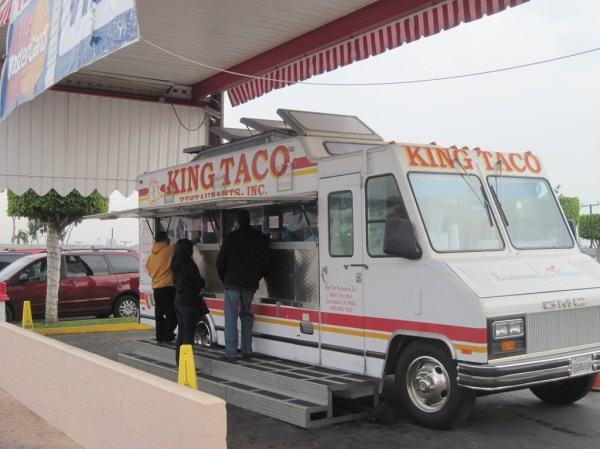 All-Meat Burrito
The true King of L.A. doesn't ball, he slings tacos. King Taco and El Taurino are the hood's answer to In-N-Out—fast, affordable, and consistently offering quality food to their respective barrios since 1974. They're both classic late-night spots opened by the same family, two brothers to be exact. And let's not forget, King Taco is the originator of the modern taco truck and the two-bite tortillas. The latter of which they brought back in a suitcase from Mexico City. To me, the carne asada is the thing here. The limey marinade rivals any taquero's and the salsas are probably the best in the city. Their asada burrito 'de pura carne' is the best thing on the menu. – Erick Galindo
Multiple locations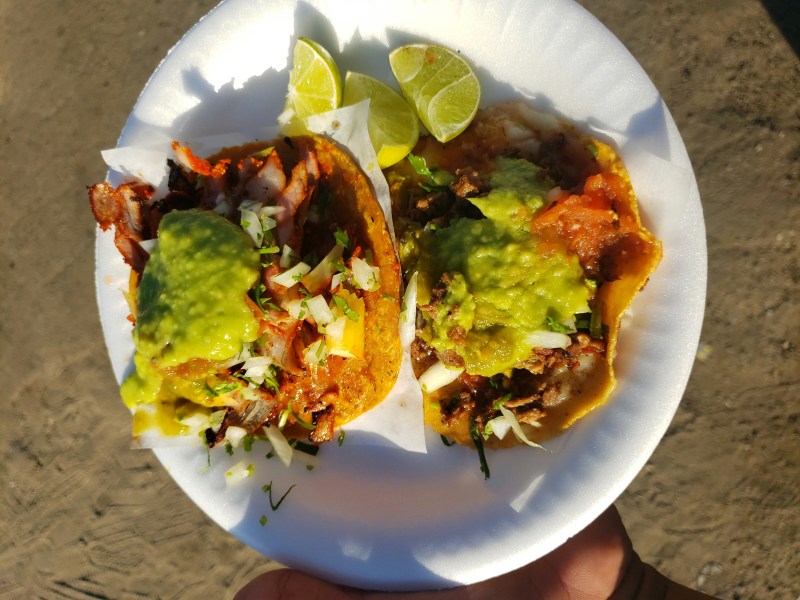 Al Pastor Taco
There's never a lack of hungry patrons at any of their locations, but part of that draw is the behemoth trompo. That thing is so big that the trompero has to jump to slice off a piece of pineapple (no, not really). The al pastor is such a draw at Angel's that the other carnes are served much faster. Another plus to this spot is that each taco de al pastor comes with guacamole and they'll even dress it for you, talk about convenience. - Cesar Hernandez
Multiple locations
Stay in touch
Sign up for our free newsletter