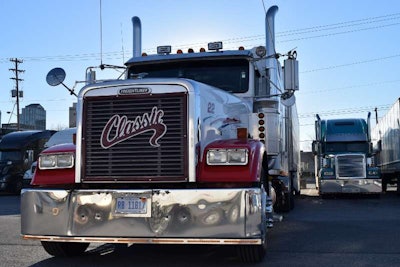 Since I last ran across Melvin Davis Jr., at least in person, the Davis Trucking owner-operator has added a power unit under his authority, the 2000 Freightliner Classic (above) you've seen back last year when he finally got the mammoth 163-inch sleeper modification finished and lettering on well enough to turn a few heads in a show or two near his home base in Hartford, Mich.
Under the hood: The Classic's original Detroit Series 60, about 600,000 miles on it following a rebuild, 13 speed transmission.
When he finished the rig, he'd not exactly intended to pass on his 1988 FLD, with which two years back when I last visited with him he hauled refrigerated freight out of Michigan to Texas, then to Florida and back up to the Midwest in a somewhat regular round. But his former business partner in Davis Refrigerated, dissolved some years back, however, looking to get into a truck, is now in the 1988, running under Davis' authority. Todd Martin and Davis are alternating brokered loads, often dairy out and frozen back, from Michigan to Texas, with an Illinois stop or two occasionally thrown into the mix.
Having found himself in Florida again earlier in the week, he posted his truck's availability to Internet Truckstop and was getting calls "before I was even off the load board." With a rare load of strawberries coming out of the sunshine state and bound for Indianapolis this morning, I caught up with Davis and the Hilton (for the first time in person) yesterday on a brief break at the TA in downtown Nashville. Take a run through some views on and narration of a few of the modifications he's made to the unit below.