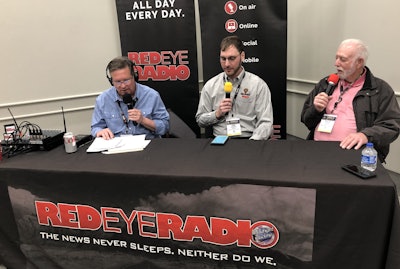 Back in 2020, Howes Products, developer of lubricants and additives like their well-known anti-fuel-gelling products and much more, launched the Howes Hall of Fame; a digital platform designed to honor outstanding people, places and things in the trucking and farming industries that make up the backbone of its customers.
Today, Howes inducted a new member of that Hall, a man who picked up the tradition of broadcasting legend Bill Mack out of a Texas home base and ran with it straight into the contemporary world with Red Eye Radio. That's Eric Harley, the radio host who will be familiar to regular Overdrive readers also for his hosting of events around the Overdrive Red Eye Radio Trucker Talent Search series.
One thing Harley has always been known for is, of course, his voice. He's currently co-hosting the Red Eye Radio Network, an overnight trucking radio show that can be heard 1 a.m.-6 a.m. Eastern on more 240 radio stations around the nation as a beacon in the night for millions of drivers. Like Bill Mack before him, Harley's top priority lies in keeping over-the-road truckers awake and alert over the long stretches of highway on overnight runs.
[Related: A year after his passing, 'Midnight Cowboy' Bill Mack lives on in readers' memories]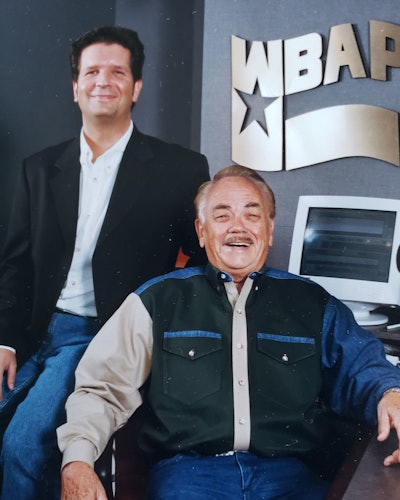 He began his career in radio right out of high school more than 35 years ago. He got his trucking-radio start in 1996 when he joined the Midnight Cowboy himself, Bill Mack, on the Midnight Cowboy Radio Network. This was no accident. Eric has a very prominent family history in the trucking industry. Both of his grandfathers were truckers, one who started before the Great Depression and the other who drove before, during, and after World War II. His father was also a truck driver, delivering pharmaceuticals after his military career. Today, his brother in-law runs his own business driving a truck out of Oklahoma.
Given that family history, throughout his career Harley's been mindful of the importance of radio for the overnight hauler. Not just an entertainer, Harley has geared his programming also deliver vital news on changing equipment and regulations. And most importantly, he's focused on including trucking listeners in the conversation as news and central issues unfold, listening to and engaging with drivers to keep his finger on the pulse of the people who make up the industry; what Harley called an "interesting and continuous learning experience."