Truth be told, Elkland, Missouri-based owner-operator Glen Horack "really had no desire to drive a truck growing up," he says today, looking back. His entry into trucking was as much happenstance as anything else. He did like "driving big vehicles," generally speaking, and drove a trash truck for a time after he got out of the military, where he served in the Marines.
Then, a friend was running a small trucking company with three trucks leased on to KPH Transportation, and Horack took the wheel of one -- a "1976 International cabover" he said he helmed for two years driving for C&T Trucking, leased to several different larger outfits over the period.
It was a full eight and more years into his career, though, after around six as a company driver with KLLM out of Mississippi, that he first leased his own rig and went trucking as a contractor. By 1992, he'd talked to several Prime-leased owners and drivers, and thought he could make a great deal more money over the long-term there than he was making at KLLM at the time.
Through the years, that turned out to be true for this year's Owner-Operator of the Year, as Horack was named with his big win in the joint program of the Truckload Carriers Association and Overdrive. Prime has been a crucial part of Horack's success, one he's been plenty vocal about attendant to coverage of his business over the four years he's graced the award finalists' stage at the TCA annual conference. But that close family-like partnership with the truckload carrier isn't all there is to it.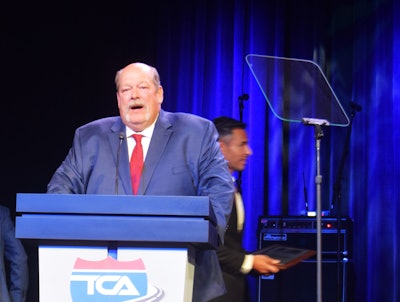 Prime Training Specialist Trish Brewer was Horack's overnight dispatch partner when she first came to the company in the late 1990s. Horack and wife, Karla, who joined him on the truck in 2008, are "very, very committed," Brewer said, both to the needs of their own business but also those of their principal partner. "Glen, he takes care of the company. He really knows the importance [of the notion that] if the reputation's not there," upheld with on-time deliveries, positive interactions all along every touch point along the supply chain, "how can you get the freight? He makes sure he's doing his part for both the customer and Prime," as well as his own balance sheet.
In her current role, Brewer teaches a regular business class for leased owners at Prime. Talking to Horack, it's not hard to imagine his long business relationship with Brewer, which extended from the late 1990s up through late in the last decade, helped prepare her well for that role.
Asked for the single best piece of advice he could give to owner-operators starting out in trucking, Horack's answer turns straight to money management, yielding insight into key qualities of his own success, despite the adversity he's seen over the course of his almost 40-year, 5-million-safe-mile career.