Trucking news and briefs for Thursday, Aug. 4, 2022: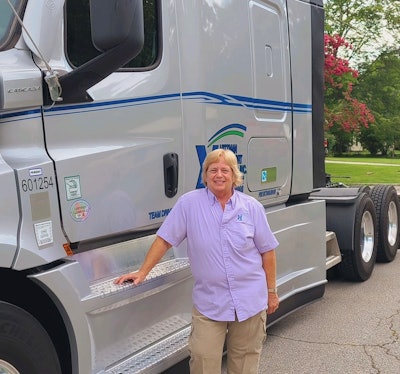 The Commercial Vehicle Safety Alliance announced Wednesday that this year's International Driver Excellence Award (IDEA) recipient is truck driver Ruth McDonough.
McDonough's a specialized hauler who pulls radioactive and nuclear loads with Hittman Transport Services. During her 10-year tenure at Hittman, McDonough has traveled more than a million safe and incident-free miles. Furthermore, she has been driving large vehicles -- in the military and as a commercial operator -- for more than 40 years and approximately 4 million miles, all incident free.
CVSA recognizes the exceptional careers of professional truckers, and their commitment to public safety, through its driver excellence award. The requirements to apply for this award are not easy to meet. Nominees must have at least 25 cumulative years of crash-free driving, with a clean driving record for the past three years, no felony convictions, no safety-related driving suspensions in the past three years and no driver violations in the past three years, excluding form and manner violations.
"I was absolutely shocked when I found out I won this award," said McDonough. "I had tears in my eyes."
McDonough's trucking career began in 1979 when she enlisted in the U.S. Army. She received basic and truck driving training at Fort Dix in New Jersey as one of only a few women in her class. Upon completion of training, McDonough was assigned to the 181st Transportation Battalion, 51st Transportation Company, in Mannheim, Germany, which is a movement-control unit that provides tailored and adaptive transportation, expeditionary logistical capabilities for transportation, movement control and distribution in support of U.S. European Command.
McDonough supported transportation operations in Germany by safely delivering armored personnel carriers, ammunition and general supplies. She earned the Army Achievement Medal for her time in Germany. She was then stationed in Fort Bragg, North Carolina, as part of the 839th Transportation Company, where she received the Driver of the Year Award at the retirement ceremony of the unit.