Collinsville, Oklahoma-based Steve Huff ordered this 2023 Kenworth W900L, nicknamed "Poor Money," around Thanksgiving 2021 and took possession of it in the spring of 2022.
Huff showed the truck at the 2022 Shell Rotella SuperRigs truck show in Branson, Missouri, in June 2022, where it placed third in the Working Truck-Limited Mileage category.
Home in Collinsville, the rig's "Poor Money" moniker reminds Huff of his upbringing and his path to where he is today, trucking as an owner-operator leased to Tulsa, Oklahoma-based Miller Truck Lines. Huff and "Poor Money" haul AAON air conditioners from Tulsa to Florida, bringing John Deere equipment back home. Sitting around joking with a friend one day, the name came up and "for some reason, it just stuck," Huff said. "I grew up, I didn't have a lot of money ... it's taken me this long to get where I am," and "it just fit."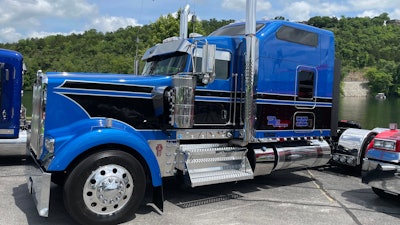 Under the hood is a 565-hp Cummins with an 18-speed pushing 1,850 lb.-ft. of torque. The interior of the truck, at the time of SuperRigs, was still stock, but Huff said he planned to make some changes there in the coming months as well.