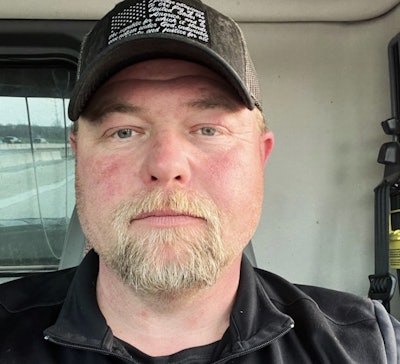 William Honey
Occupation: Dump truck driver
Age: 45
CB handle: Porkchop
Past jobs: Fast food worker, United States Marine, crane operator, welder, cheese maker, forklift driver, robotic tech, heavy equipment operator, sawmiller, injection mold tech
August 25, 2019, could very well have been one of the most tragic days in Indiana work zone history.
"We were out there in the middle of the night on I-65," recounted dump truck driver William "Porkchop" Honey. "We were milling, taking the surface off the road and repaving the road. You might have twenty, thirty, forty, fifty dump trucks on each crew."
It was a huge undertaking, designed to get the road finished as quickly as possible. Two big crews -- one to peel off the old pavement, one to lay down new pavement. This was downtown Indianapolis.
"It was around 1:30 in the morning. A call came over the radio from a fellow driver named Angela. 'Everyone look out. There's a police chase in the barrels going the wrong way!'"
Twenty-year-old Jonathan Hipolito, driving on a suspended license, was fleeing the Indiana State Police. Toxicology reports would later reveal a blood alcohol count at more than twice the legal limit. Now traveling southbound on the northbound lanes of I-65, he had breached the barrels of a live construction zone just past the milling crew and was literally seconds away from plowing into the paving crew.
[Related: Log hauler and writer Gord Magill, student of the ice roads]