Bryant A. Mann, son of White Pine Paving founder and owner Bryant D. Mann, showed his decade-long special-project daycab 2000 Kenworth W900L at the May Large Cars & Guitars truck show. In the video, he details the huge amount of work put into what was a rough-and-tumble coal hauler that ran the route between Cumberland and Baltimore, Maryland, daily for years before White Pine purchased it.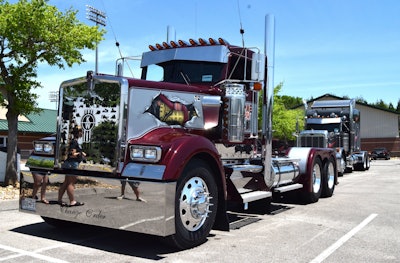 Most of the special highlighted items, as Bryant Mann explains in the video up top, were fabricated in the White Pine shop, with some outside hands lending assistance. Not least among work on bright parts are cutouts in the grille and breathers that feature pieces of construction machinery that figure into the paving work the Manns do on a daily basis for a bevy of private and public (the state of Maryland, for instance) customers. Such cutouts also show up with backlighting on custom-fabbed under-door panels.
Find plenty more views in the video, and for a look at another rig in the paver's fleet, find White Pine's breast-cancer-awareness-themed dump truck via this link.
For more video work and custom-equipment features delivered to your email inbox, subscribe to Overdrive's weekly Custom Rigs newsletter via this link.